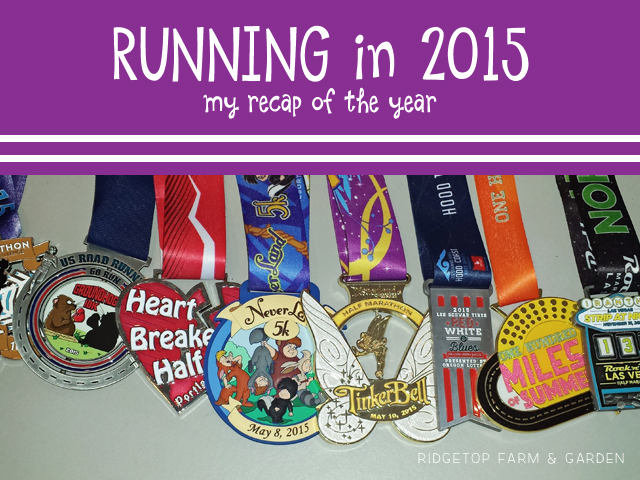 I started 2015 as a runner-ish type person with the goal of finishing a half marathon. I surpassed that goal by finishing two. They are definitely personal highlights of 2015.
I'm very mediocre in the running department. I'm probably even below average. So, my end of the year recap isn't full of fast times and a kazillion training runs. What I do have are my personal accomplishments at finishing what I set out to do and my version of keeping my heart healthy.
RUNNING HIGHLIGHTS: MONTH BY MONTH
January
• After taking a month off, I started getting back at it
February
• Training began for my first half marathon.
• Finished a Virtual Groundhog Day 10K
• Finished Heart Breaker 10K
• Finished Mommathon 10K
March
• Run/Jog/Walk the furthest I'd gone until that point – 8 miles. Bonus points for making the 12 minute pace I was striving for. To be exact my pace averaged 11:58/mile
April
• Run/Jog/Walk the furthest I'd gone until that point – 10 miles. Average pace was 12:35/mile. Didn't quite make my goal of a 12 minute pace.
• Took a 2 week break from running while vacationing in Europe. I had plans to run, it just didn't end up happening. However, I did walk… a lot.
May
• Walked the Neverland 5K with friends at Disneyland
• The big moment arrived. I completed my first half marathon!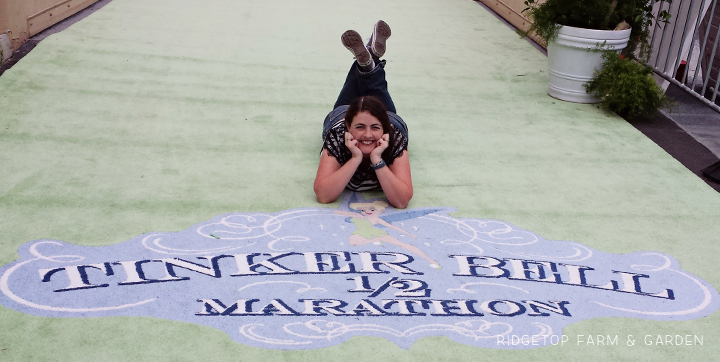 June
• Ran 2 miles on National Running Day, averaging an 11:15 pace
• Finished Love Rocks 5K
July
• Finished Red, White & Blues 10K
August
• Finished Garlic Fest 10K
• Ran 5 miles on the beach to celebrate signing up for another half marathon
• Completed the 100 Miles of Summer challenge. But barely. I squeaked in the 100 miles by running outside, walking a number of times with my girlfriends and running on our elliptical machine at home.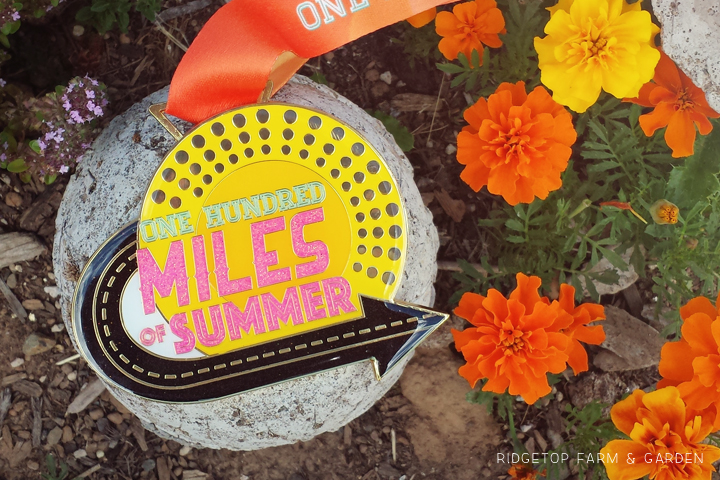 September
• The kids started school, so I was able to get into a good running routine.
October
• Same routine as September, but had to kick it up a notch since another half was soon approaching.
November
• Finished the Rock n Roll Half Marathon in Vegas.  I averaged a bit over a 14 min/mile. Not quite the time I was hoping for, but the weather sucked and I had horrible hip pain. Still, totally happy that I finished.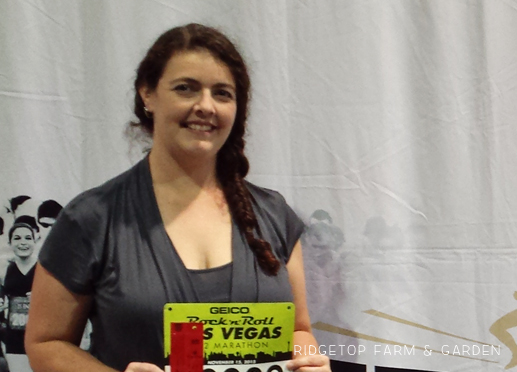 December
• Finished the year off with my hubby and kids. We ran/jogged/walked 4+ miles with Portland Running Company to Peacock Lane.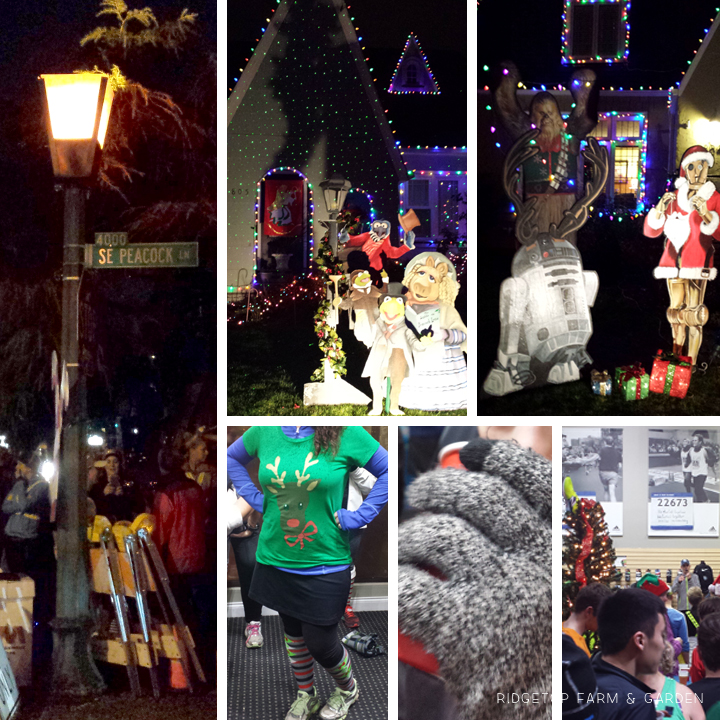 I RUN FOR BLING
I will never be the first to cross the finish line or even win an age group award. I'm not being down on myself. It's true. I'm ok with that. I don't run to win. If I did, I would have given up a long time ago.
Instead, I run for the self satisfaction of completing what I set out to do. It's not easy for me. I'm slow, but it's still difficult. Completing any run is an accomplishment.
I also run for the bling. There are so many fun medals in the world of running and I enjoy collecting them. This year I earned 8. My favorite is definitely the TinkerBell. A close second, though, is the one from Vegas. It is pretty awesome.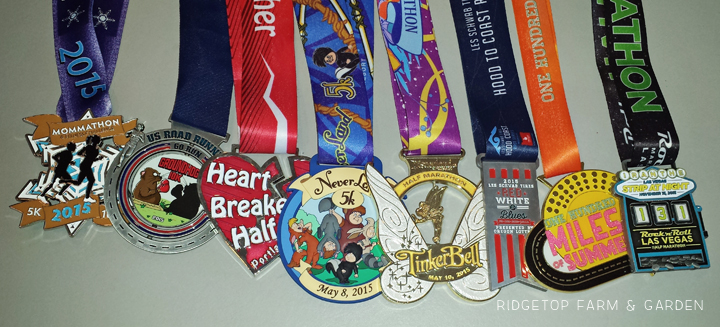 Badges are fun, too. These ones are from the Rock n Roll Half in Vegas


2015 Stats
5K Events: 2
10K Events: 4
Half Marathon Events: 2
Virtual Events: 2
Other Event: 1
Total Miles Run/Jogged (training runs included): 440.47
I just loved this sign from Brooks at the Rock n Roll expo in Las Vegas. It's such a good reminder.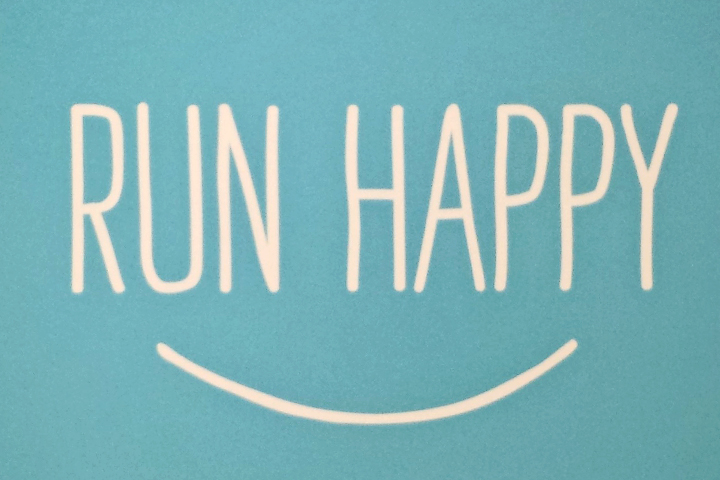 All in all, not a bad year for running. Bring on running adventures of 2016!