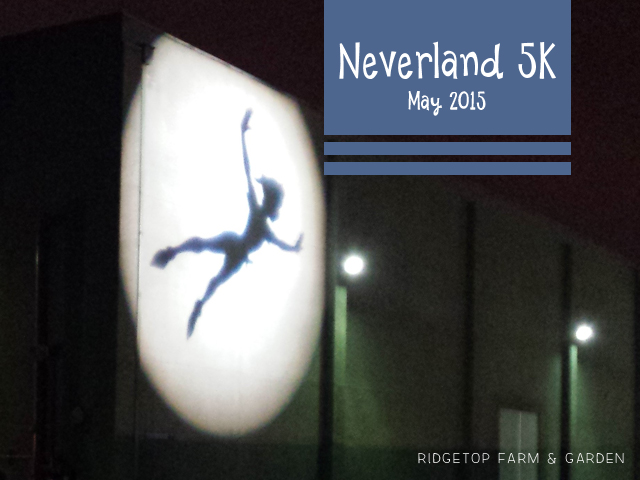 Last week I completed my first ever Run Disney event – the Neverland 5K. It was a great experience, even if it did rain.
I flew to California with two friends on Thursday & we spent the entire weekend enjoying Disneyland & California Adventure.
This post contains affiliate links.
COSTUME

A couple years ago, I made myself a Red Queen costume to go along with my kids Mad Hatter & Alice Halloween costumes. I cut off the long sleeves & shortened the skirt & voila a Red Queen costume fit for a 5K.
Crown: I made a crown using glittery gold craft foam and tied it to a headband. It worked splendidly. I wore it all day.
Dress: The pattern I used before my recent alterations, when I first made the dress, was McCall's M5954.
Bra: Panache Underwire Sports Bra – I have a couple of these bras. They are absolutely my favorite while running.
Leggings: Nike
EARLY MORNING
The 5K started at 5:00am. So, so early. We left the hotel about 4:30 and headed towards the castle, which is where the race started. So, so awesome.
I, obviously, dressed as the Red Queen. One of my friends pulled off a fantastic Sully costume. And, my other friend wore the Neverland 5k shirt.
Fireworks & Tink flying over the castle were the signals that the race was about to begin! We were so excited, to say the least. It was an emotional moment for my friends. Two years prior, they completed this very same 5K. That was their  very first 5K. They've gone on to do over 40 5K's in the 2 years since. I'm so proud of them. And, here we are in the most Magical Place ready to tackle another.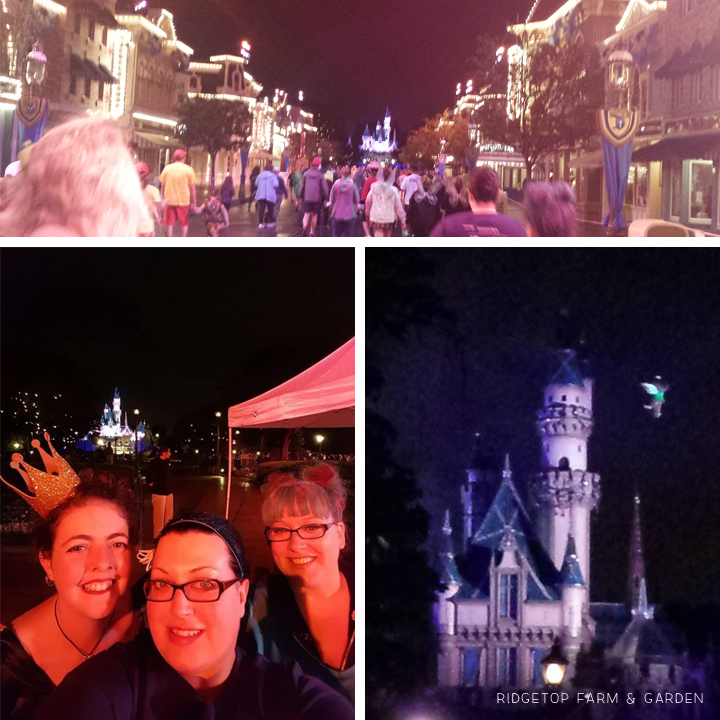 RAIN. ARE YOU KIDDING ME?
Southern California was in desperate need of rain. However, we are from Oregon & see plenty of rain. So we were not impressed. It started out just sprinkling, which was ok. But, then it got heavier and we realized there was no way we were going to finish this 5K before turning into wet rags. The Disney Cast Members wore ponchos while handing out the water. Smart people.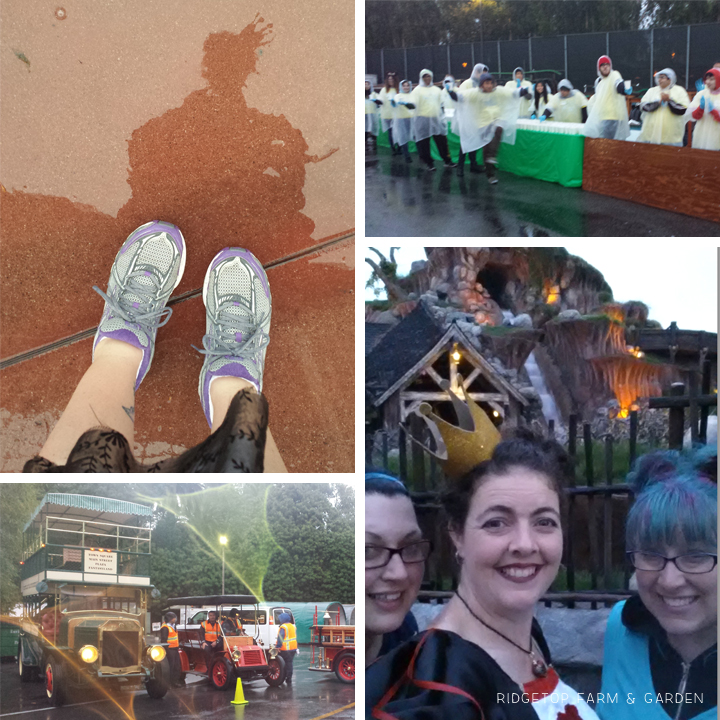 WALKING THROUGH THE PARKS
The course took us through Disneyland, California Adventure & the back lots. It was fun seeing the back lots & the items they had on display for us. While on the course, when you saw Peter's shadow you were supposed to cock-a-doodle-doo. My friend with the dark hair was an awesome cock-a-doodle-doo-er. We tried to enjoy ourselves despite the rain.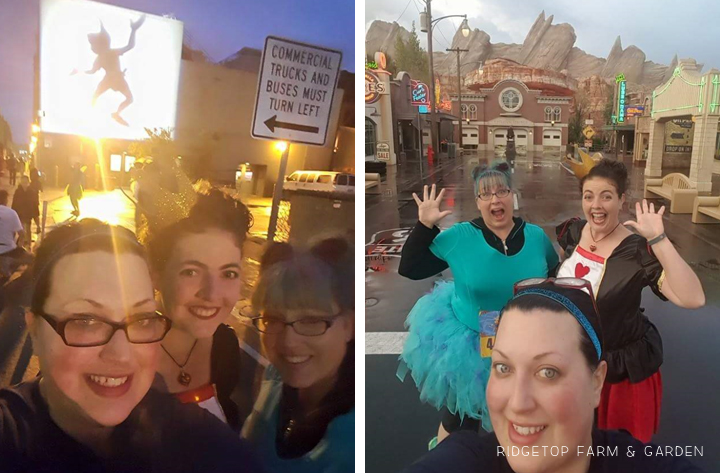 CHARACTER PHOTO OPS
There were plenty of Neverland characters available for your photo taking pleasure. Hook & Smee were popular. As were Wendy & Peter near the end. We opted not to take photos with those characters. I'm thinking we just had no desire to stand in line while it was raining. We did, however, get a quick pic with these fun pirates.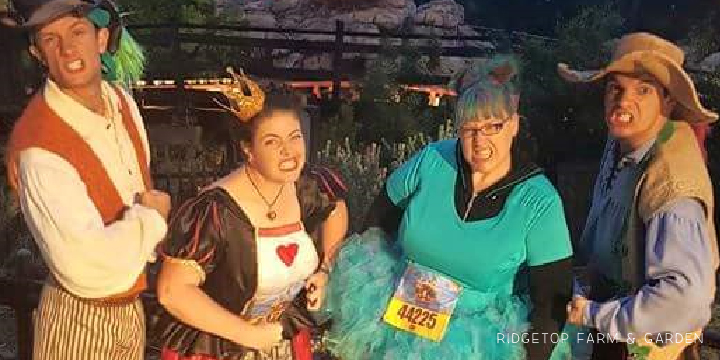 THE FINISH & OUR MEDAL

One of the best things about this 5K was all the great costumes. Definitely one of my favorites were 3 ladies dressed as Flora, Fauna & Merryweather.
The Neverland 5K medal is made of a rubbery plastic material making it seem kind of chincy. However, it is super cute with the Lost Boys decorating it.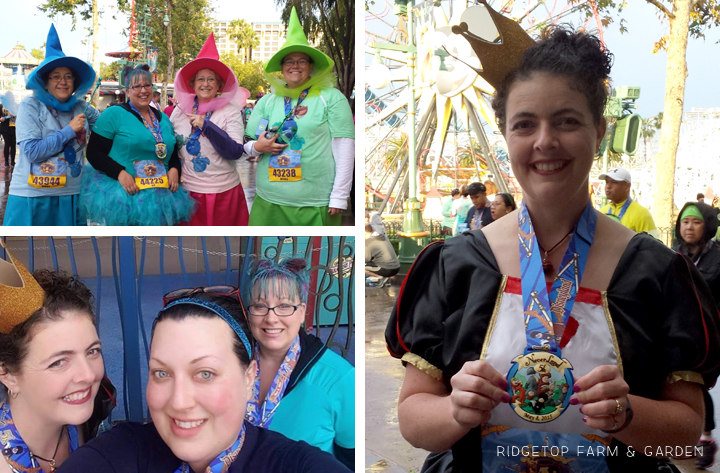 SWAG
At the finish we received a box of goodies. It had all sorts of things in it: goldfish, a clif bar, hummus, cashew roca, and a couple things I've never heard about. It was great stuff to snack on throughout our weekend at Disneyland.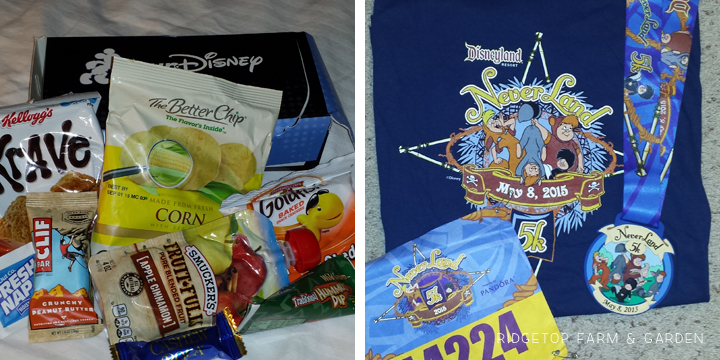 HOW WE SPENT THE REST OF THE DAY
After resting for a bit, we headed back to the parks and spent the rest of the day enjoying Disneyland & California Adventure. We had a lunch reservation at the Blue Bayou. My friends raved about the Monte Cristo, so that's what I ordered too. Oh! So good! It's not the type of thing I usually eat. But, it was delicious.
My friend with the dark hair did our Red Queen & Sully hair earlier that morning for the 5K. She did such a good job that it stayed even through the rain. We chose to keep our hair dos throughout the day. I'll admit, I felt a wee bit silly walking around with a crown all day.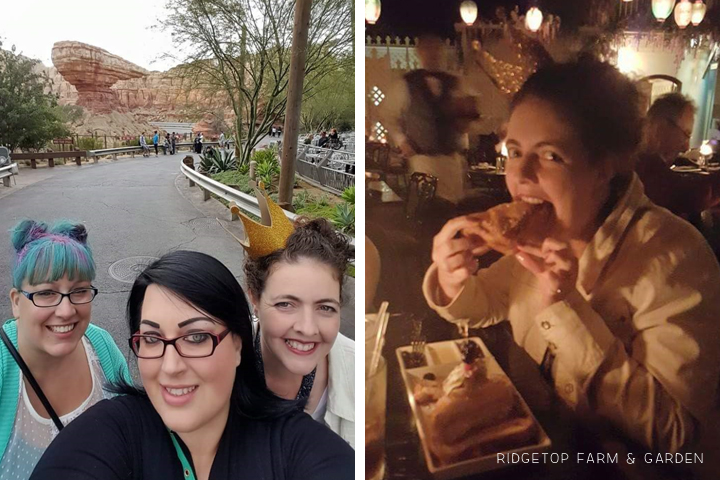 Two days later, I ran my first half marathon. Check that post out here.