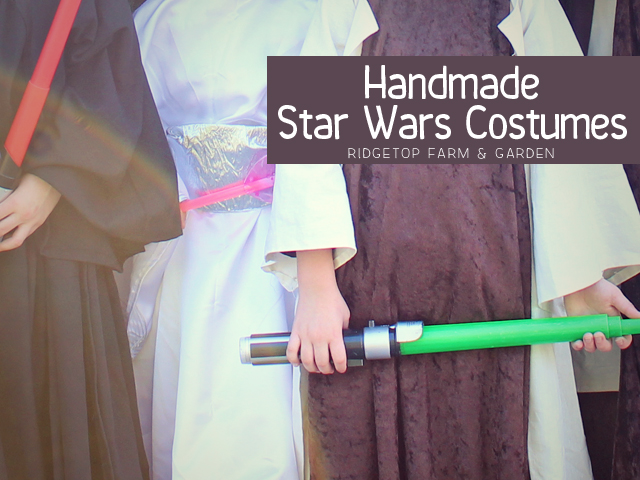 Some years I make costumes for Halloween; some years I don't. It just depends on what I feel like doing or what the kids want to be. This year proved to be a bit tricky, but came together great. I knew we were going to Disneyland for Mickey's Halloween Party. But the kids didn't.
I wanted their costumes to be Disney related, but still be manly enough for the boys. I decided on Star Wars since Disneyland has the Star Tours ride & Jedi training. I know nothing about Star Wars. I never watched the movies as a kid. And still have only seen part of episode 1. But, since I don't live under a rock it was easy enough to come up with characters. Farm Kid2 quickly agreed to be Yoda. I planned on Farm Kid1 being somebody handsome such as Obi Wan Kenobi, but he chose to be the mean, old Emperor. Farm Girl had no idea who Princess Leia was, but since Leia was a princess she agreed.
I searched online for costumes, but didn't find anything that worked. Eventually I decided to make them. Luckily I found a super simple jedi robe pattern online. I used the pattern on all the costumes, including the robes I made for the 3 adults. The kids costumes, though, have a few additions. A pattern almost doesn't get easier than this one for the jedi robe. It really was simple. Although, it did require many yards of fabric.
I needed the kids to try on their costumes so I could make adjustments. I told them I was trying to get their costumes done before we left on our trip because I wouldn't have enough time before Halloween to make them after we got back. They totally fell for it. I snuck a bag full of our costumes, makeup & light sabers in the car. Thankfully they never cared what was in that bag. I was able to keep the fact that we were trick or treating at Disneyland a surprise until the day of the party.
I wish I would have taken pics as I was sewing these to show how I put them together. But dang it! I didn't.
I used a variety of different materials. They all held up well to the elements. But, they were hot. I mean uncomfortably hot. It was well into the 90's when we were in Anaheim. Even at night, these were not cool costumes. They were perfect for trick or treating Halloween night here in the Pacific NW, though.
THE EMPEROR
This should be a two part costume. The black tunic underneath & a black robe. I thought I'd be smart & save myself a little material by making this a one part costume instead of two. I sewed the tunic into the robe to appear as a separate piece. But, Farm Kid1 needed a way in & out of the costume so I used little snaps at the top. They didn't work well & kept coming undone. I should have sprung for the extra fabric & made it two separate pieces.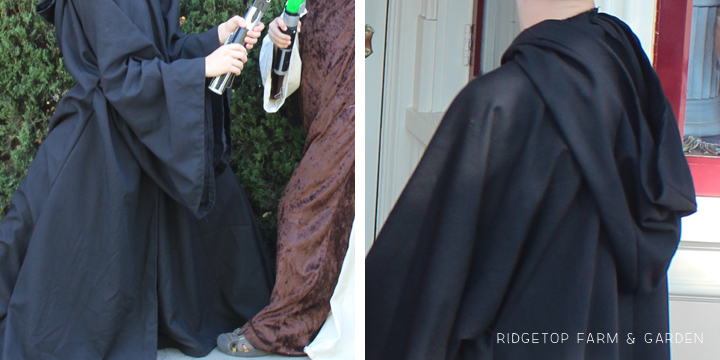 YODA
Yoda's costume is two separate pieces. It's basically two of the jedi robes. The only difference is the brown one isn't cut open in the front. It does have a slit half way down the back, though, held together with snaps. This, and our adult jedi robes, were the easiest for me to make.
I made Yoda ears using one of Farm Girl's headbands. This was fairly easy to put together. The headband is covered in green fleece. Each ear is two pieces sewn together, with an extra smaller piece of fleece in the middle to stiffen the ears just a tad. Luckily Farm Kid2 didn't mind wearing the ears. I was afraid they'd be uncomfortable, but they didn't seem to be. I also was concerned that the ears might flop. But, Farm Kid2 wore this costume three times & the ears have held up.
PRINCESS LEIA
The Princess Leia costume was a bit tricky. When I googled this costume in the movie it had both a higher neck, like a turtle neck, and also a hood. That meant I wanted to add both to her costume. Figuring out how to sew that and actually get her in & out of the costume was a waste of time. It really didn't need both. She hated the turtle neck part. Luckily it velcroed in the back so I was able to undo it. And the hood, she only put on once. There had to be an easier way to sew that part of the costume. The back is quite a mess of velcro, snaps & safety pins.
I bought sparkly white material for the dress & sewed on silver ribbon around the arms & bottom of the dress. The belt is a separate piece. It's not fancy. It's two rectangles sewn together, with silver in the front.
This costume isn't perfect, but she was so cute in it that it was worth the effort. She even won first place for her age group in the costume contest at our church harvest party. Yoda won for his age group, as well.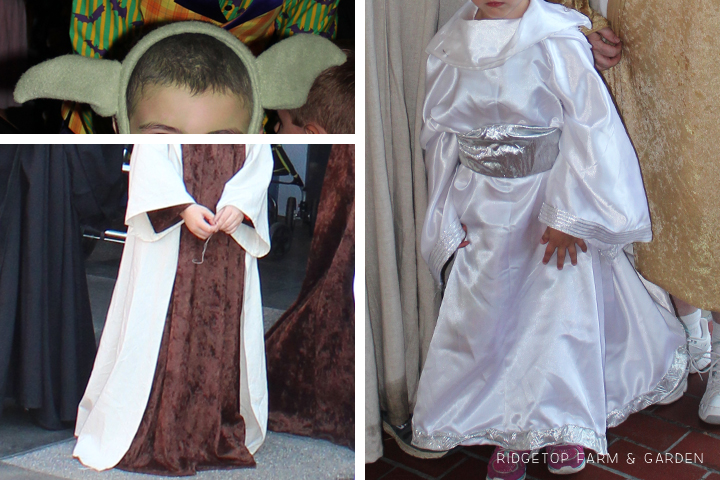 JEDI
The Jedi costumes for the three adults were quick & easy to make. Their only downfall is that they were too heavy & hot for California weather.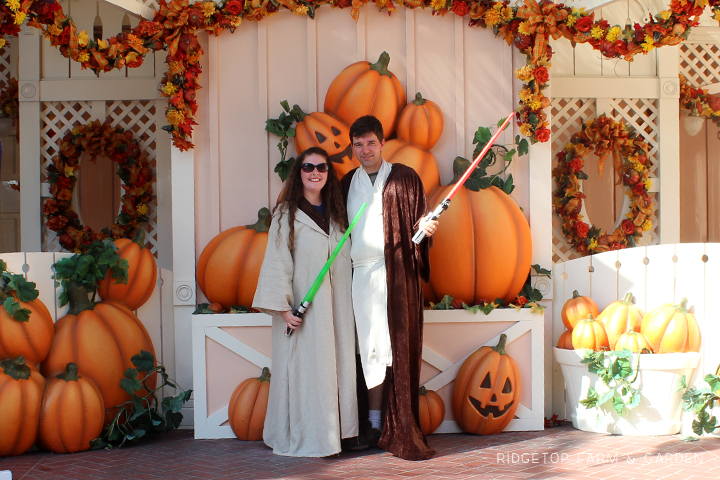 STAR WARS FUN @ MICKEY'S HALLOWEEN PARTY
We had a lot of fun trick or treating during Mickey's Halloween Party in our Star Wars costumes.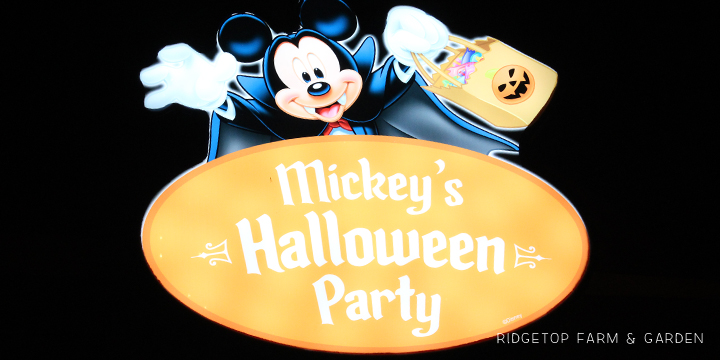 Pluto signing our autograph books.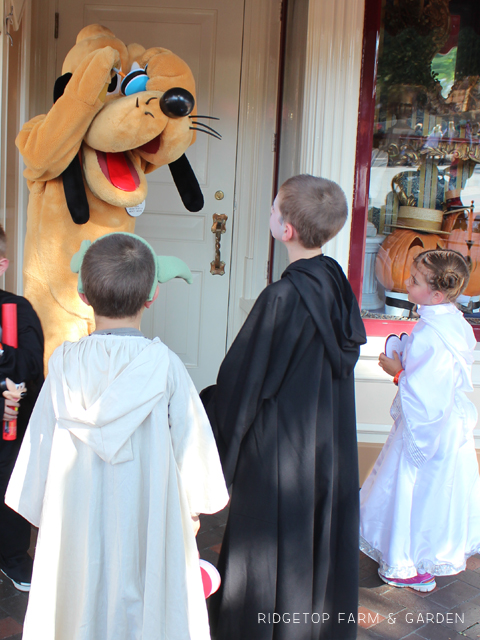 Of course, we had to do Star Tours that evening. We also ate at the Tommorowland Terrace & took pictures with Storm Troopers to keep with our theme.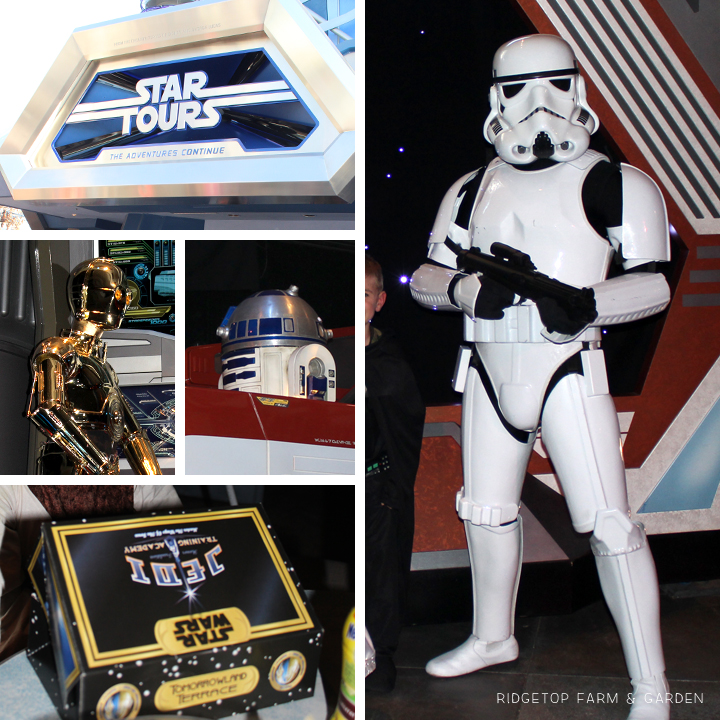 The effort was all worth it. This will go down as one of my all time favorite Halloween's ever. My mom & nephew met us in Disneyland & all 7 of us wore costumes. I'm sure the kids would have had fun even if us adults didn't dress up, but I think it made the happiest place on earth even happier.