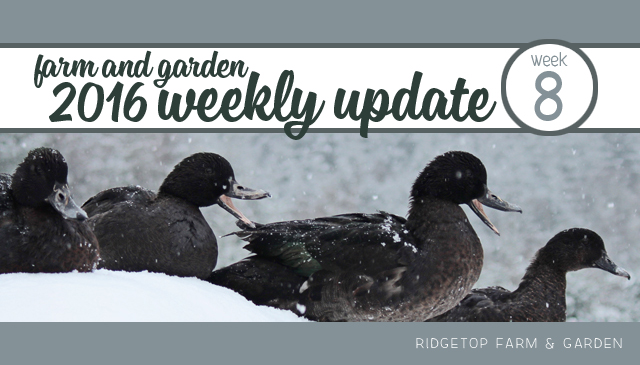 This week's update isn't an update on the week, but an update on our to do list. I like lists. Well, it's not so much the list itself I like, but the crossing things off the list. So gratifying.
Since the photo template I use for our weekly updates has nine spaces, I'll list only nine things that need done. There are, of course, about a hundred more items that could be added. But, we'll start with nine.
BUILD BRIDGE
When we added a pond to our bird village the overflow goes right through the walking path. The intention was to build a bridge over this area. We need to do that.
CLEAN UP PATIO EDGE
This fall we poured a stamped concrete patio. I love it. However, surrounding the patio doesn't look too good. We gotta fix that.
FIND USE FOR WINE BARRELS *In process
We have 3 wine barrels that I love. But, I've never found a good home for them. It's time to figure that out.
CLEAN SIGNS
I have made a number of signs. Most of them have been around a couple years and could use a good cleaning – like the one in our bird village that has many bird droppings on it.
TACKLE THE BACK YARD
Making anything of our backyard was on the back burner for a few years because the first major step was putting in a patio – and, that kept not getting done. So, I didn't spend much time on it. We now have a patio. Woop! Woop! It's time to get the back yard lookin' good – without spending a fortune.
FINISH CEMENT PATH  DONE! To see it check out this post.
One of the first things I did when we moved here was put in a cement path using a walk maker form. Farm Girl was just a baby and all summer during her nap I would mix cement and pour two mold's each day. Eventually I got the path done – well, as done as it could be at the time. Now that the patio is in, I can finish the path.
CLEAN UP MEADOW  DONE!
Last year's perennials need trimmed in our little meadow. Also, the meadow has never looked the way I was hoping it would. I need to look into ways to remedy this.
BUILD PATH IN FRONT OF COOPS  *In process
We had extra concrete when we had our patio poured. So, we quickly through together a form and poured the extra in front of one of the chicken huts. It doesn't look fabulous, but I love that it's not muddy in front of the coop. I'd like to add a mosaic of concrete in front of the other chicken hut and chicken tractors.
ADD FILTER & PUMP TO POND
When we put in the pond in our front yard it was a last minute thing, quickly thrown together. We had a pump, filter and water wheel – but, no electricity. We now have electricity near the pond, so we need to get all those things moving.