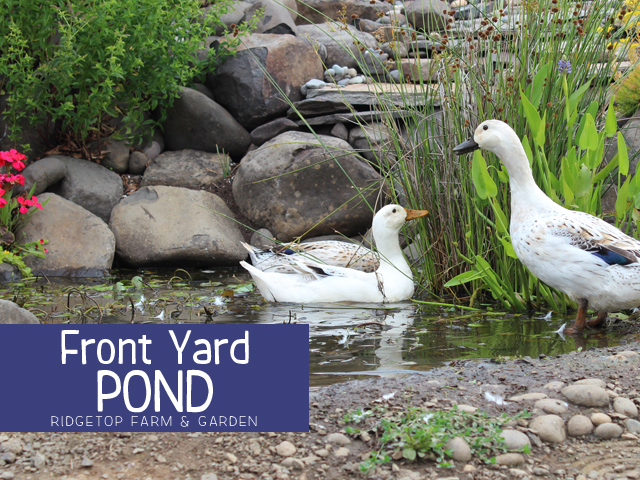 When we began the process of installing flowerbeds I wanted a pond, but wouldn't allow myself to even think about it because we needed many other things first & I knew I could easily get carried away with any pond ideas. Well, lucky for me, our neighbor ended up selling us his pond set up, including his goldfish, for super cheap. The size of the pond liner determined the size of my new pond, preventing me from getting out of hand. We had the perfect place for the pond. It's on a little hill allowing us to have a little waterfall, too. The reality is that the waterfall area at the moment is just for looks. There is no electricity at the pond which means there is no running pump, which means there is no water movement. I love ponds in gardens & I'm happy to have this one. It's in a great location so I can look at it often throughout the day to see which critters are visiting. Like all my gardens, it's a work in progress. So far, I'm liking the progress of the pond.
2009 & 2010
Top Left: The majority of the hole was dug out by the backhoe.
Top Right: Then I used a good ol' fashioned shovel to give it the shape I wanted and add a few ledges.
Bottom: After perfecting the shape we layed in the liner. Then, added rocks.
WATERFALL
Top Left: The water wheel came from our neighbors as part of buying the pond from them.
Top Middle: A large, heavy piece of granite that needed a purpose. After giving the water wheel a fresh coat of paint, we set it on the granite.
Bottom Left: We bought a few pieces of slate for the waterfall.
Right: Waterfall all set up… However, the silly thing is for years we didn't have electricity at the pond, so the wheel never turned and water never ran over the rocks. Now we do have electricity at the pond. But, the pump is being used in our aquaponics system. And we have to figure out a filter that can handle large amounts of duck poop otherwise we would just have duck poop water flowing over the rocks. Ummm, yuck. So, the waterfall and wheel are just for looks. One year I'm confident we'll have it running, though.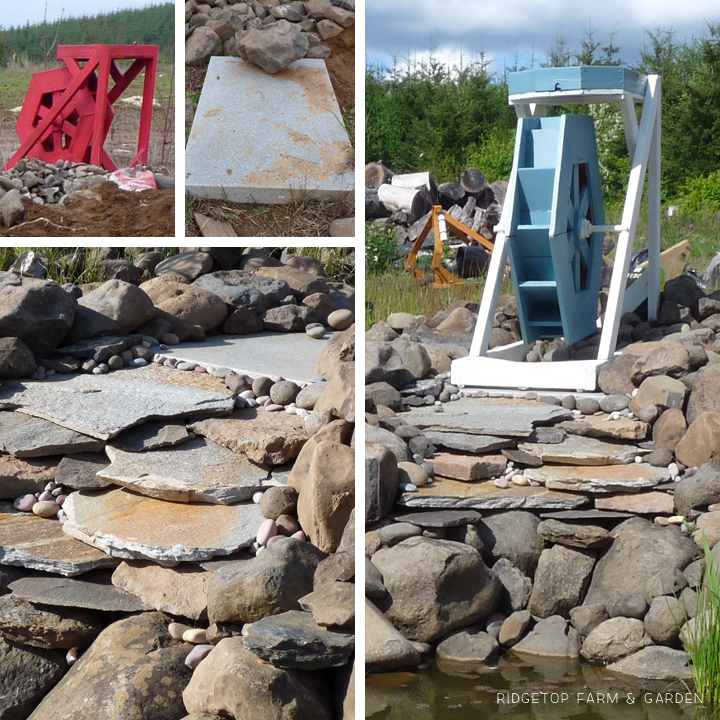 2011
I love the way the pond turned out.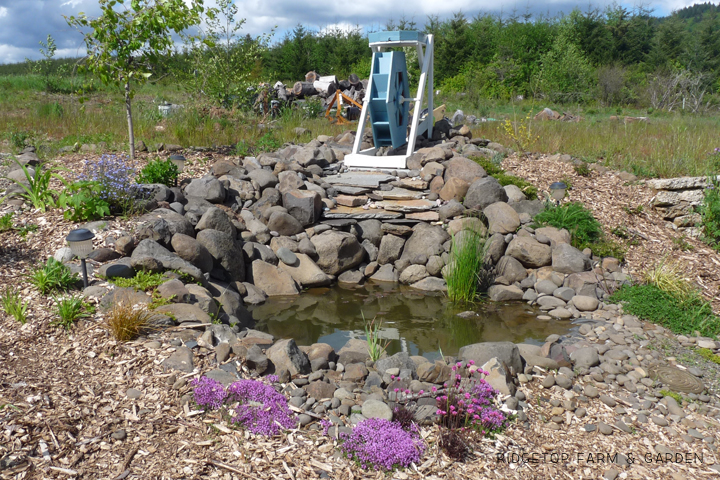 Flowers & Fish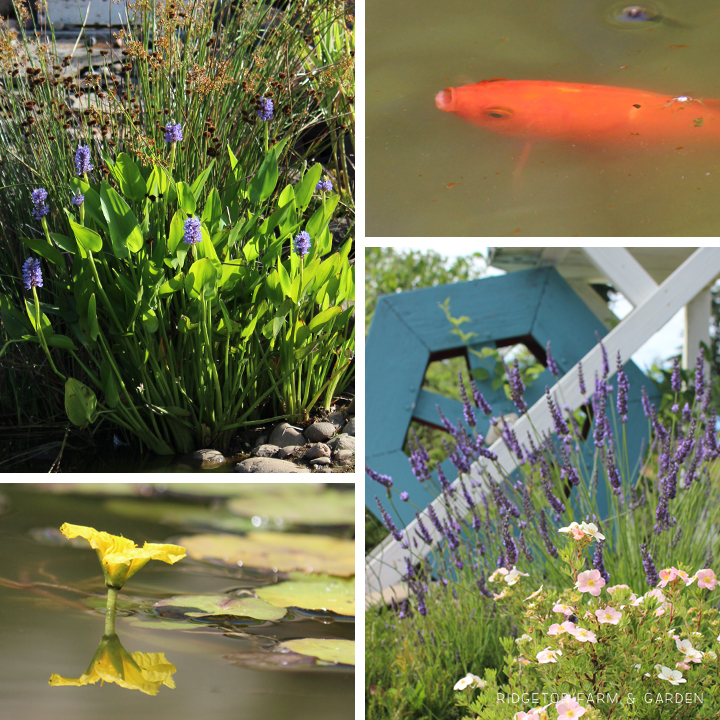 Wild Critters
I love the pond for many reasons. One of them is seeing the wildlife that stops by.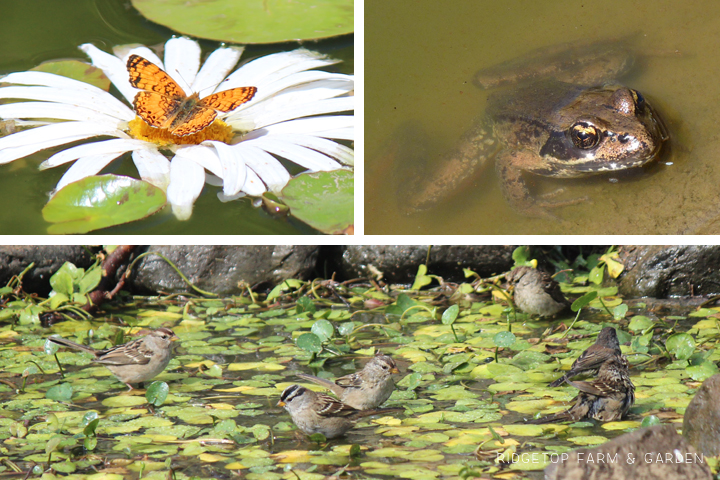 Ducks
Not long after the pond went in we got ducks. I enjoy watching the ducks swim and play, but they aren't doing the pond, the plants or the fish any favors.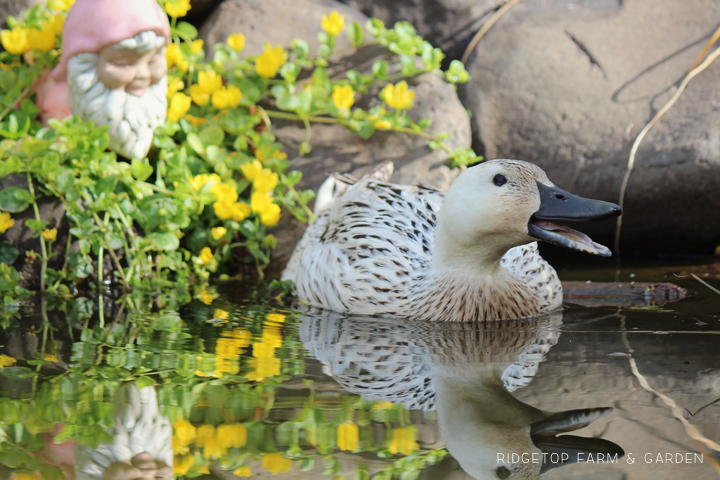 2013
I'm still working on getting the plants to cooperate around the pond and water quality due to the ducks, but overall I'm happy with how it has turned out.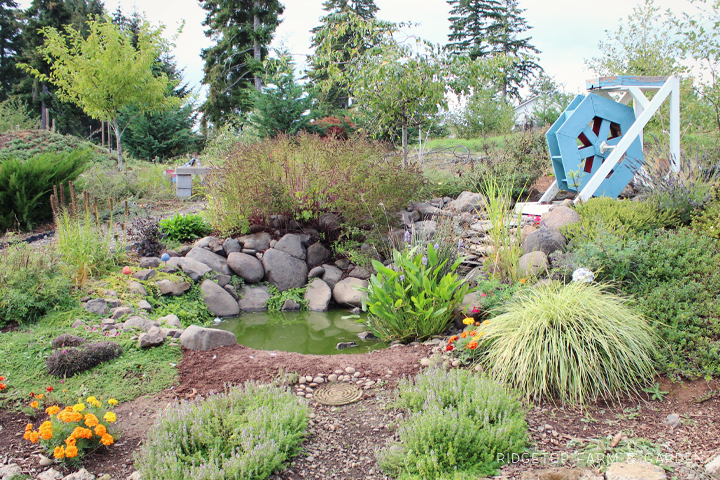 Check out our other Flower Garden Areas:
Back Yard
Bird Village & Pond
Front Yard
Shade Garden