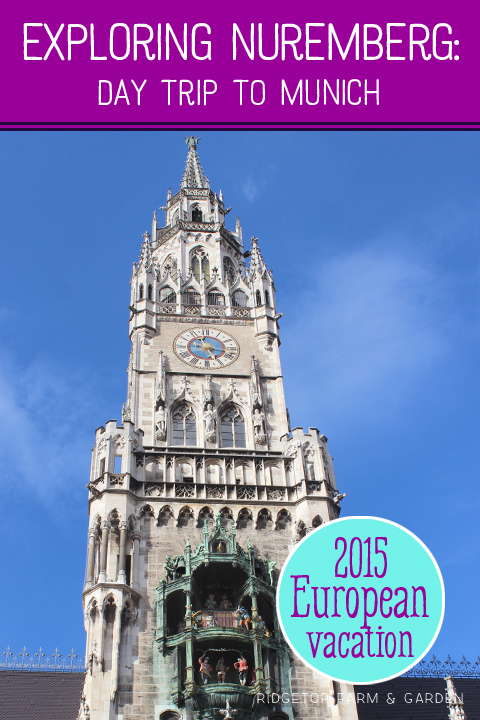 During our stay in Nuremberg, we took one day trip outside the city.
We got up early, walked across the street to the train station, and headed towards Munich.
DACHAU CONCENTRATION CAMP
We got off the train in Dachau, then took a bus to the Concentration Camp.
I was a little uneasy about taking the kids here. It was going to be a harsh realization that the world isn't always nice. It was important to me to go, though, so we went.
Dachau was one of the first Nazi concentration camps and opened in 1933. It remained open for 12 years, until the end of the war.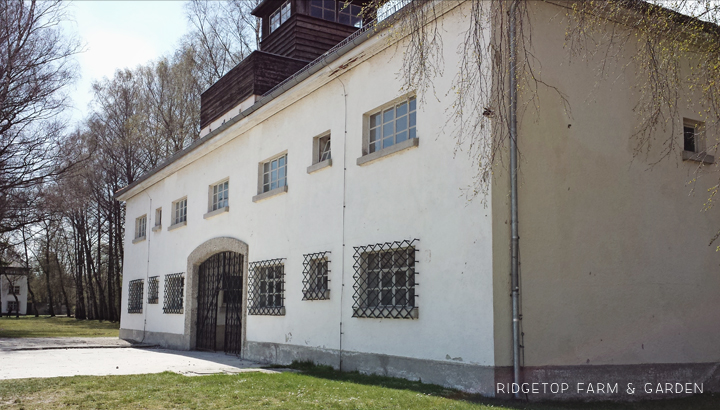 The concentration camp held political prisoners, Jews, and others the Nazi's deemed unfit such as artists and handicapped.
As you can imagine, conditions here were awful. There is a lot of information at this memorial site. Since the kids were with me, I didn't read as much of the info as I had wanted to. But, I tried to read enough to answer the questions the kids had.
We saw their bunks. We saw the gas chamber. We saw roll call square where prisoners had to come every morning and every night for roll call. They stood here for at least an hour, in any weather, until those in charge decided the number of people lined up matched the number on their list. When the numbers didn't match up the process could go on for hours. Prisoners were known to drag their dying friend with them out to roll call just so they could be accounted for.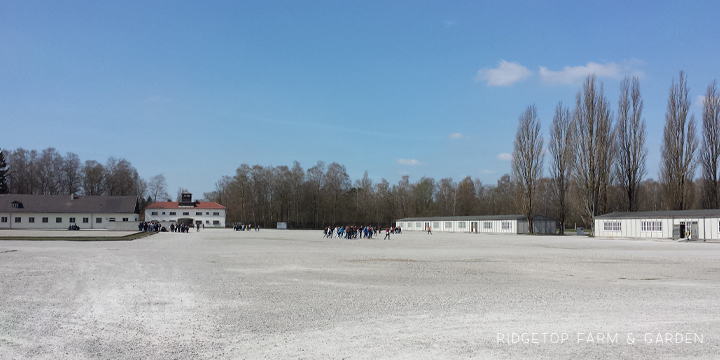 The concentration camp was built to hold 6,000 prisoners. As the years went on, that number greatly increased. As many as 32,000 prisoners were tortured here at a time.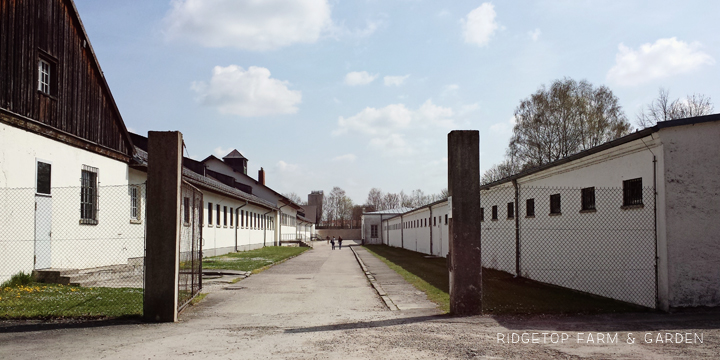 Not long after a read an account of prisoners digging up dandelions by the root and eating the whole thing just for something to eat, I found one lone dandelion outside in the rocks.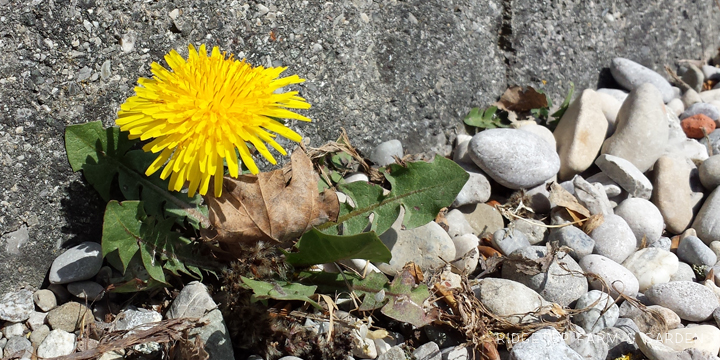 Visiting Dachau was an incredibly sobering experience that I will never forget.
NYMPHENBURG PALACE
From Dachau we headed to Nymphenburg Palace. I was shocked at the enormity of the palace and its grounds. It was glorious.
I didn't have a reason for visiting this particular palace other than that I had bought a 14 day pass to visit various Bavarian castles and palaces. This just happened to be the one we could work into our itinerary.
The palace began being built in 1664 and served as a summer home for rulers of Bavaria.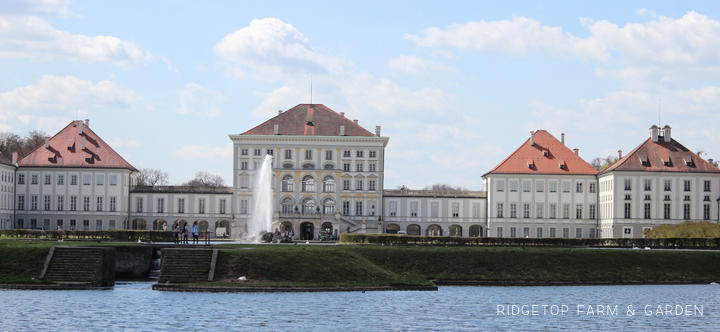 The Stone Hall is grand with its gold details and ceiling frescoes. I can just imagine the royal balls that took place here.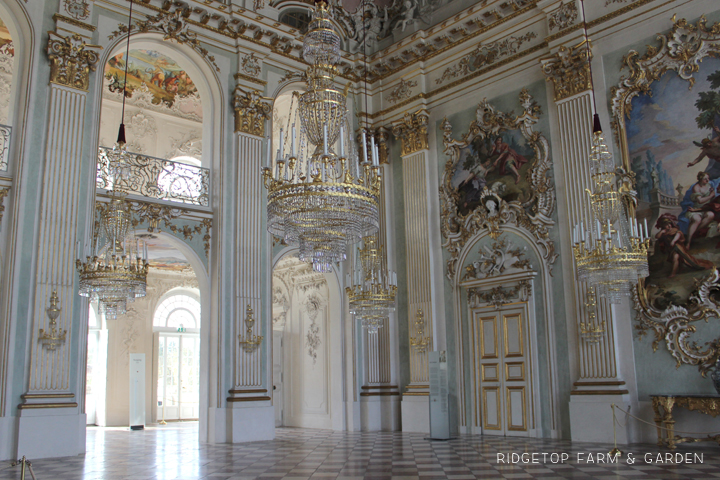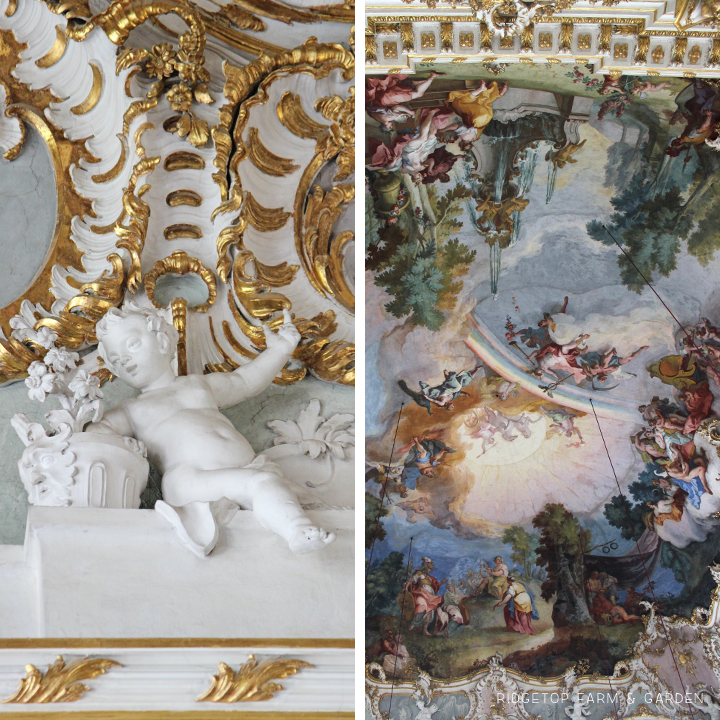 The palace park outside is just as grand and beautiful as the inside.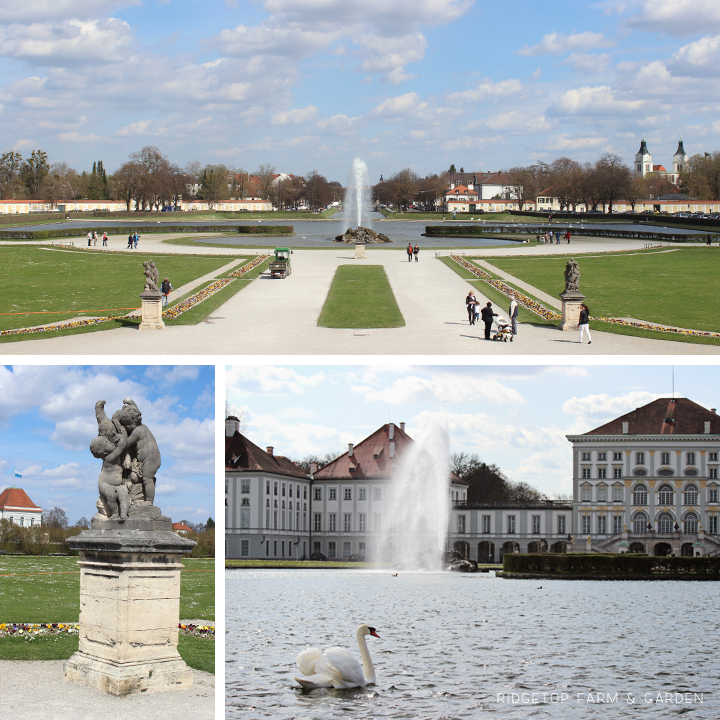 MARIENPLATZ AREA
There were a ton of things I wanted to see in Munich, but the day was going by quickly so we chose to wander the streets of the city center.
We grabbed a snack at the McDonald's in Karlsplatz, or Stachus, depending on who your talk to. We ate our unhealthy food choices as we watched the bustling activity in the town square. Across the street was the Palace of Justice building.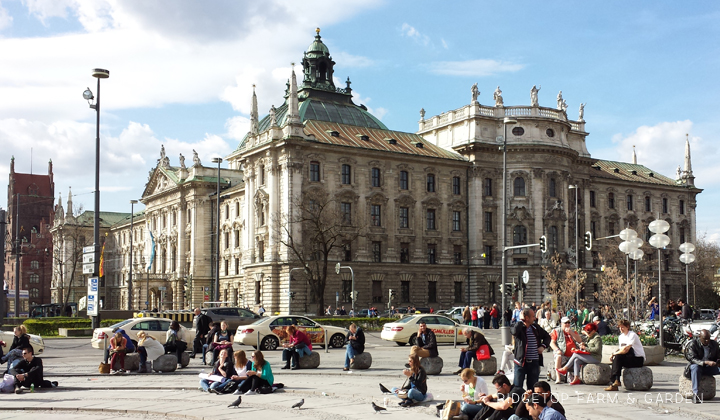 Continuing our adventure, we walked down the pedestrian only street Kaufingerstraße. It is one of the Munich's oldest streets and lined with shops and restaurants of every kind.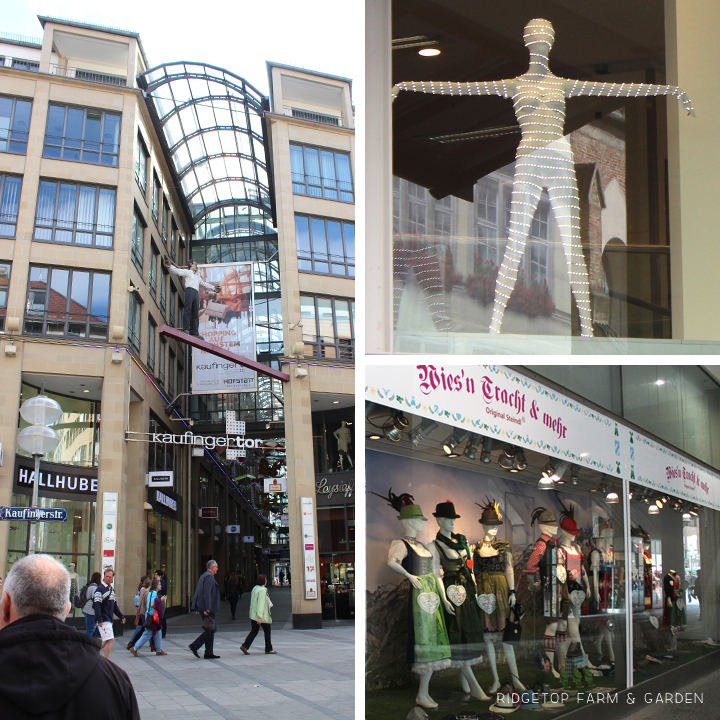 We love good street performers.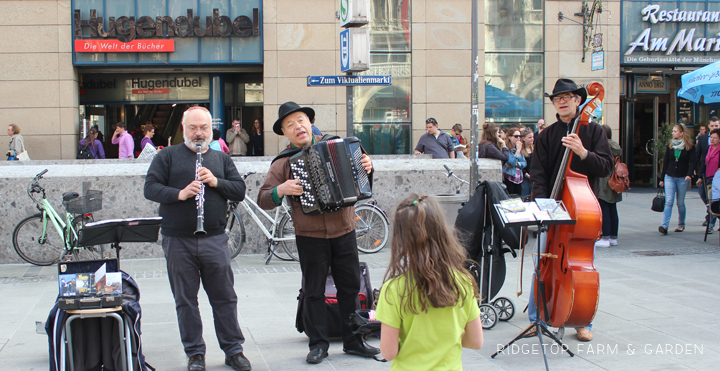 We made it to Marienplatz. Since we arrived so late in the day, we missed the glockenspiel show off its stuff. But, we did get pics with the human statue street performer.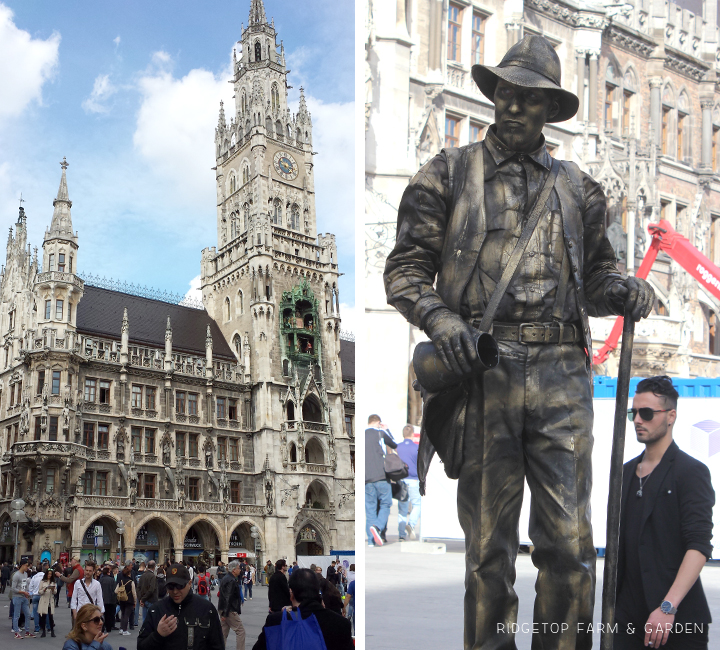 We ate dinner at Hofbräuhaus. Not sure why, but it took us forever to find it. We circled and circled the area and finally found it.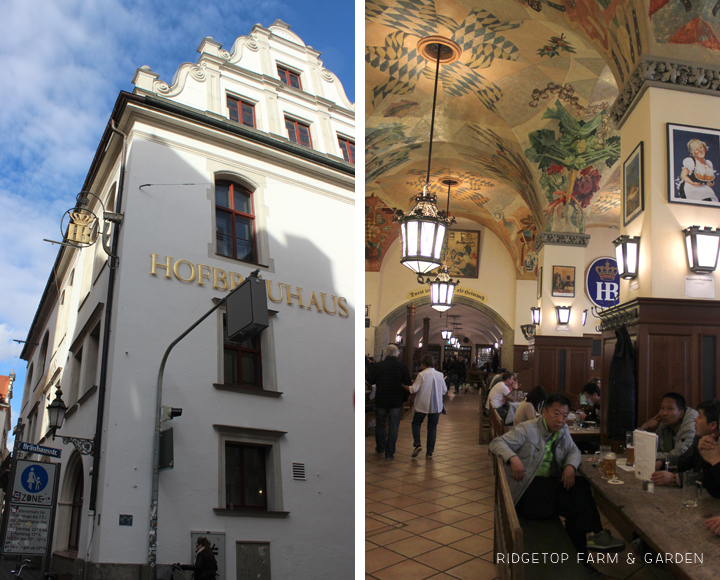 We asked for a menu in English.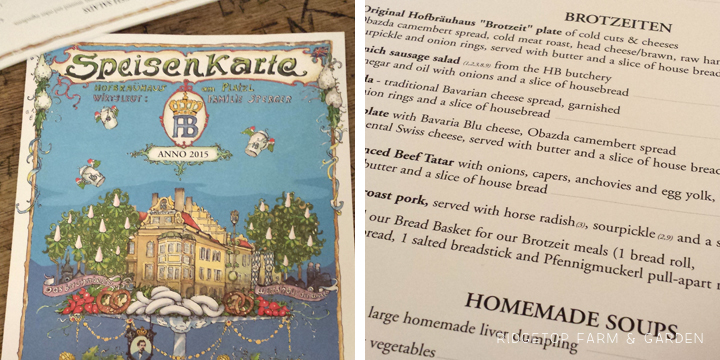 We ordered a cheese plate, sausage, sauerkraut and spaetzle noodles. When at the Hofbräuhaus in Germany, it seems almost mandatory to order a beer. I did. It was huge and I am not a beer fan, so I didn't drink much of it.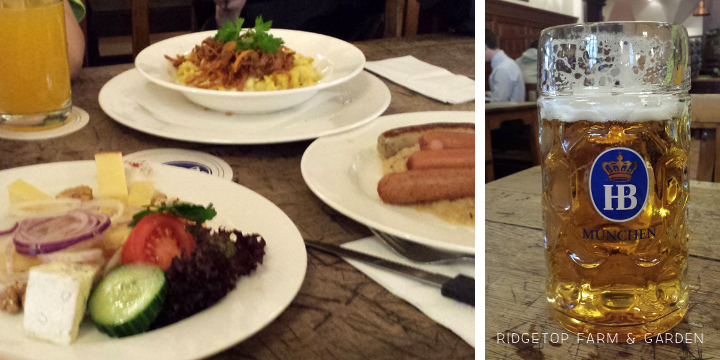 After dinner it was time to head back to Nuremberg. It was a long day of train, tram and bus rides, but we experienced a range of German history.
Safe & Happy Travels to You!