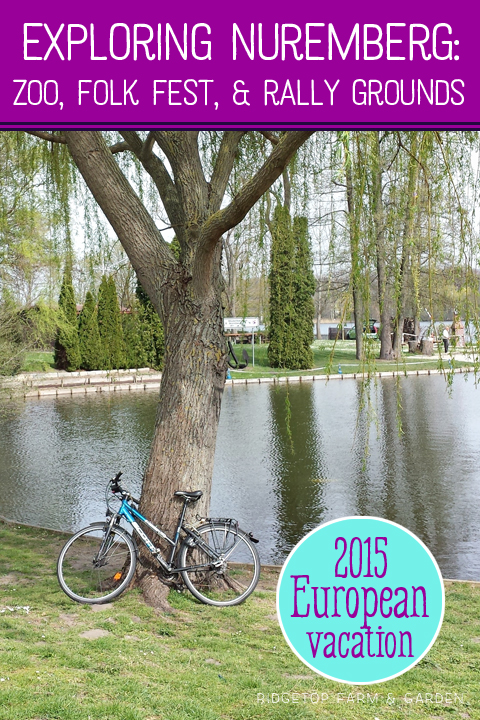 Twice, the kids and I, ventured away from Old Town and explored an area in eastern Nuremberg.
Europe has so many wonderful historical buildings, monuments and museums. As much as I love exploring all those places and want my kids to have exposure to it, I also understand my kids are kids. I want them to have just plain fun and not remember our trip as an unending snoozefest of old stuff. So, our itinerary included a couple places of fun where the kids didn't have to worry about being quiet or knocking something over.
PUBLIC TRANSPORTATION
Our hotel was located right next to a tram stop, so we took the tram to Dutzendteich Lake. This was a fun way to see parts of the city we wouldn't have seen otherwise.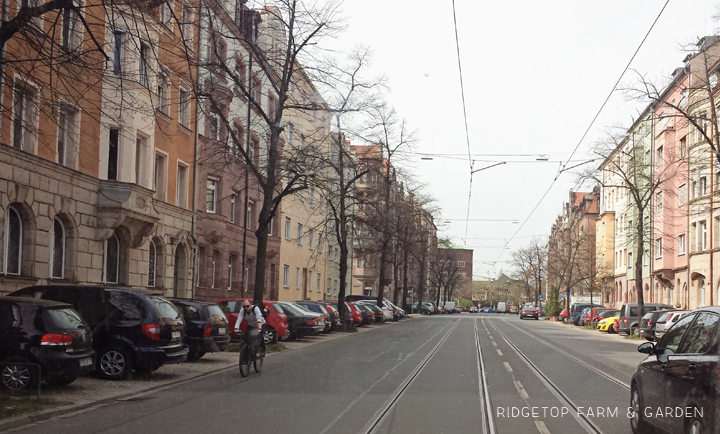 We planned to take the tram to the zoo, too. But there was a problem with the line, so they sent a bus. The bus dropped us off a bit before the zoo entrance, so we walked the rest of the way. That worked out ok. It was a nice day and a good excuse to venture through a German neighborhood.

A home near the zoo that reminded me of a German fairy tale.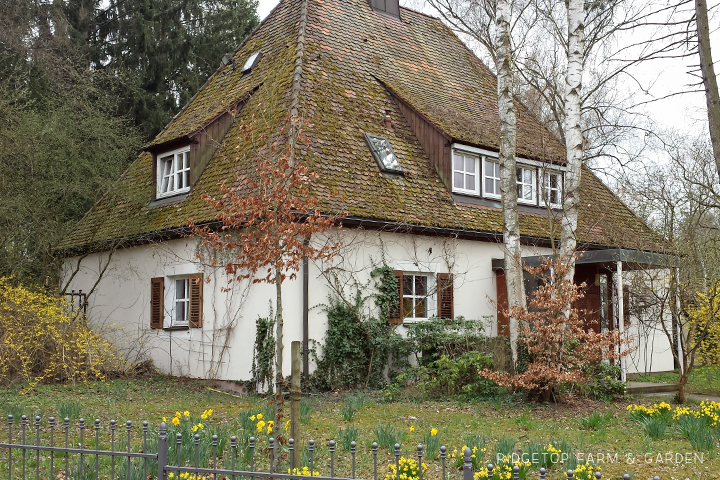 NUREMBERG ZOO
One day of fun was spent at the Nuremberg Zoo.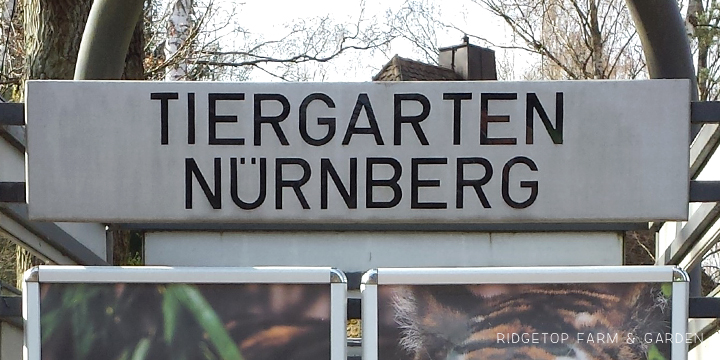 I loved seeing animals we don't have at the Oregon Zoo.
The Maned Wolf brought up memories from when my kids were younger and watched Go, Diego, Go.
The horns on the Alpine Ibex were stunning!
I am always in awe when I see a gorilla. I could watch them for hours.
This was my first time ever seeing a manatee.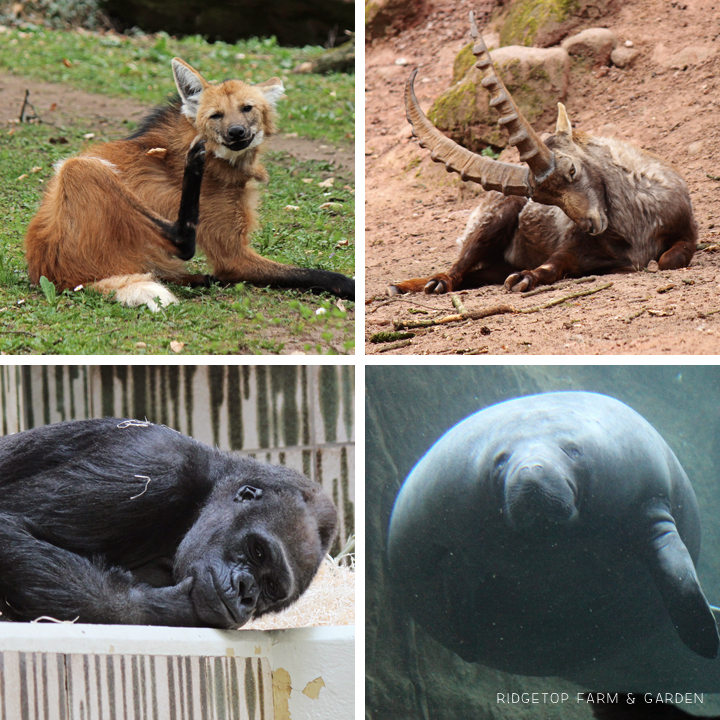 We have had these species at our zoo, but these particular ones were new to me. We have polar bears, but not baby polar bears. So cute! ♥ And, I have never seen a tiger swim. He seemed to enjoy it.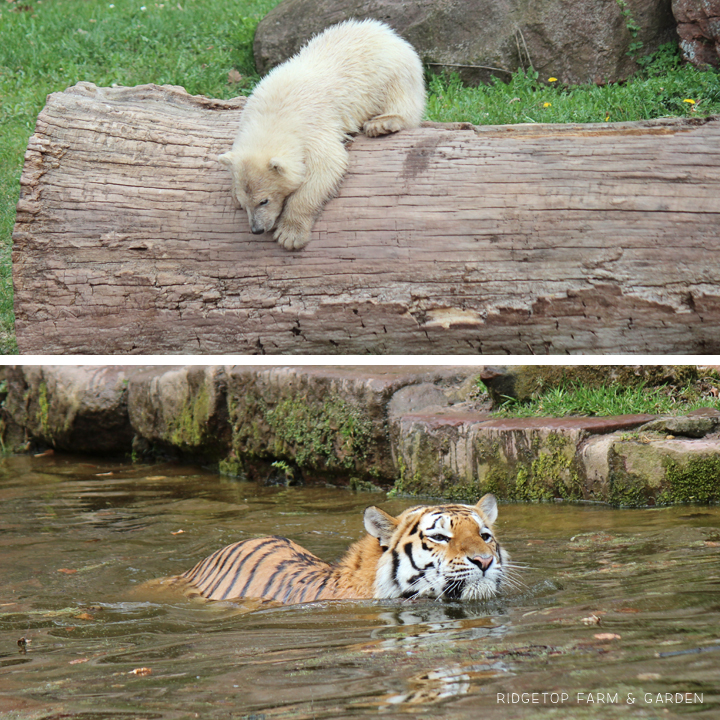 One of the highlights of our zoo day was the dolphin and seal show.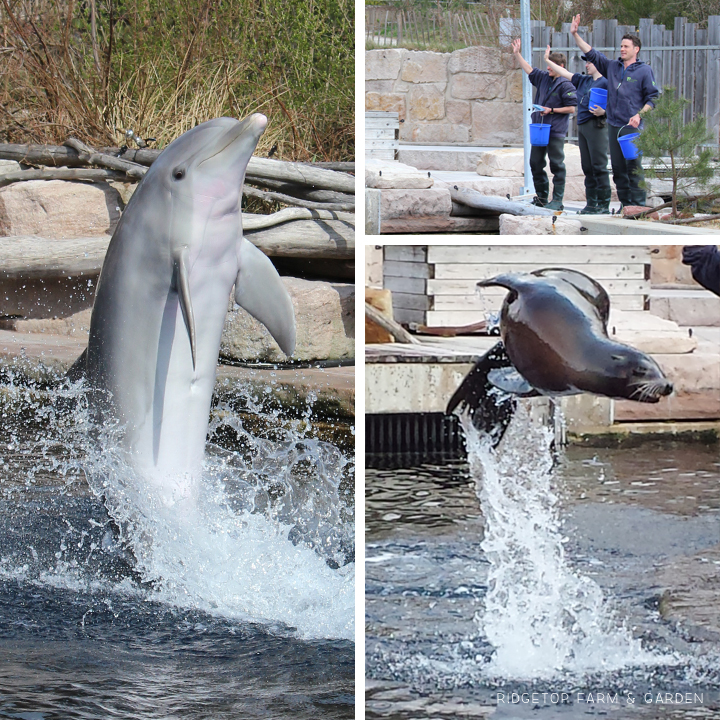 Except for the snafu with the tram, the day was great. We even got back to the hotel with enough time to wander over to Old Town for dinner.
DUTZENDTEICH LAKE & NAZI PARTY RALLY GROUNDS
Staying in Nuremberg, it was hard to resist visiting the former Nazi Rally Grounds. The rally area surrounded Dutzendteich Lake. We took a nice walk around the lake. The kids got to play and I read the signage, trying to take in the enormity of the historical things that occurred where we were standing.
CONGRESS HALL
To display their power, the Nazi's planned many large buildings on these grounds. Congress Hall being one of them and designed to be a focal point. In 1935, work began on the Roman Colosseum inspired building. Due to the start of WWII, the building was never finished.
The building now houses the Documentation Centre, an exhibit of Nuremberg during the Nazi era.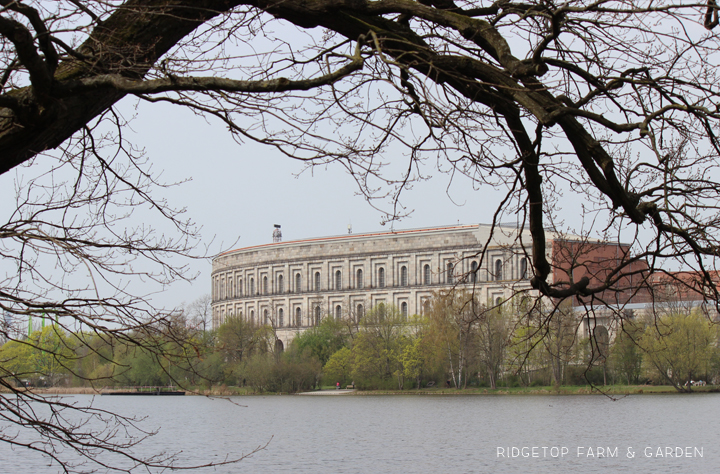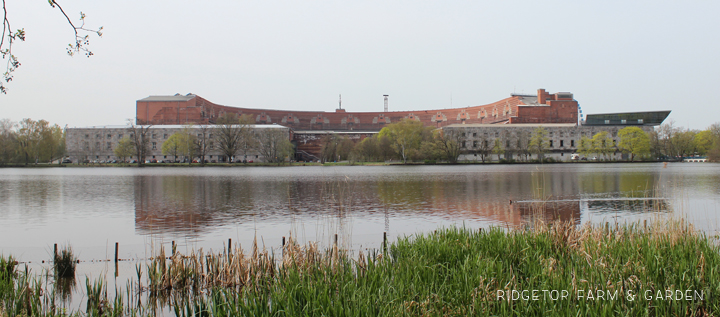 The lake is now used for recreational purposes. Not too many people were out on the lake, but lots of paddle boats were available to rent.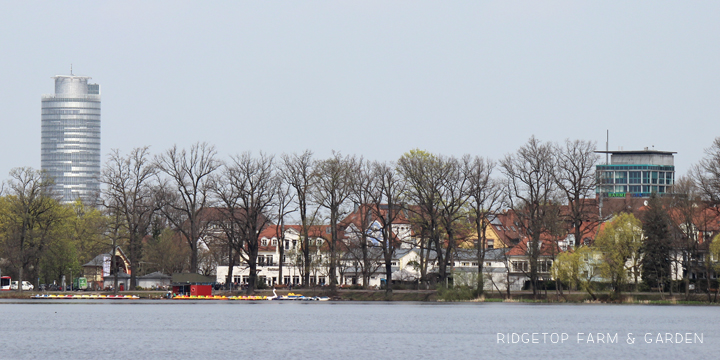 I will admit to being underwhelmed at the landscaping. I guess I was expecting glorious mounds of green fields covered in spring flowers, since we were there in April. I guess I'm also used to living in western Oregon, where it is green. Really green. Surrounding the lake was primarily brownish dirt, leaves and underbrush. The zoo was the same. I did find a few patches of green and wildflowers, though.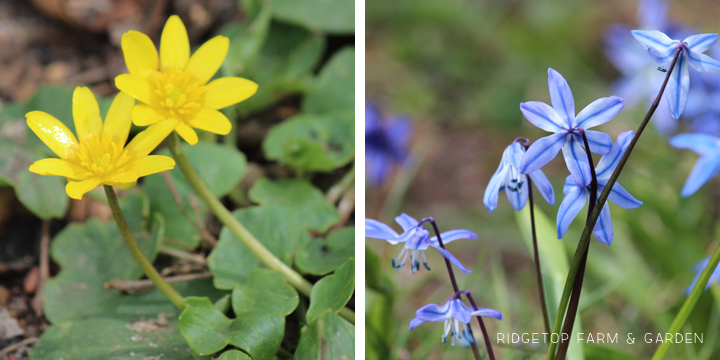 I was thrilled to see birds and ducks at the lake.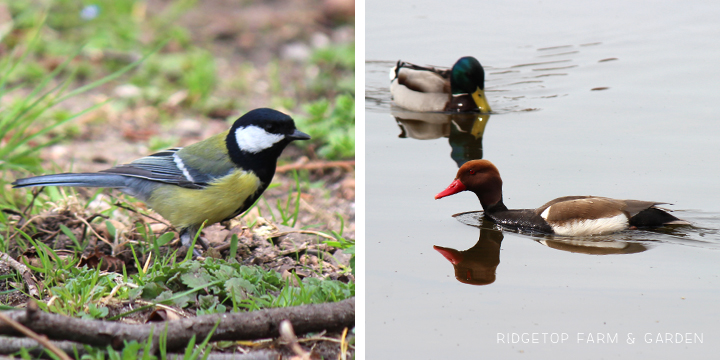 Left: The kids running, loving the relaxing day.
Right: Congress Hall and the huge ferris wheel we rode later in the day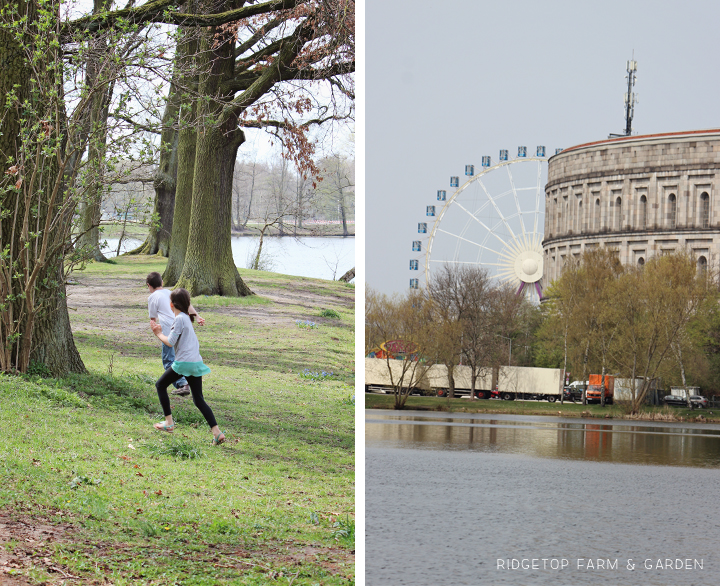 ZEPPELIN FIELD
This photo is what remains of the grandstands, originally built in 1935.
Zeppelin Field held many National Socialists parades, rallies and festivals, with as many as 200,000 people. The rallies continued until 1938.
Since the war ended, the field has been used for sports, motor events and concerts.
There were very few people around when we visited, though.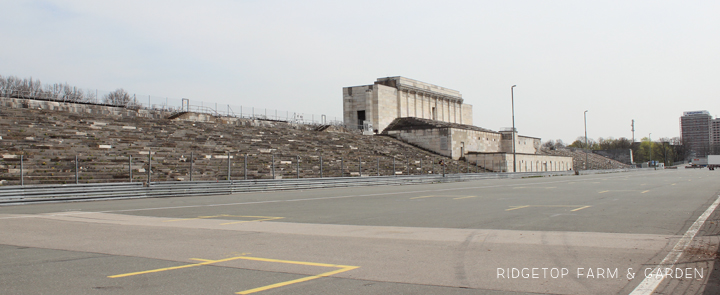 NUREMBERG FOLK FESTIVAL
We happened to be in Nuremberg during their Folk Festival, which was right next to Dutzendteich Lake. So, we checked it out.
We had a great time. It was similar to a carnival or fair we have around here, just with German flair, of course.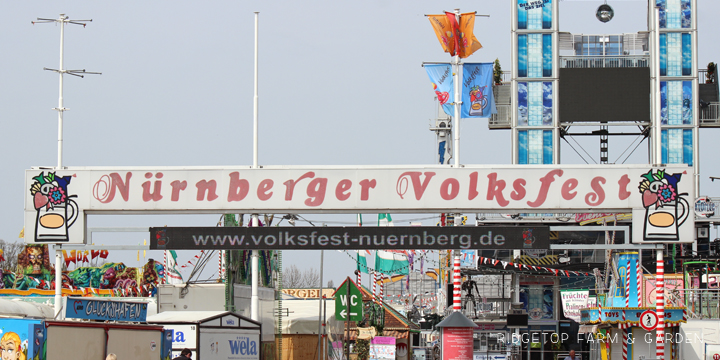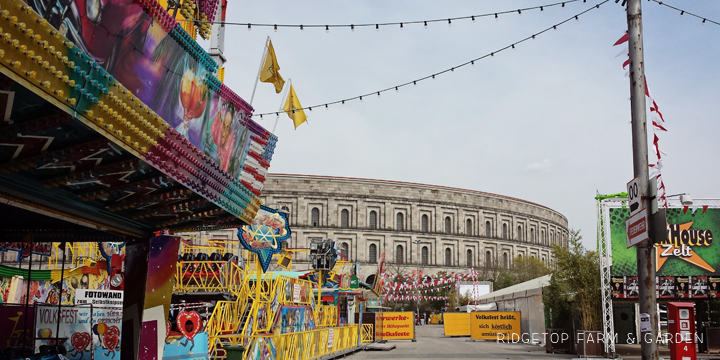 My eyes tend to spot farm animals. These are the ones I found at the Folk Festival. The pig is darling with a great smile. The rooster is quite handsome. Best of all, they don't poop.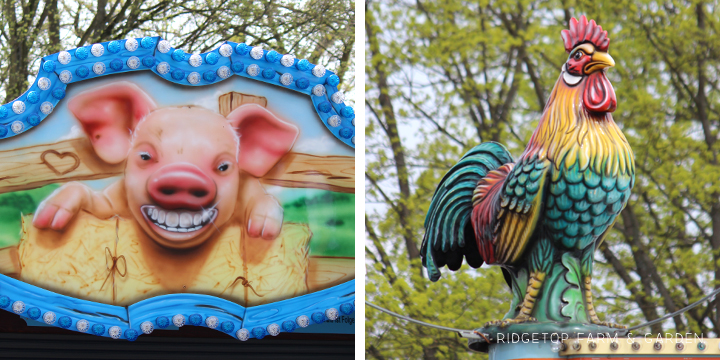 Of course we tried fair food. I skipped the sardine sandwich. I honestly wasn't quite sure even how to eat it. But, I did get a schnitzel sandwich. It was delish!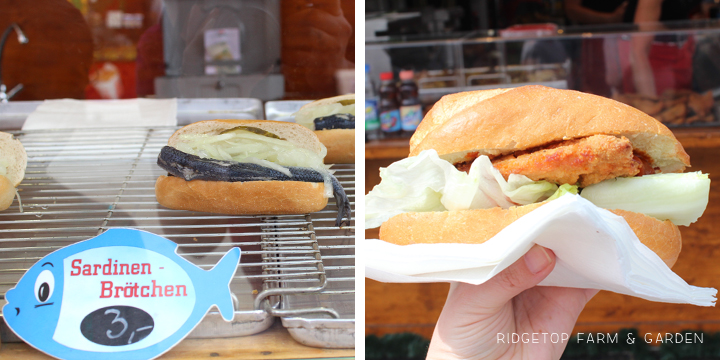 We shared the biggest pretzel I have ever seen. It was priced just a tad more than a regular pretzel and the 4 of us could fit half way around it for a selfie.
It's funny the things you remember. I'm pretty sure this pretzel is one of the things we will remember most about our trip.

The only ride we did was a humongous ferris wheel. It was simple and fun, with an amazing view of the city.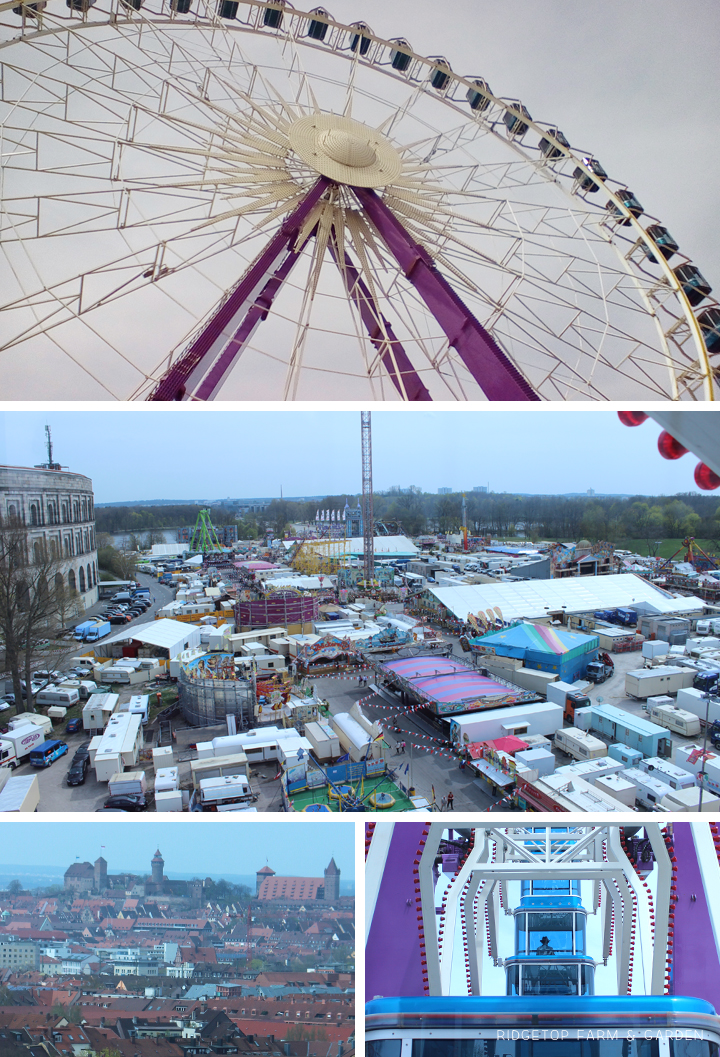 Safe & Happy Travels to You!
Save
Save