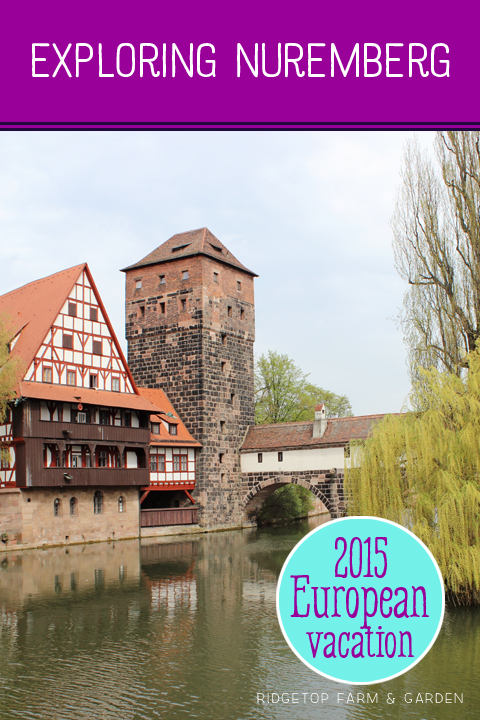 We booked our train travel from Italy to Germany through the Deutsche Bahn. The train we took left Venice at 1:35pm and arrived in Munich about 8:20pm. Once in Munich we switched trains and pulled into Nuremberg about 10:45 that night. The entire trip was about 9 hours, but we traveled through the Alps so it was scenic and beautiful.
John was going to Nuremberg for work. The kids and I just tagged along for fun.
John's work picked the hotel, which was located perfectly. It was near the train station, a tram stop was right outside the hotel doors, and Old Town was literally a crosswalk away.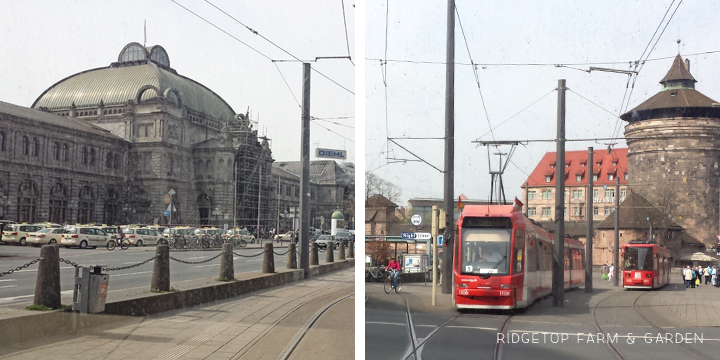 I had hoped to explore a bit more of Germany, but primarily we stayed right around Nuremberg.
OLD TOWN
Since it was so close, most of our time was spent in Old Town.
Our first stop on the first morning was the Imperial Castle.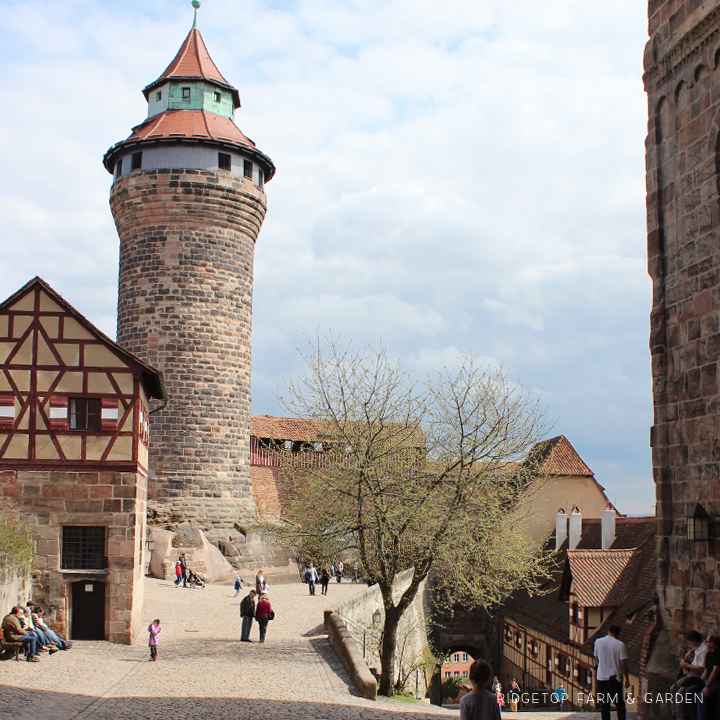 The view of Old Town from the top of the Sinwell Tower. Amazing!

Even though we walked Old Town a number of times I never got tired of its charm. Much of it was destroyed during WWII and has been rebuilt with its medieval roots.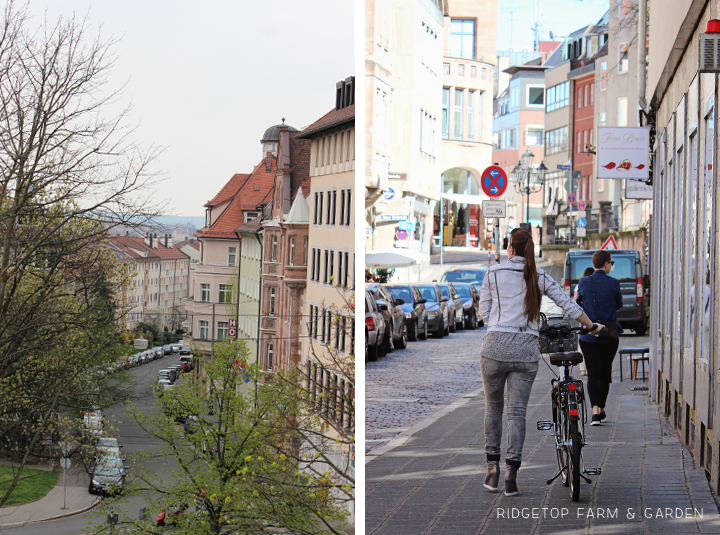 Lots of fun stuff to see.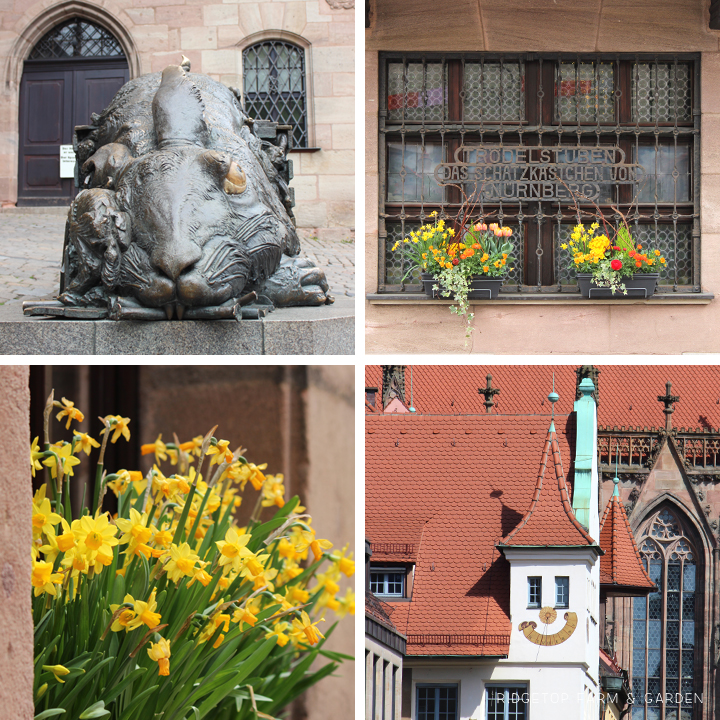 Old Town is home to 3 breathtaking churches. I loved catching glimpses of them most everywhere we walked.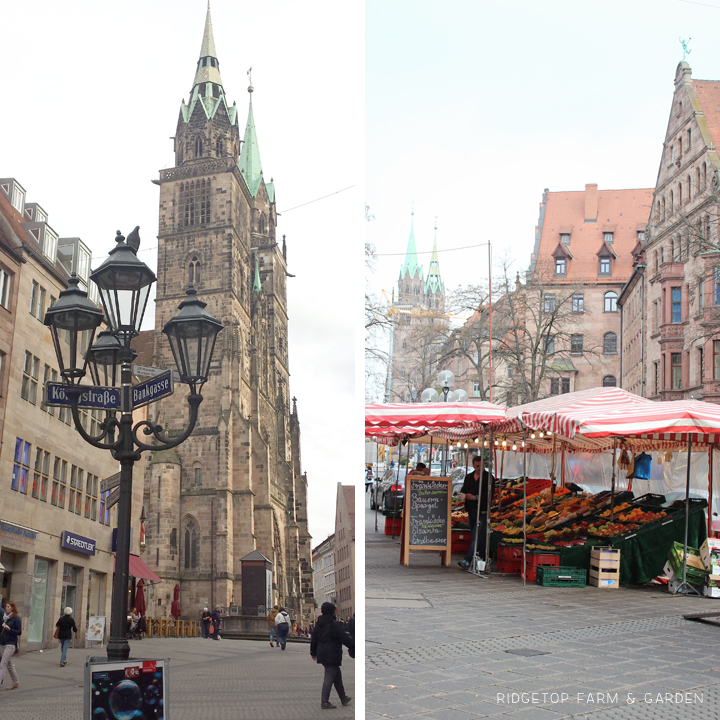 Church architecture. Stunning!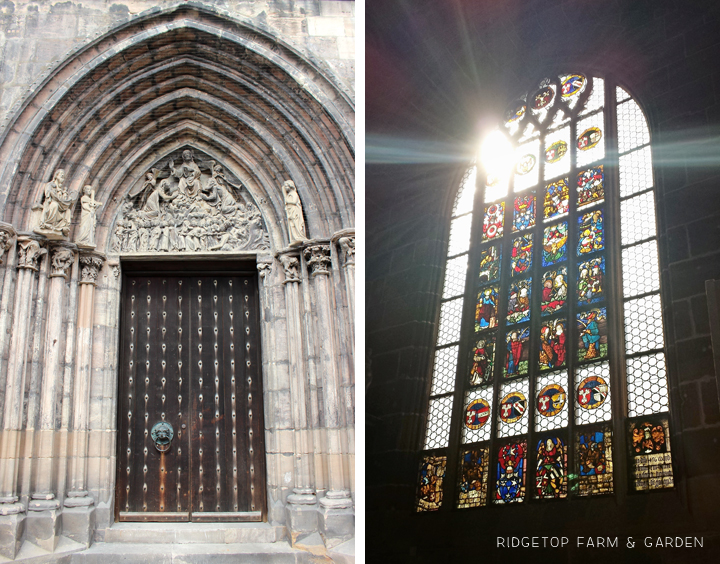 Open air market and bicyclists. ♥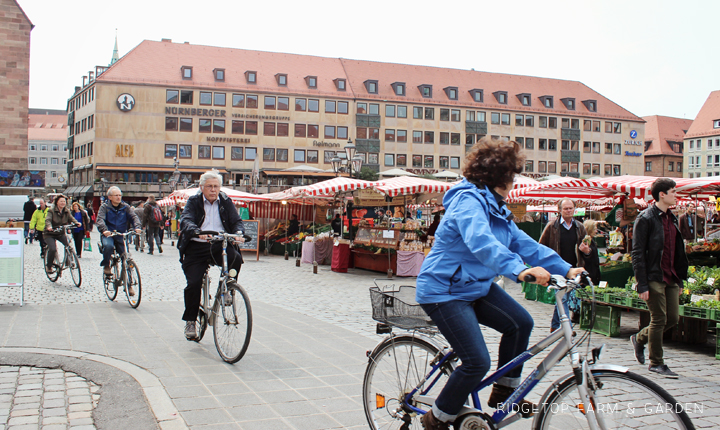 MORE THAN OLD TOWN
Three of our six days in Nuremberg we ventured outside the Old Town walls.
One day we went to the zoo.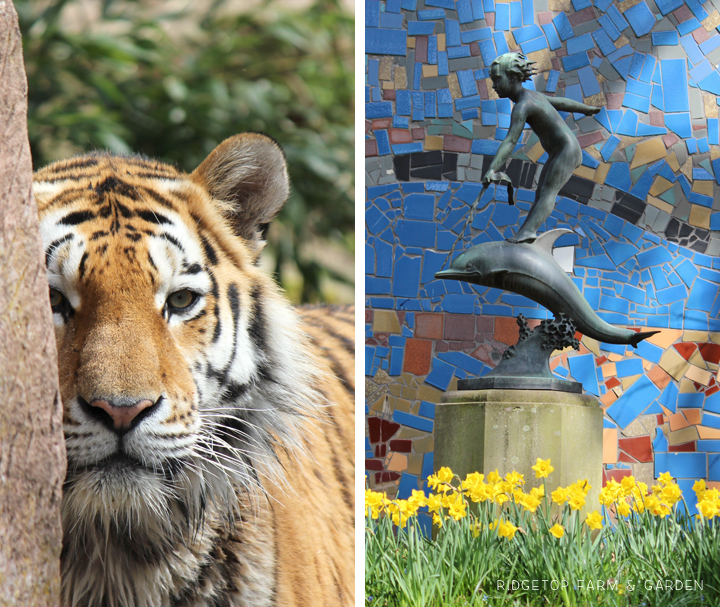 One day we explored around Dutzendteich Lake. This was a former location of Nazi Rallies. We also attended the Folk Festival.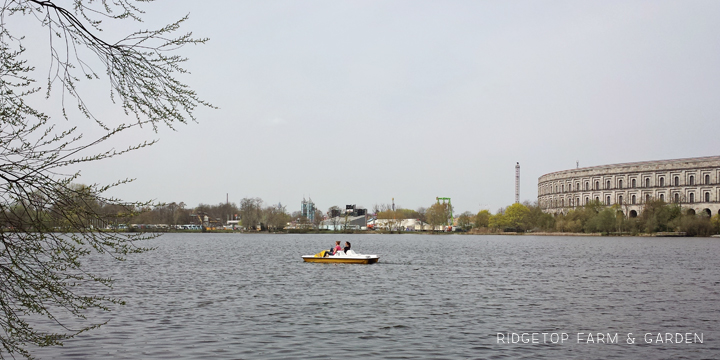 We also took the train and spent a day around Munich going to the Dachau Concentration Camp, Nymphenburg Palace and Munich's city center.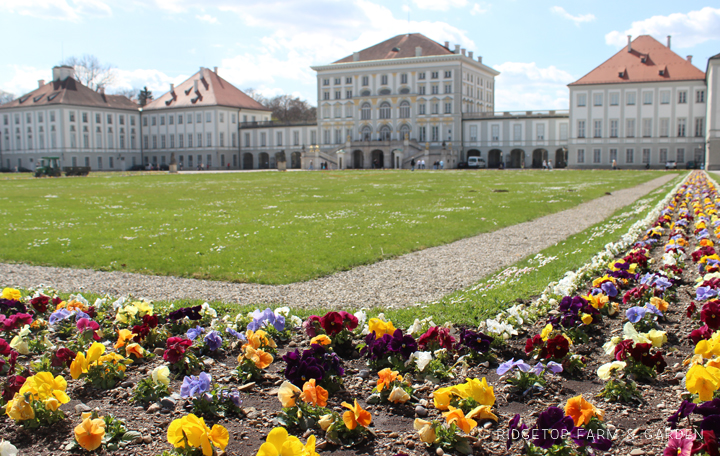 THE FOOD
We ate most of our meals in Old Town.
One of our first meals was at Original Nürnberger Bratwursthaus for typical German cuisine. One reason we chose this place was to try the famous Nuremberg sausage. They reminded me of what I would call a breakfast sausage link, not big like a typical bratwurst. They were good.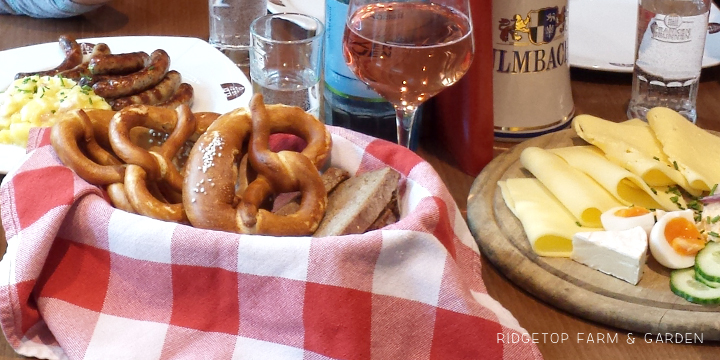 Oh, for the love of crepes. We ate crepes I don't know how many times throughout our 2 week vacation. In Old Town there was a cart set up outside the St. Lorenz church that we ate at couple times. We also ate at Creperie am Hauptmarkt.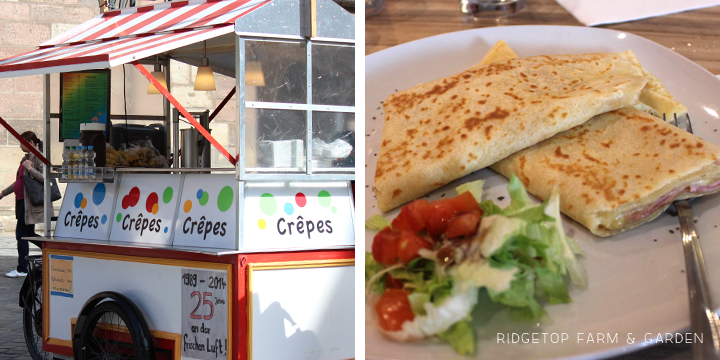 We ate from numerous little food places near the entrance of Old Town. We tried falafel for the first time. I was pleasantly surprised to know I liked it.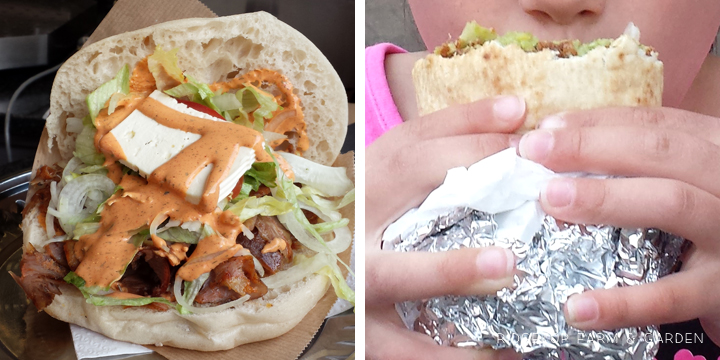 Not gonna lie. We totally ate at McDonald's a couple times, too. Of course it was similar to the McDonald's near us, but we don't have potato wedges or chicken wings.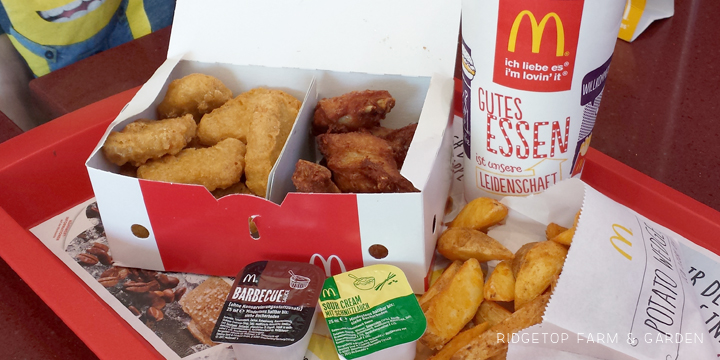 The only place we ate that I didn't like was a Mexican restaurant located near the Frauenkirche church. It claimed to be Mexican with a Californian twist. I love Mexican food. I didn't love this – not even the chips and salsa.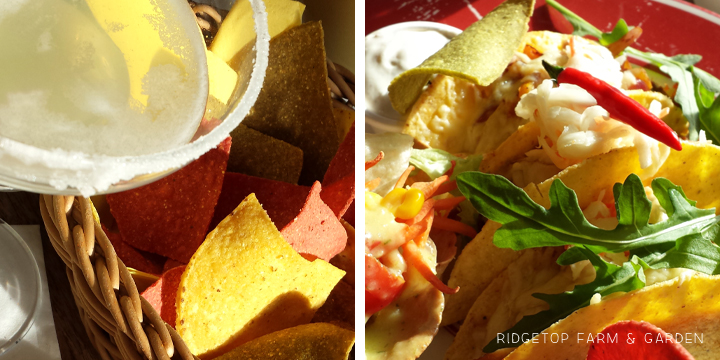 Outlawed in the US, we bought Kinder Eggs a couple times. They're a chocolate goodie with a toy inside.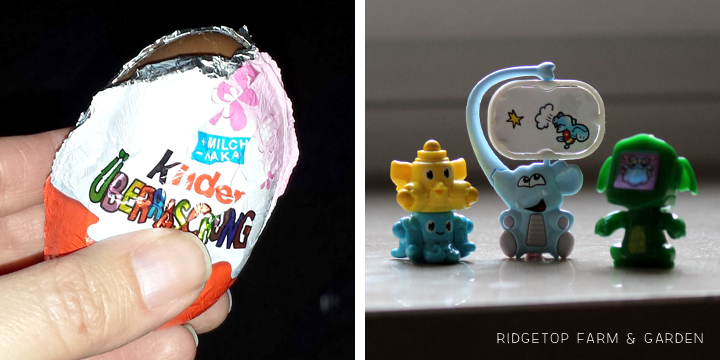 LOVE ROCKS
We left Love Rocks throughout the Old Town. Each church got one, as well as random other places.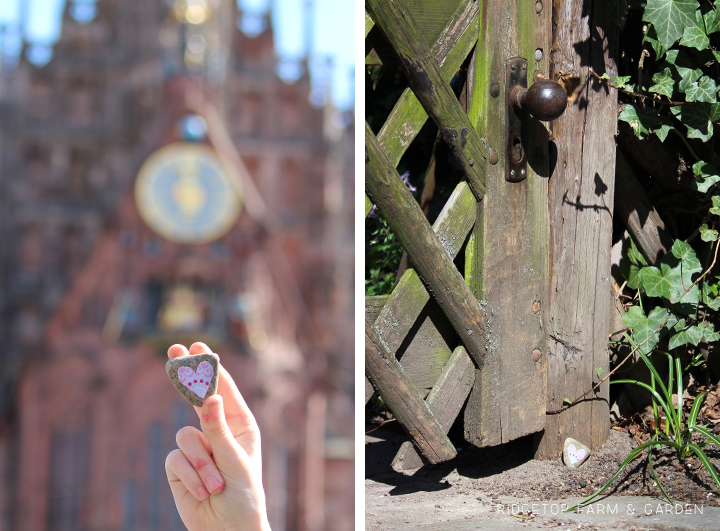 And, that's it. The German portion of our vacation was coming to an end. It was time to catch the train and head to Paris.
Save
Save