This was it. This was my day. My 40th birthday spent doing a half marathon in Disneyland.
Packet Pick Up & Expo

I was so excited doing my first half marathon during the Tinkerbell weekend I took a similar photo on the carpet. Then, I took one during the Star Wars weekend. So now apparently it's my thing.
Here's my Disneyland Half Weekend shot: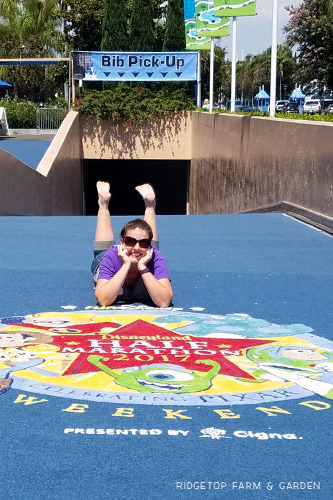 The Start

The start, as always, had an excited vibe. However, it was hot. Too hot. The announcer said the feels like temperature was 87°. It wasn't even 5am yet. Blech!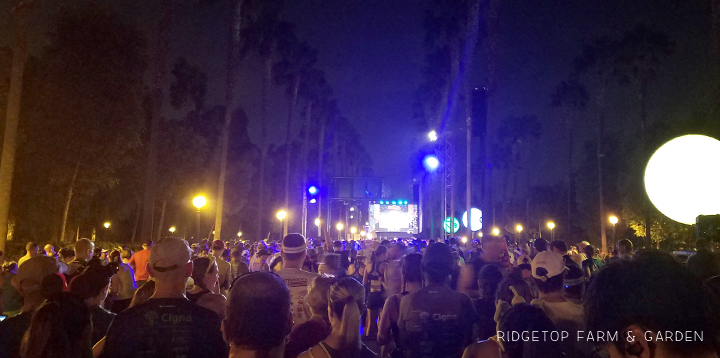 Running through California Adventure
I stopped a number of times throughout DCA.
• I had seen Mike & Sully during the previous 2 races, but didn't stop. I'm glad I stopped this time.
• Since my daughter is a gymnast, I stopped to take a pic of the girl flying around the Toy Story bar.
• The crowd of runners on Hollywood Blvd.
• Cowgirl Jessie must stop for a photo op with a horse.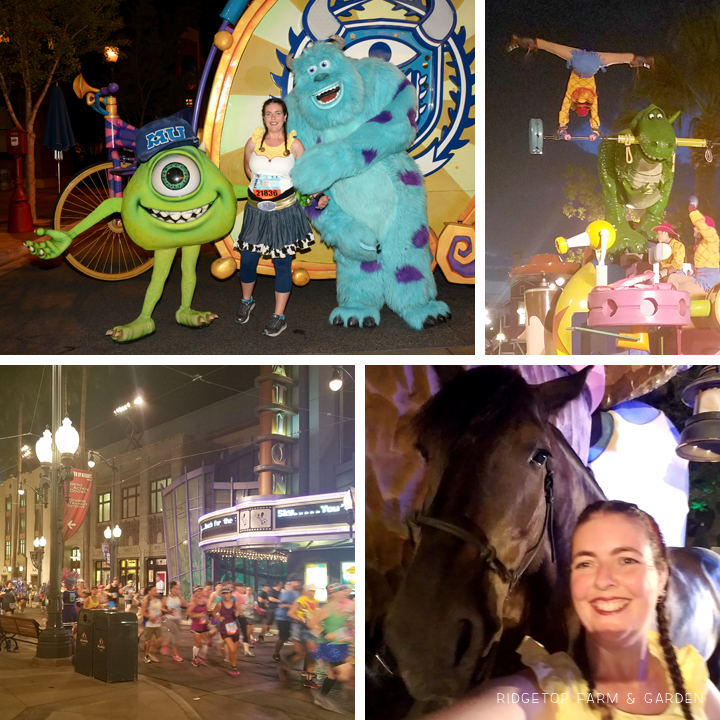 Running Through Disneyland

• One of my favorite photos from the entire weekend is this one with Minnie & Mickey
• At one point, I was hoping to get my Castle to Chateau medal and run the event later in the month in Paris. This pic with Remy will have to do instead.
• I was slightly disappointed that my only photo op with Woody, during a Toy Story themed race, was this one of him up on the balcony of The Golden Horseshoe.
• Runners on Main Street

Running the Streets of Anaheim
•  It was crazy hot, but the sunrise was lovely.
• After stopping for all my pics in the parks, I ended up with the corral I run/walk 3 hour pacer. I kept with them for awhile, but eventually went about my own pace. I did enjoy the bit I was with them. I will have to keep it in mind for another event.
• During the run, the red flag came out.
• As always, I enjoyed all the entertainment along the way. This time we had a Polynesian group, a Mexican group, and a car show featuring Lightning McQueen.
• The Hogwarts Running Club had ice in a cooler for the runners. So, so awesome! I was sweaty and obnoxiously hot. I grabbed a refreshing handful of ice and shoved it down the back of my shirt.
• I can't stop for every sign that catches my attention, but I had to stop for this one with Chandler.
• This was a different course than my previous RunDisney half marathons. This time, we ran through Angel Stadium. I'm not really a fan of ball sports, but it was a nice change to run through the stadium.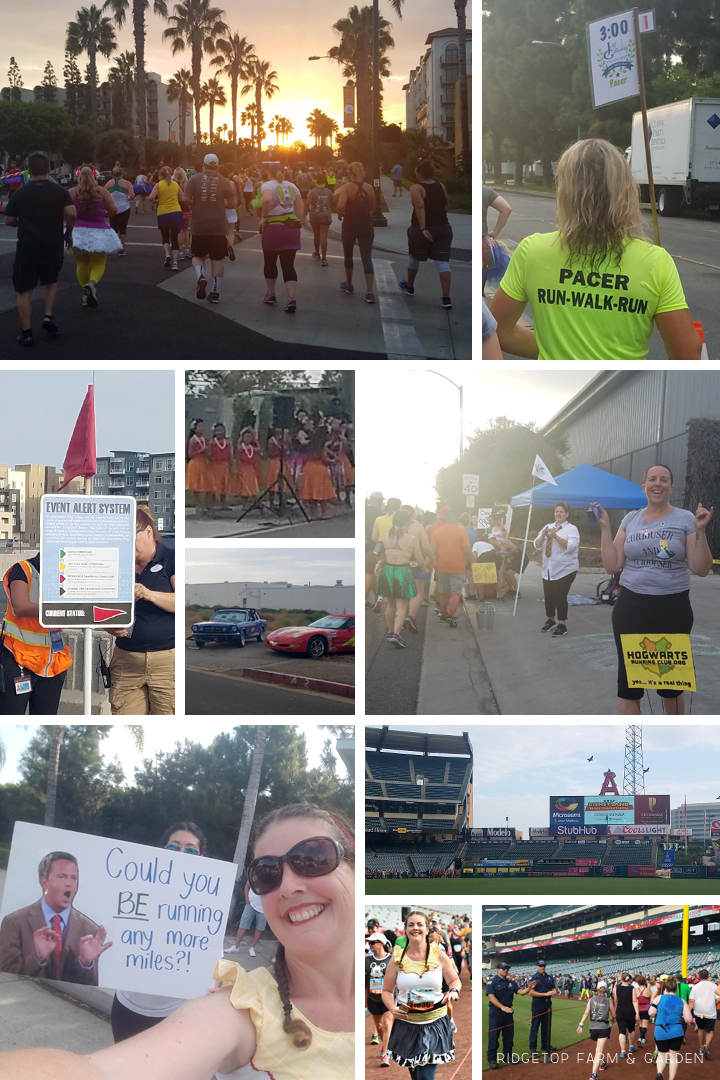 The Finish!
I'm always happy when the finish line is in sight. But, I was especially thrilled this time. Given the choice, I would absolutely run on a 30° day before running on a 90° day. Run/walk/jogging for 13 miles in high temps and high humidity is not my idea of a good time. To be nearing the finish line was a huge relief.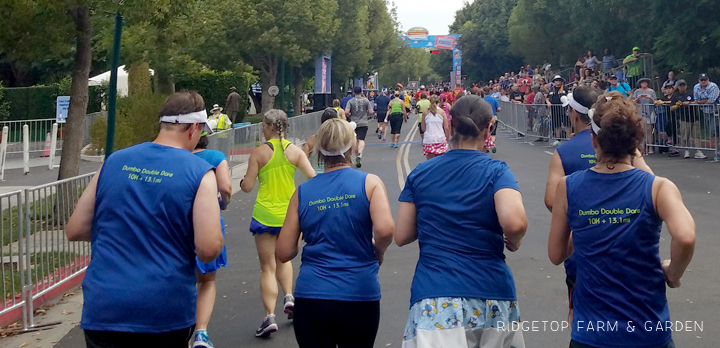 I love/hate the photo on the left. It's one of my favorite finish line photos ever. I typically look like a dufus. This one, though, is a lie. I appear to be in great spirits – in reality I feel miserable and half dead.
After finishing the race, I headed to the medic tents for ice. I walked more during this half marathon than I ever have before. Unfortunately, I'm not a good fast walker and I know my posture was horrible – resulting in back shoulder pain. I placed the ice on my achy back shoulder and also on my face to cool me down.
By the time I got a pic with my medals I felt much better and ready to conquer the rest of the day.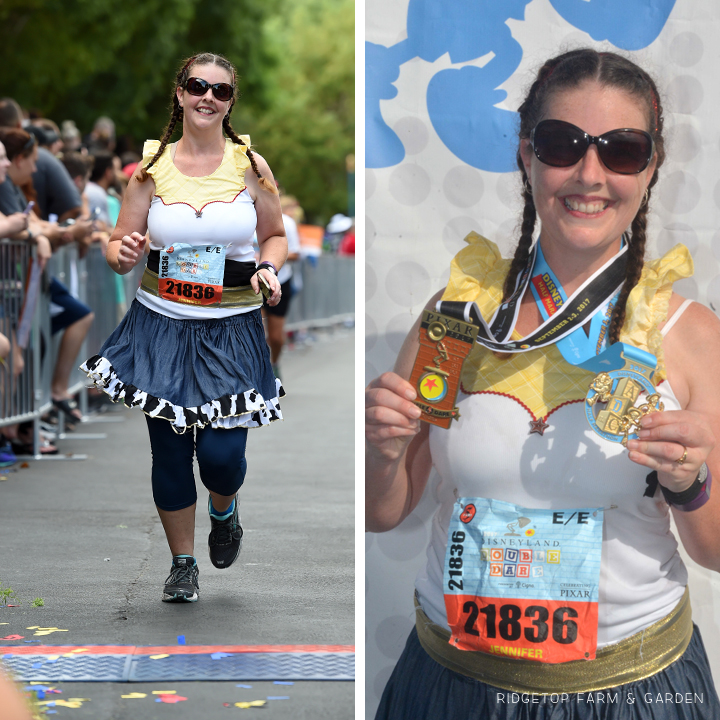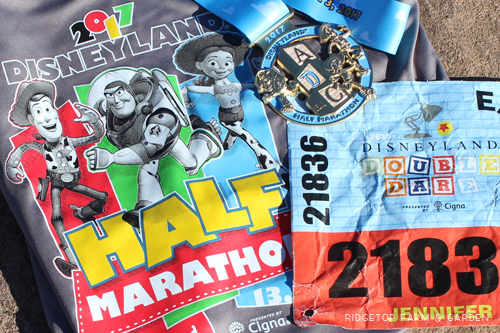 I earned 4 medals that weekend: a 5k, 10k, half marathon and the double dare challenge medal for completing both the 10k and half.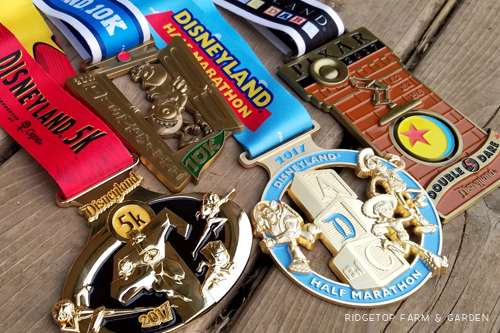 — More than Running —
My 40th Birthday
I don't usually celebrate my birthday, not even with a family dinner. That works well for me.
However… I was in Disneyland and somehow 40 seems like such a milestone. I totally enjoyed the day in every way I could.
• I got my birthday button, which looks amazing.
• I found a cake and balloons in Mickey's house and pretended they were for me.
• By coincidence, we were having a little snack break at Refreshment Corner when Alice & the Mad Hatter came by to play musical chairs. I absolutely talked my friends into participating with me. One of my favorite moments ever! To top it off, the Mad Hatter sang me a short, silly birthday song.
• I made us shirts for the occasion. Mine said, A Very Merry 40th Birthday to Me. The others said, A Very Merry Unbirthday to Me.
• A friend of mine had her 35th birthday during the trip. We celebrated our special days with a margarita from Rita's Baja Blenders in California Adventure. I like margarita's, but I didn't really care for this one. I did enjoy the company and atmosphere, though.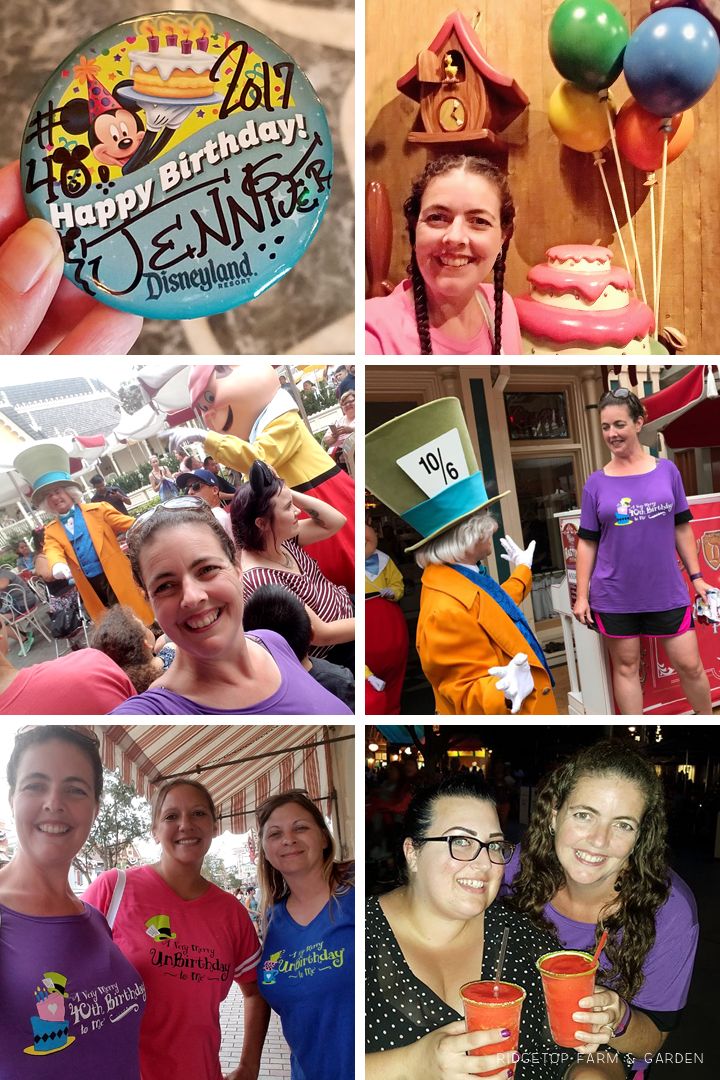 This was certainly a RunDisney event / Birthday I will never forget.
Save