Doh! The big day. A Disney Half Marathon. And, not only that is was the second race of the Rebel Challenge. The Star Wars 10K + Star Wars Half Marathon = Star Wars Rebel Challenge. 2 races in 2 days. 3 medals.
I woke up at the should-still-be-sleeping time of 3:30am. I didn't do much for costumes. But, I did decide to wear orange. I don't know a lot about Star Wars, but I did see the Rebel pilot suits were orange. Plus, it seemed like good luck since I wore the same orange shirt and skirt during the Tinker Bell half.
Waiting to Start
I don't know how to explain it, but the energy with this crowd was different than the last two days. You could just feel the excitement of everyone.
I was placed in Corral B for the half.
When our corral was just about to go, I spotted the balloon ladies. Oy! Just the reminder I needed to keep movin'. I had no desire to repeat the 10K fiasco.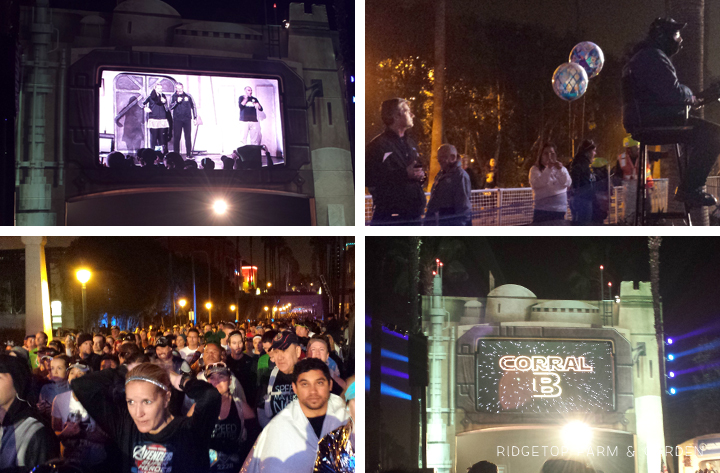 The Start
MapMyRun logged my start time at 5:41am. These people were definitely ready to move. I was barely able to snap a pic of the starting moment.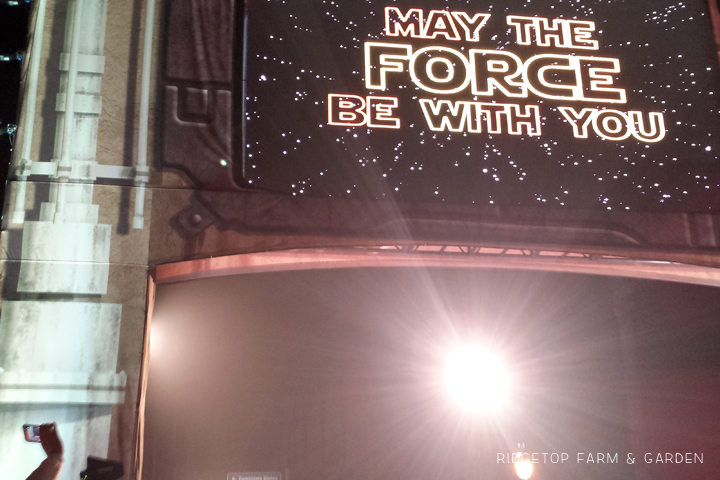 Running Through Disneyland
I moved through here fairly quickly. I stopped to take a few quick pics, of course. But, other than that kept moving. I didn't wait for character pics.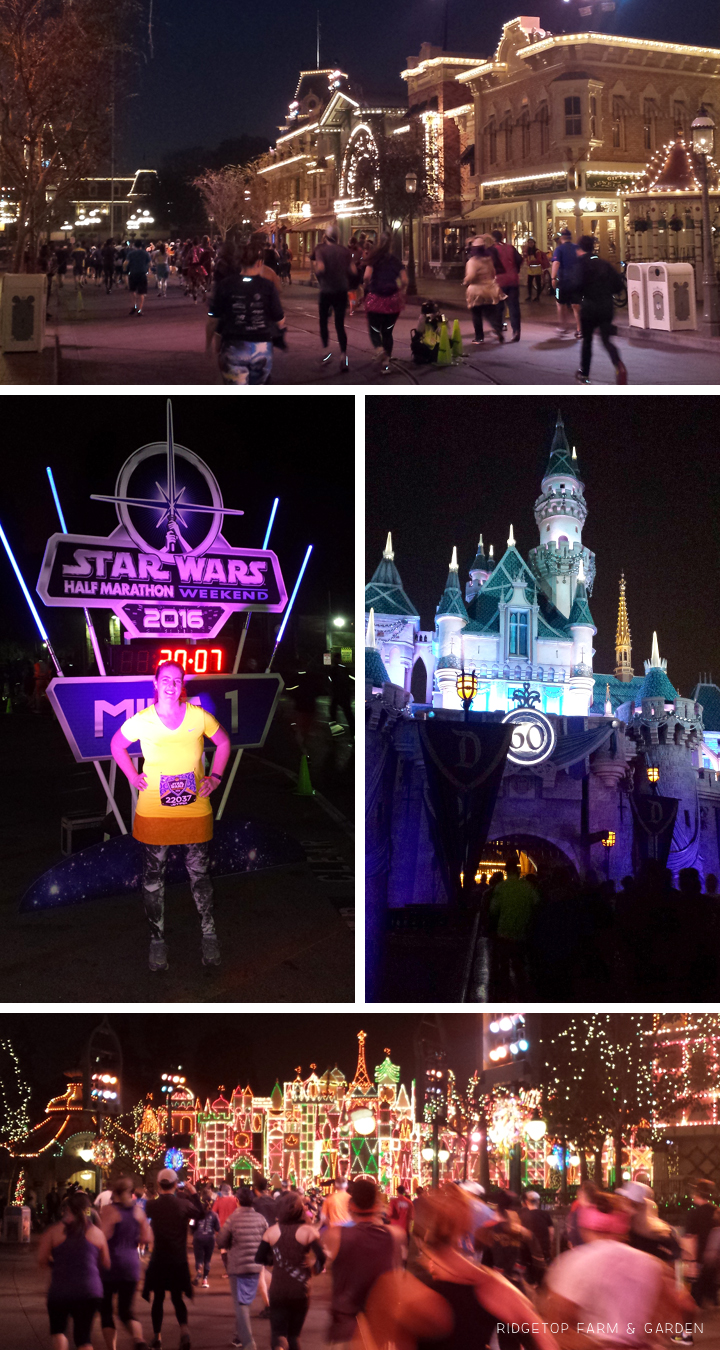 Running Through California Adventure
BB8 had a 25 minute wait line. Nope. Didn't do it. My pace dwindles quite a bit between a 10K and a half, so I didn't feel I had the time to spare. I snapped a quick pic as I ran by, though. I did the same thing with R2D2.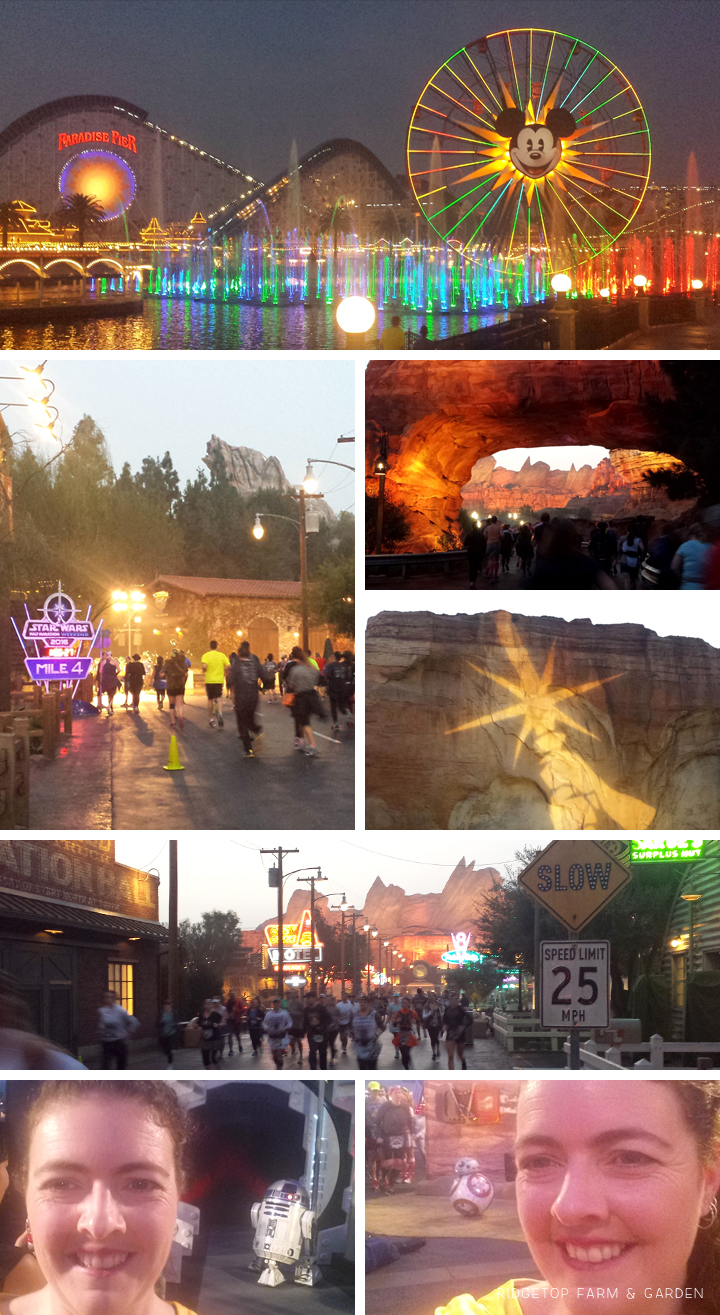 Running the Streets of Anaheim
By mile 5, we were out of the parks and running the streets. The crowds were awesome. There were a few cheer teams and bands, and a number of people dressed as Star Wars characters.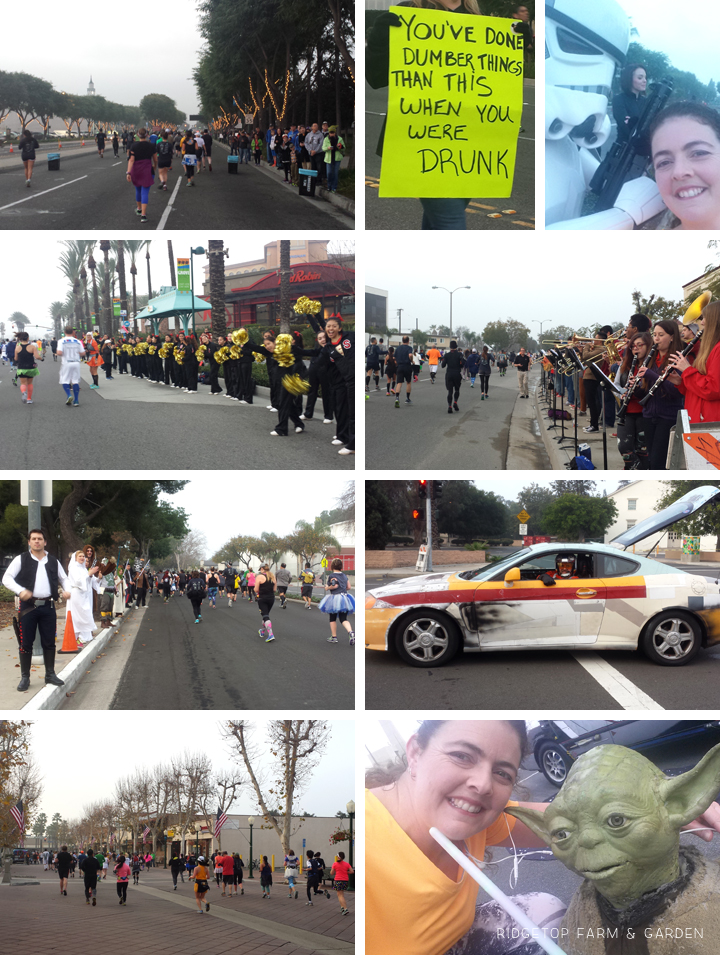 I don't know enough about Star Wars to know who this group was. But, they were fantastic. They were somewhere between miles 8 & 9 and were just the pick me up I needed. Honestly, I was getting kinda bored and still had a few miles to go. They totally got me outta my slump. So, I thank you guys, whoever you were.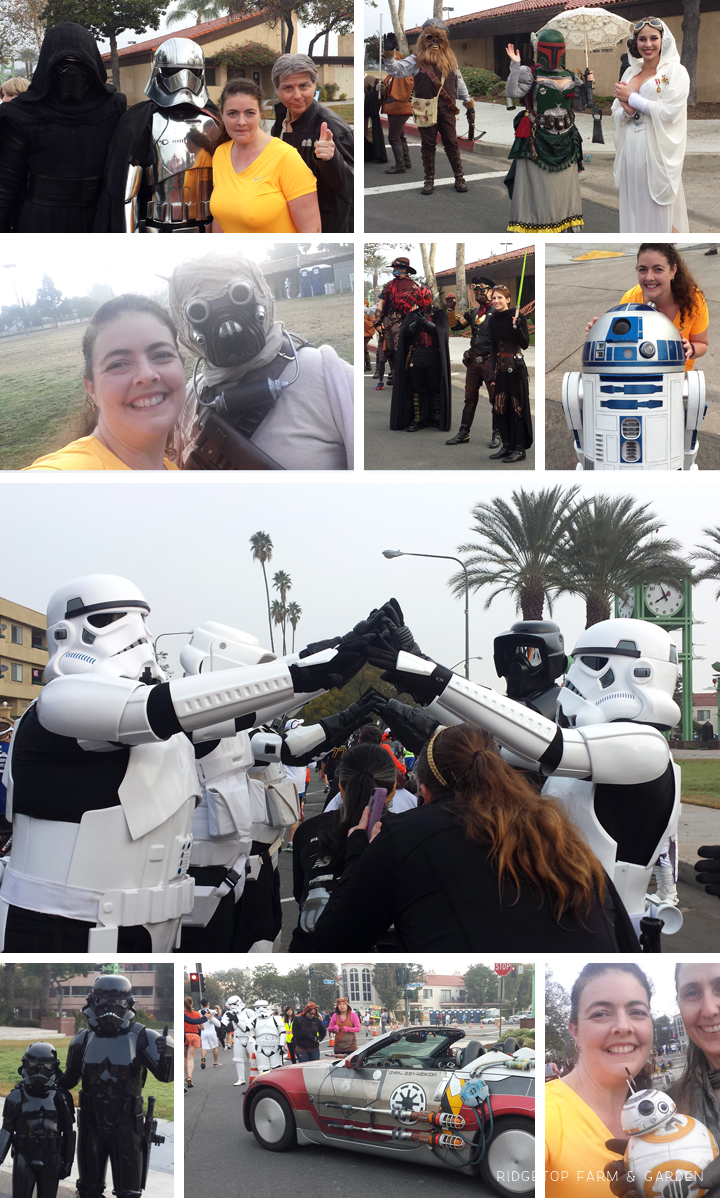 The Final Stretch
We came down the final stretch from a different direction than the previous two races, which was a fun change. We don't have palm trees in Oregon, so running down a street lined with them is exciting. I remember loving it during the Tinker Bell Half, too.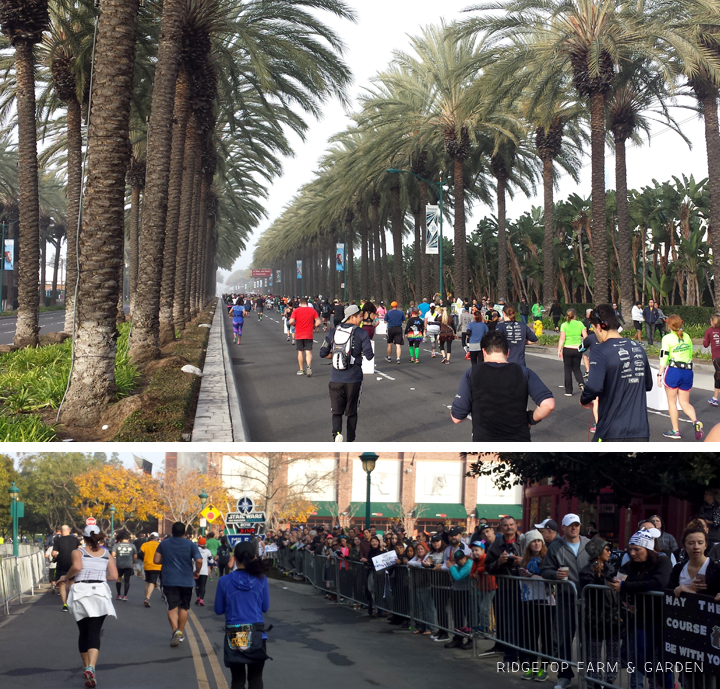 The Finish
I did it!
I knew I would, but I was still nervous about it. I don't train as much as I probably should. I was also unsure how running the 10K the day before would affect me during the half. I was concerned my legs would be tired, but they weren't. I made a good decision by choosing not to play at the parks after the 10K. Instead we spent the day hanging around the hotel and Downtown Disney. If I were to do this again, I would absolutely make that decision again.
My time was about 10 minutes faster than the Tinker Bell half, but about 2 minutes longer than the Rock n Roll Las Vegas. I average a 12:00 mile during a 10K. So, I give myself the goal of a 14:00 mile for a half, including photo stops. My pace this race was almost exactly that. However, that doesn't quite get me to my ultimate goal of completing a half in less than 3 hours. I have to shave off almost 11 minutes to beat the 3 hour mark. That's nearly one minute every mile. I have some work to do.
By finishing the 10K (by the skin of my teeth), and now finishing the half earned me the extra Rebel Challenge medal. Woo hoo! I brought home 2 medals that day.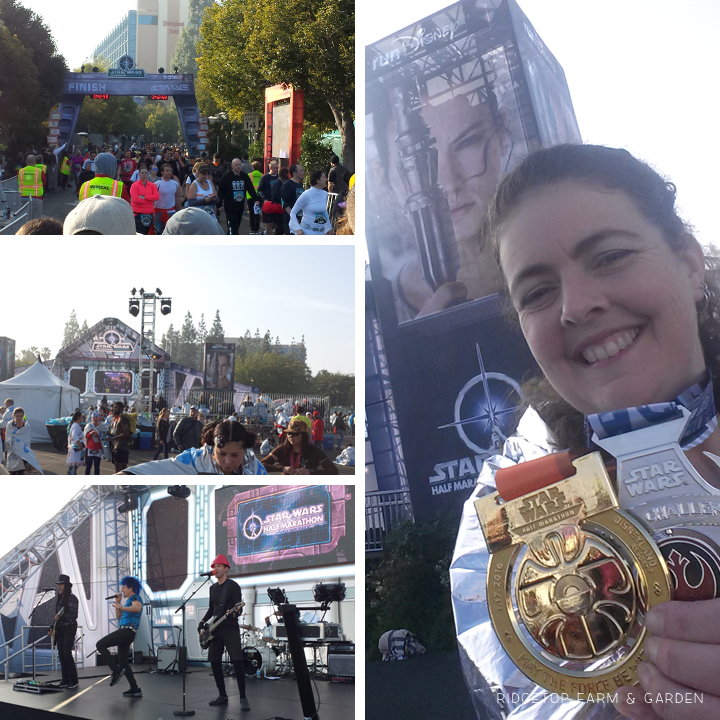 Snacks & Stuff
The snack box and drinks were exactly the same as the 5K and 10K.
3 days. 3 races. 4 new medals & 4 new shirts.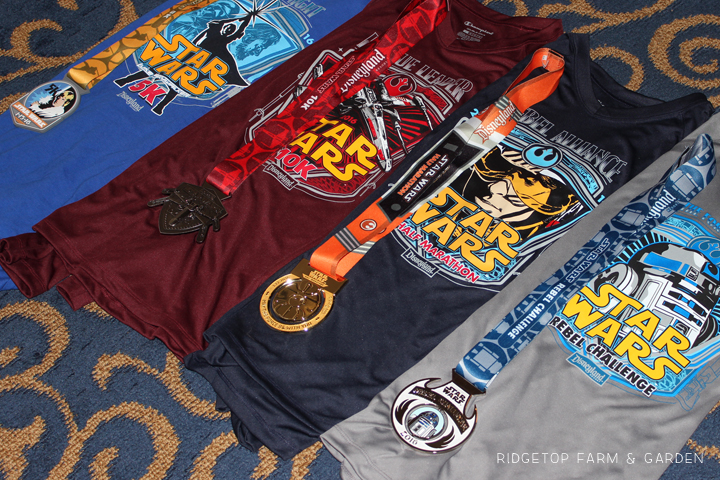 This was a must. I wanted my medal pic with the castle in the background.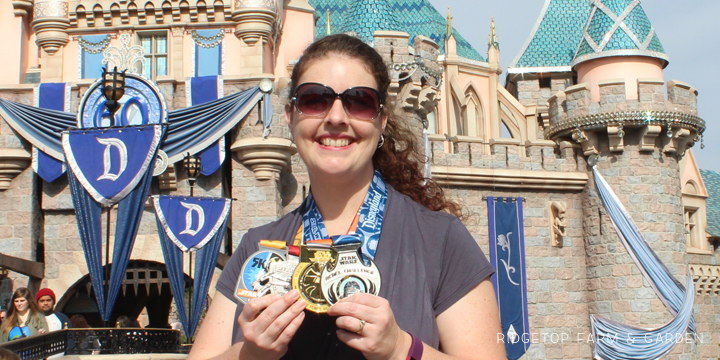 To Sum it Up
I'm totally thrilled with how the entire weekend went. It wasn't absolutely perfect. But, what is?
We didn't have any issues with our flights. We stayed at the Disneyland Hotel, which was a first for us. It was great, of course. We also did a character breakfast, which we hadn't done before. Packet pick up was easy peasy. I collected more pins. Pins! Bonus – I converted my kids into loving pin trading. I came to finish all 3 races and feel good when I was done. I did that.
The one looming bummer in the whole thing was that my hubby & kids didn't get to do the 5K. I knew Disney races sold out, but I wasn't expecting it in just a couple hours. I didn't even sign up for the 5K during the Tinker Bell weekend until a day or two after registration opened. Them not doing it sucked for two reasons. One, I loved the Run Disney experience so much the first time, that I wanted my kids to experience it too. And second, I'm not even a Star Wars fan. I chose this weekend because of my kids. I earned all this Star Wars stuff and I don't even know what half of it is. However, I did learn a lot about Star Wars this weekend.
Thoughts on bringing the kiddo's: During the Tinker Bell weekend I came kid free. That was the first time I'd left my kids for so many days. However, I was there to run. And, that's what I wanted to focus on. I'll admit, it was great. I had a fabulous time as an adult with my friends at Disneyland. This time, though, I had wanted my kids to experience it with me. As it turned out, they didn't get to actually experience the run, but they did get to cheer me on. It was great having them near the finish line hooting and hollering for me. And, of course, a day at Disney with your kids is magical. I certainly can't complain about that. But… race weekends are crowded. I prefer Disneyland on less crowded days. It's quite expensive for a family of 5 to do a Disney trip, with or without extra stuff. So as much as I loved them being there and even though it all worked out well, I'd prefer to go with my kids at off times – which aren't race weekends. However, I'd still love to participate in race weekends.
I thought so the first time, and I still think so, Run Disney puts on great events. It's amazingly calm even with thousands of people running about. I will say, though, they need to get rid of that rubbery 5K medal. It's cheesy. I happen to love the one from the Neverland 5K. But, being made of rubber when the others are decent medals makes it seem as though a 5K just isn't good enough. A 5K is good enough. Any distance you get off your buns is worthy.
Unfortunately, my Run Disney days are over for awhile. I'm going to be rooting for all of the participants in the upcoming races, but I'll be totally jealous, too. If I were to dream, though, I'd love to do the Disneyland Half Marathon Weekend or any of the Walt Disney World runs to earn a Coast to Coast medal. Until then…