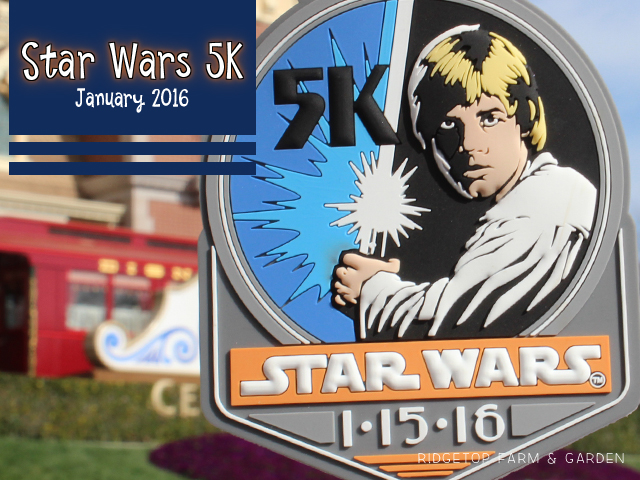 I've spent the last few days at the Star Wars Half Marathon weekend in Disneyland. This was my second Run Disney event weekend. They sure know how to put on a good event. That has to be one of the reasons their events are so popular.
There was only one down side to the weekend. The only reason I signed up for this particular weekend was because I wanted to do a Run Disney event with my family. My kids enjoy doing 5K's and I knew it would be a fun thing for us to do together. I thought my boys would really get into the Star Wars theme. However, that's not how it worked out. I got to my computer 10 minutes after registration opened. The rebel challenge was already 85% sold out, the 5K was at 50%. So, I got to clicking as fast as I could and eventually got signed up for the rebel challenge. Then the mission was to get 5 of us signed up for the 5K. Ha! What a joke. After probably over an hour, I finally got into the registration system and signed myself up for the 5K. There was no option for signing kids up with me. I never got back into the system. Within 2 hours it was completely sold out. I'm not gonna lie. I had tears after that. Literally, the only reason I wanted to do the Star Wars event was so I could do it with my kids. I'm not even a Star Wars fan. I've never seen the original movies. And, it took me about 10 tries to get through episode I. I've seen most of episode II. And, I took the kids to see the newest movie one night when our power was out. I'll admit Rey is a great character and I'm fond of BB8. But, still bummed not to be doing the race with the kids.
Costumes, or lack of
My lack of Star Wars mania resulted in not much in the way of costumes for any of the races. I found 2 Star Wars themed shirts at Kohl's I thought were cute and a pair of galaxy printed running pants. That's it. Between those items and stuff I had at home, I put together 3 themed outfits. They weren't fancy, but it was a little somethin' Star Wars related.
Just because I'm not a Star Wars fanatic doesn't mean I didn't have a good time. I was still frustrated about not getting to do the 5K with my family, but it wasn't going to help the race any by being grumpy about it. So, I enjoyed being at Disneyland, had fun seeing all the costumes other runners wore, started my morning with a workout, and earned new bling. I certainly can't complain… too much.
Packet Pick Up & Expo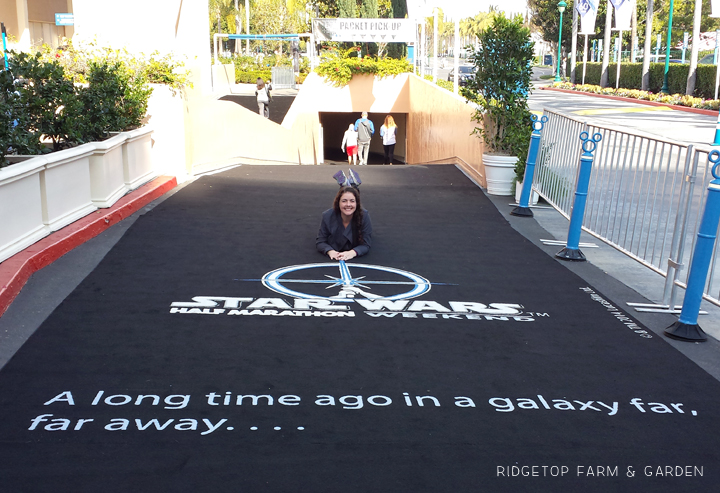 First thing we did after checking into our hotel was head to the expo. Just like during the Tinker Bell Weekend, packet pick up was super simple. The lines weren't long and I quickly grabbed my goodies and moved on to the expo. We looked around for a bit, but we were antsy to get to the park. The line for the official Disney merchandise was 2 hours. Ummm. No. I had preordered the 10k, half, and rebel challenge pins. I received them at packet pick up. Unfortunately, the 5K pins were sold out or not available at the time, so I couldn't order them ahead of time. I wasn't waiting in a 2 hour line for one pin. I was just going to have to risk them selling out. They didn't. I came the next day, waited in a 10 minute line and bought the pin.
The second day it was just Farm Kid2 & I at the Expo. We listened to a couple speakers and he made me a sign to encourage me during the next two runs. Love that kid.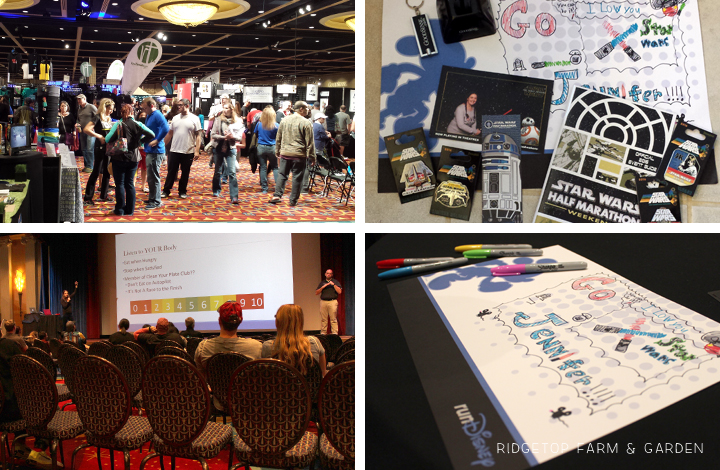 Waiting to Start
The race started on a street near the Disneyland hotel. I knew the general direction and headed that way. Once I got closer it was easy to figure out where to go. The 5K is not a timed race and I didn't need to submit a proof of time. I was placed in Corral B, but I'm not sure why. I got to the corral around 5:00, which seemed to work out perfectly. I didn't have to stress about being late and it wasn't a horribly long time to wait.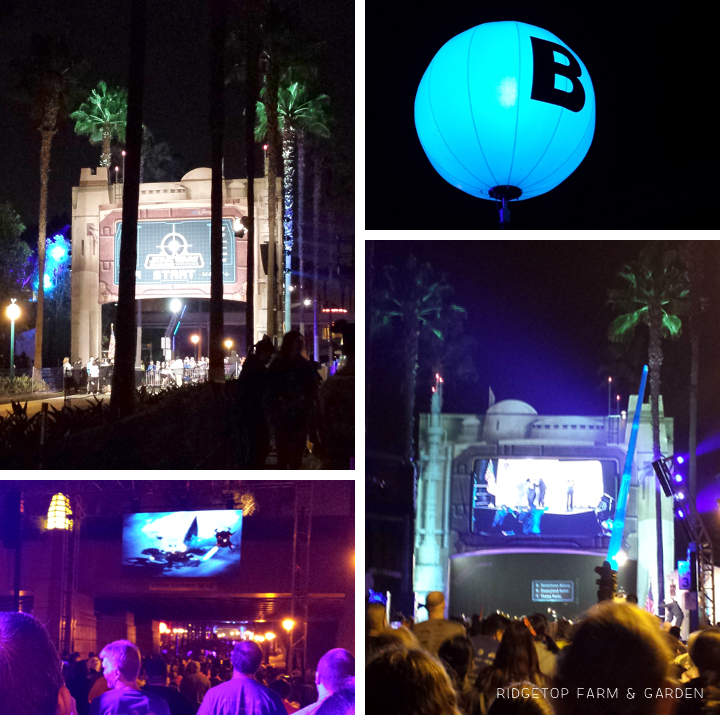 The Start
The wheelchair racers and Corral A started at 5:30. My corral started at 5:40. The announcer counted us down, confetti was flying, and we were off.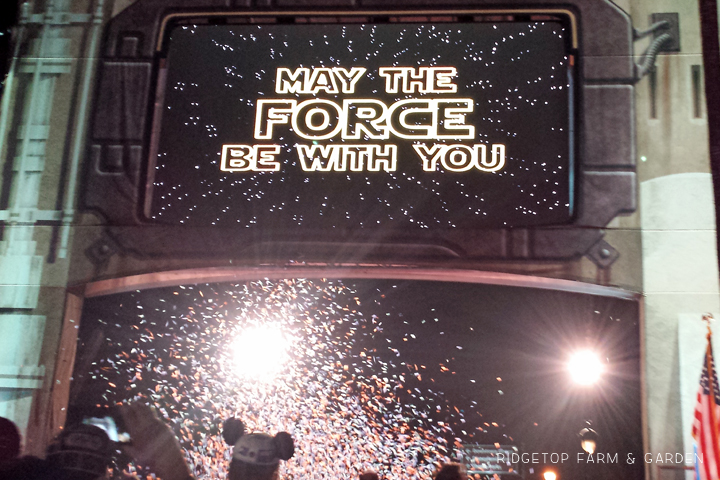 The First Mile
Since the run started on the street, we circled around a bit until entering Disneyland.

Character Sighting
At about 3/4 of a mile into the run was our first character sighting. It was Chewbacca. The line was 15 – 20 minutes. I waited.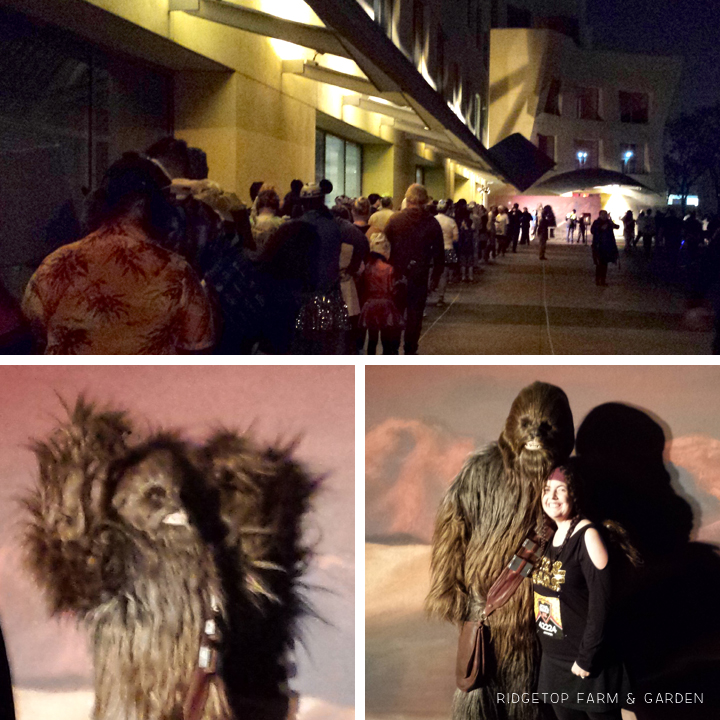 Running Through Disneyland
I run Disney for the entire experience. I don't do it to get a pr. It gives me incentive to train. I train, then I enjoy the event. For me, enjoying the event involves taking pictures. So… I stop a lot during the run. I never took walk breaks during the 5K. But, I took plenty of stop, enjoy the scenery, and snap a photo breaks.
It's a Small World was gorgeous.
I waited in a short line for a photo op with characters from the the cartoon Star Wars Rebels. I've never seen it. But, I loved the ladies outfit and hair.
Storm Troopers were hangin' at the train station.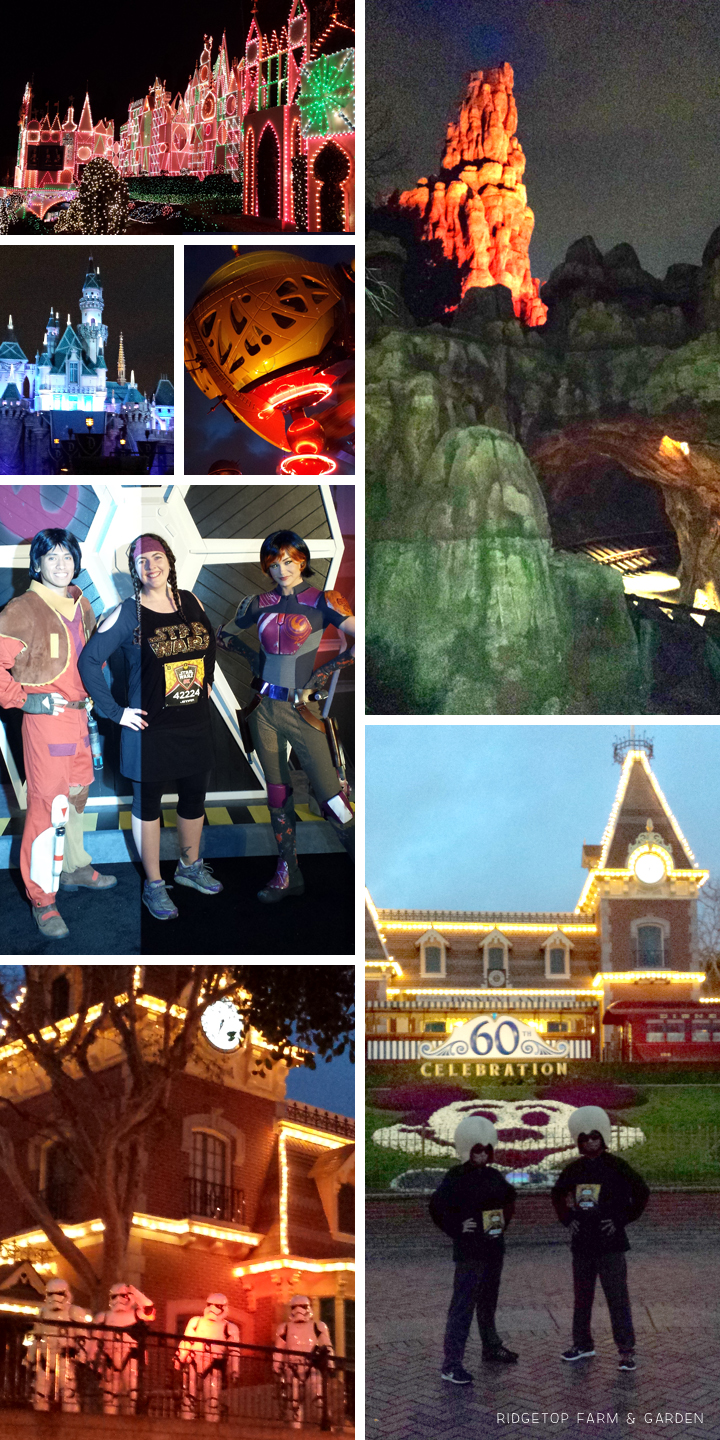 Running Through California Adventure
I apparently dilly dallied in Disneyland too long because by the time I got to the droids the lines were closed, which meant you couldn't get a pic with them. Boo.
There are so many beautiful sites in California Adventure including Hollywood Blvd, Cars Land and the Fun Wheel.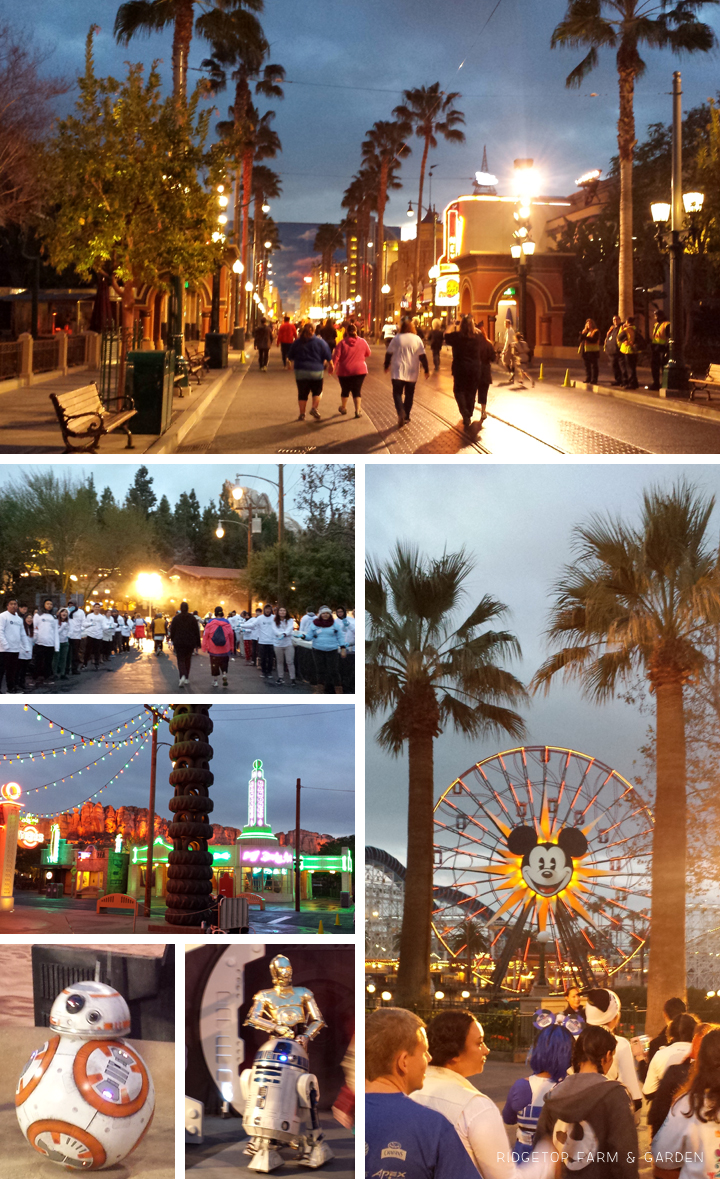 The Final Stretch
Somewhere around the 2.75 mile mark you enter Downtown Disney. Run passed the shops towards the Disneyland Hotel, veer right and you have reached the finish line. Woop! Woop! Race 1 of 3 complete.
Time wise, this was probably my slowest 5K ever. That's ok. I had a good time and I completed the event – my two goals accomplished.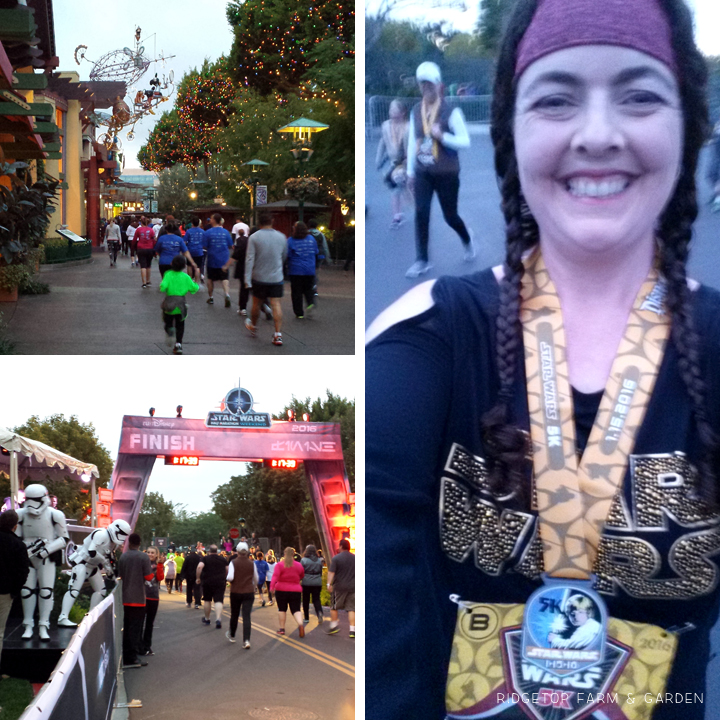 Snacks & Stuff
First up, the water and powerade tents. Then comes the little box of snacks and a banana. I had never heard of the 3 items on the right of the snack photo. I gotta say, all 3 were quite tasty.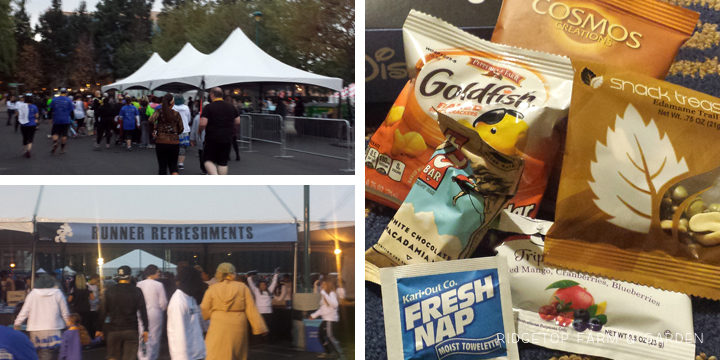 Woo hoo! The medal to go with the matching tshirt and bib.