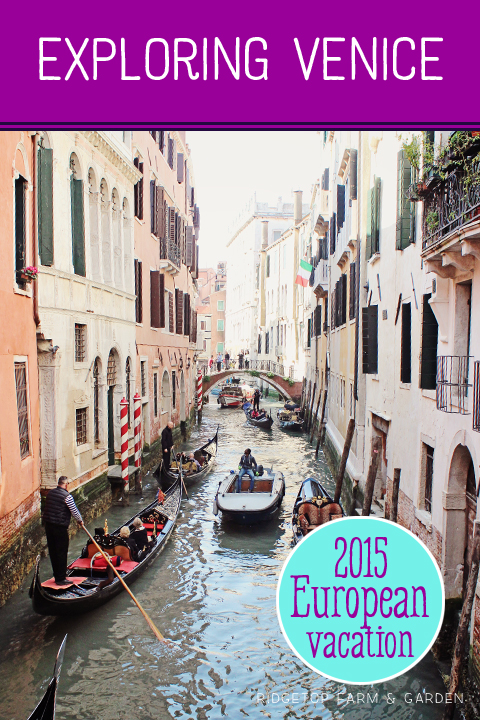 In 2015, Farmer John was scheduled to spend a week in Germany for work. The kids & I tagged along. We extended the trip to 2 weeks and had a fantastic time in Europe. Our first stop was somewhere I have always wanted to go, Venice.
Venice. A dream turned reality. I can still hardly believe it.
ARRIVING
We flew from Portland to Amsterdam, then Amsterdam to Venice. I'm pretty comfortable with airport travel. But figuring out how to get from the airport to our actual destination can be tricky. Thankfully, I had done some research and found the best option for us was to take an airport bus. The directions I had on where to buy the bus tickets was spot on, so we easily made it to the bus. After a quick trip on Italy's mainland, we made it to the bus terminal (Piazzale Roma) located on one of Venice's many islands.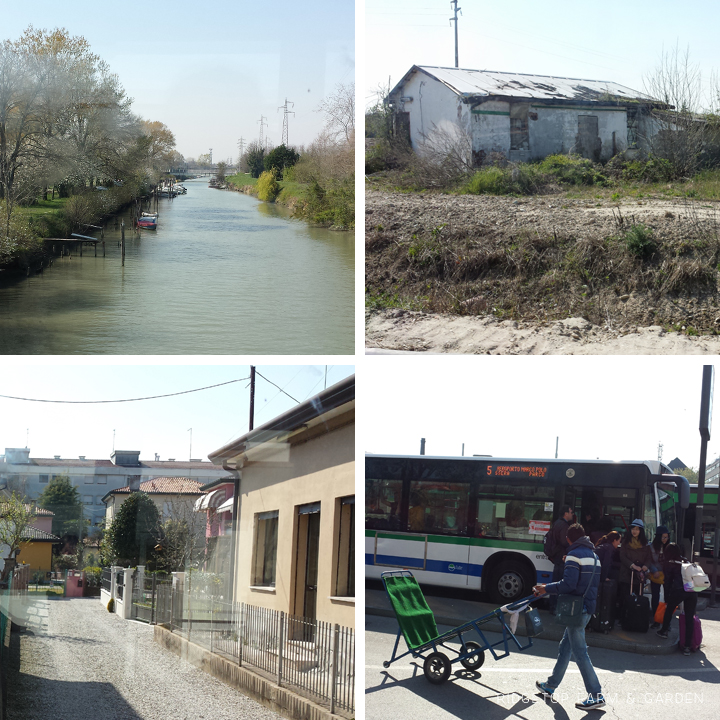 HOTEL
We made it easily to the bus terminal, now the next step was finding our hotel… on foot. I purposely chose a hotel not too far from the bus terminal and train station. Once we figured out which direction to head it was a pretty straight shot, up and over the Constitution Bridge (Ponte della Costituzione) & passed the Santa Lucia train station, to the alley where the hotel was located.
We stayed at the Hotel Caprera, which is located in the Cannaregio district.
I have no complaints about the hotel. Check in was easy. Check out was easy. The room was clean. The staff was polite. The breakfast was fine. The price, for being in the historical district of Venice, was reasonable. I would absolutely stay there again. Hopefully, one day I will get that chance.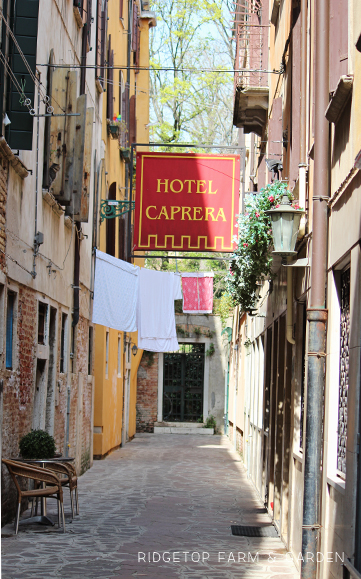 OUR FIRST EVENING
We arrived at our hotel in the late afternoon/early evening. We spent the rest of the day exploring the city and eating dinner.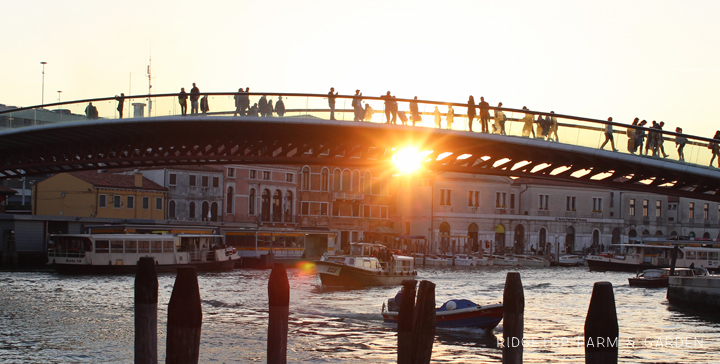 WALKING THE STREETS
The next day we spent wandering the streets of Venice with the goal of making it to St. Mark's Square. Simply walking from place to place was enjoyable. I adored the atmosphere.
Getting around was a little confusing because of all the narrow alleys. But, we did pretty well and only once did we end up in a completely different place than we meant to. I had a fairly good idea of the places we were going to visit, so I printed maps highlighting the best route. Even when we didn't stick to the plan exactly, the maps were still helpful. Don't get the wrong impression, I didn't have my nose in a map the whole time. But, they definitely helped me feel calm in a strange city without the anxiety of being lost. We didn't have data on our phones while in Europe. Next time we need to figure that out.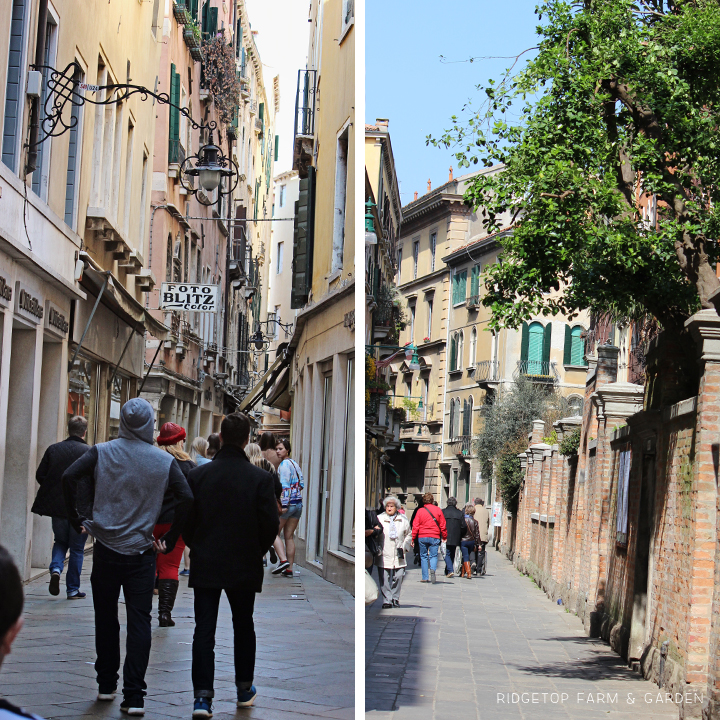 Walking past all the canals was so dreamy.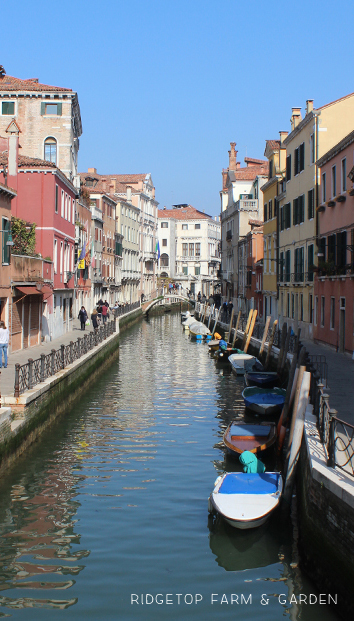 Oh, the windows and doors! Loved them! They had such old world charm.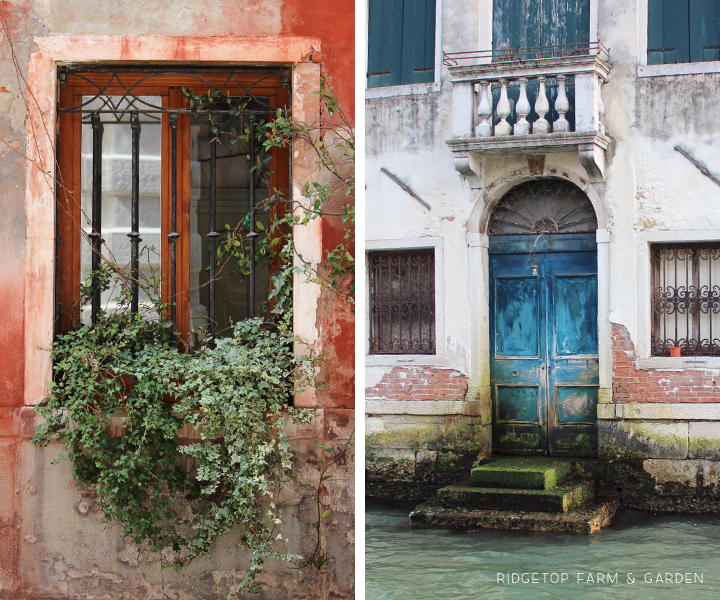 Hanging laundry. We don't see that much at home. I even loved their laundry.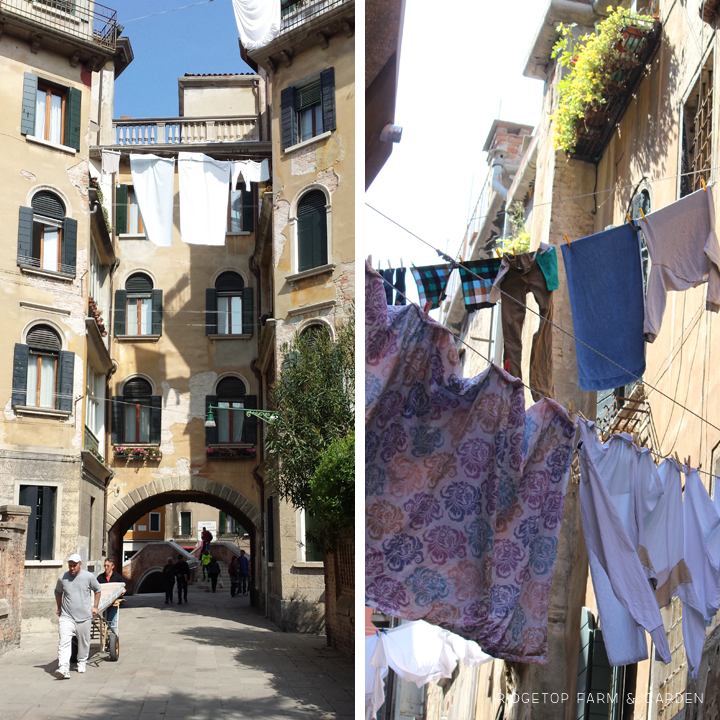 So many Carnival inspired masks were for sale. I knew they were part of the Venetian culture so I planned on us taking a class to learn about their history and actually paint a mask. Unfortunately, timing wise, this didn't work out for us and they were sold out by the time we arrived. I was bummed, but that gives me something to look forward to next time we're in the neighborhood. I did, however, buy blank masks and the kids painted them once we got home. I love the masks, but boy did they take up a lot of space in my very limited bag.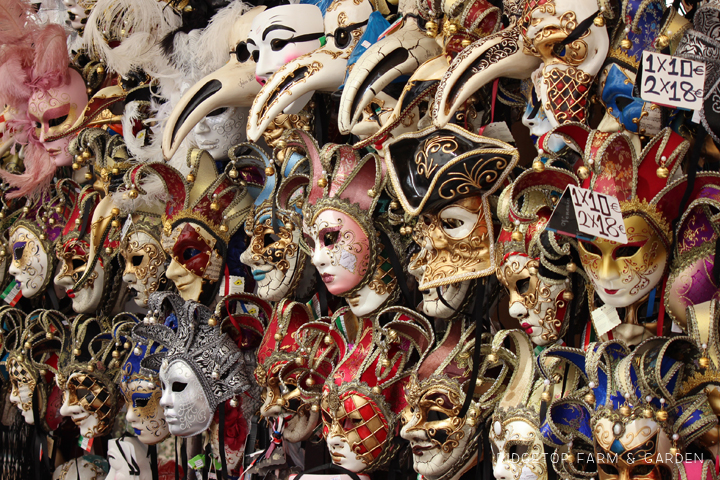 Close to St. Mark's Square is higher end shopping. I'm not much of a shopper, so this didn't interest me. But, I did enjoy checking out the window displays.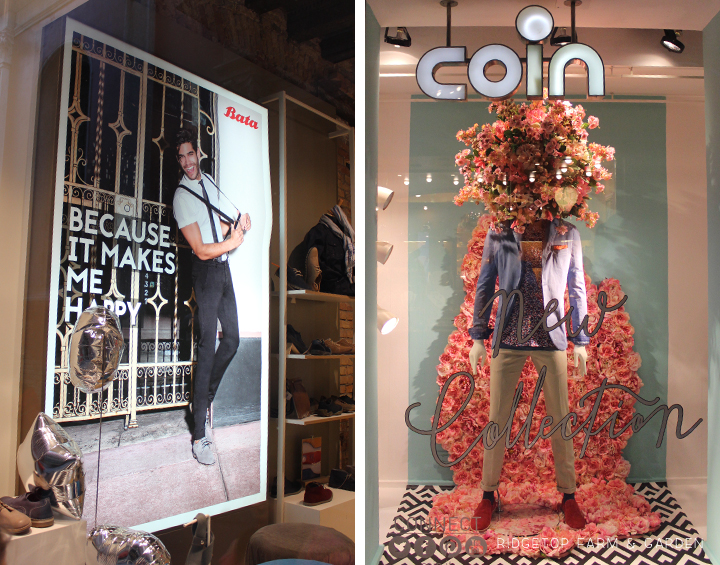 RIALTO BRIDGE
During our second evening in Venice, we walked to and explored the Ponte di Rialto (Rialto Bridge). I had no idea how wide the bridge was or that shops were on it. The bridge was built in the 1500's, and at the time, was the only bridge to span the Grand Canal. It is amazingly beautiful. There are plenty of Rialto signs pointing in the correct direction around town, so it's hard to miss it.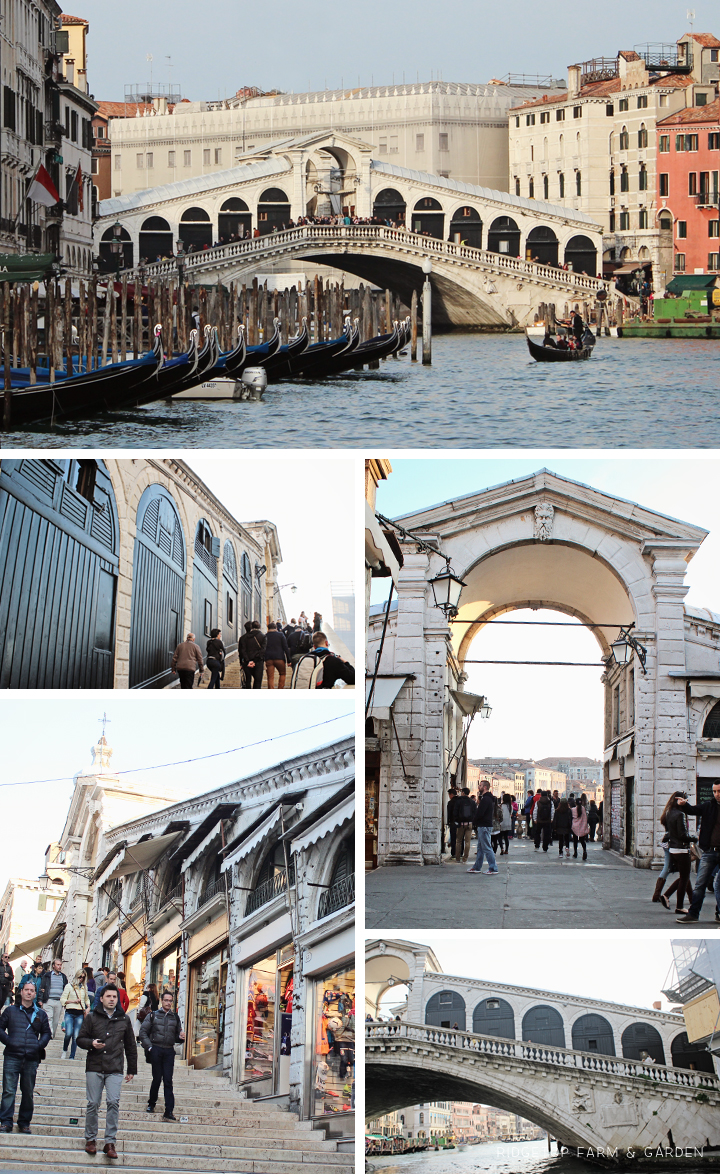 SELFIE STICKS
Oh geesh, the selfie stick pushers. In a couple of the more touristy areas were these guys selling selfie sticks. They were a tad pushy, but we didn't have any trouble with them when we said no thanks.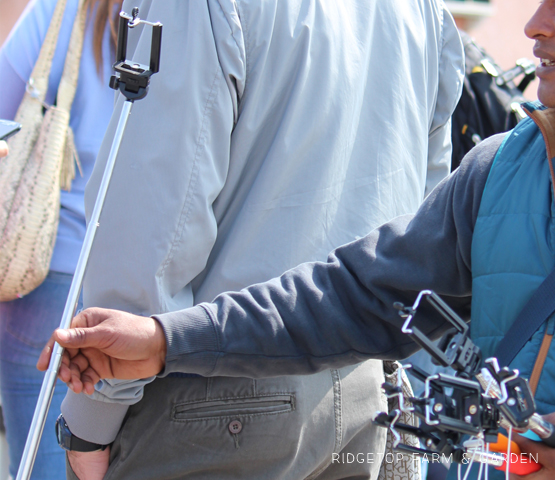 THE FOOD!
I'm not a foodie. I like food… a lot, but I enjoy fairly simple food and gourmet, expensive food is not really my thing. So, I wasn't searching for gourmet cuisine in Venice. I wanted simple food that tasted good. And, it was good! The food critics may not enjoy it, but I thought it was fabulous. John wants to go back just to eat.
We had pizza, calzone, calamari, spaghetti with clams, cannoli, and lots of cicchetti. Cicchetti are small portions of delicious food like rice balls, meat balls & sandwiches. We also stopped at a produce stand and grabbed a few items.
We didn't often eat in the restaurants, since it costs more to do so. But the weather was so nice, it wasn't a problem to find a nice place to sit outside and eat.
The kids favorite food: gelato
The adults favorite food: all the cicchetti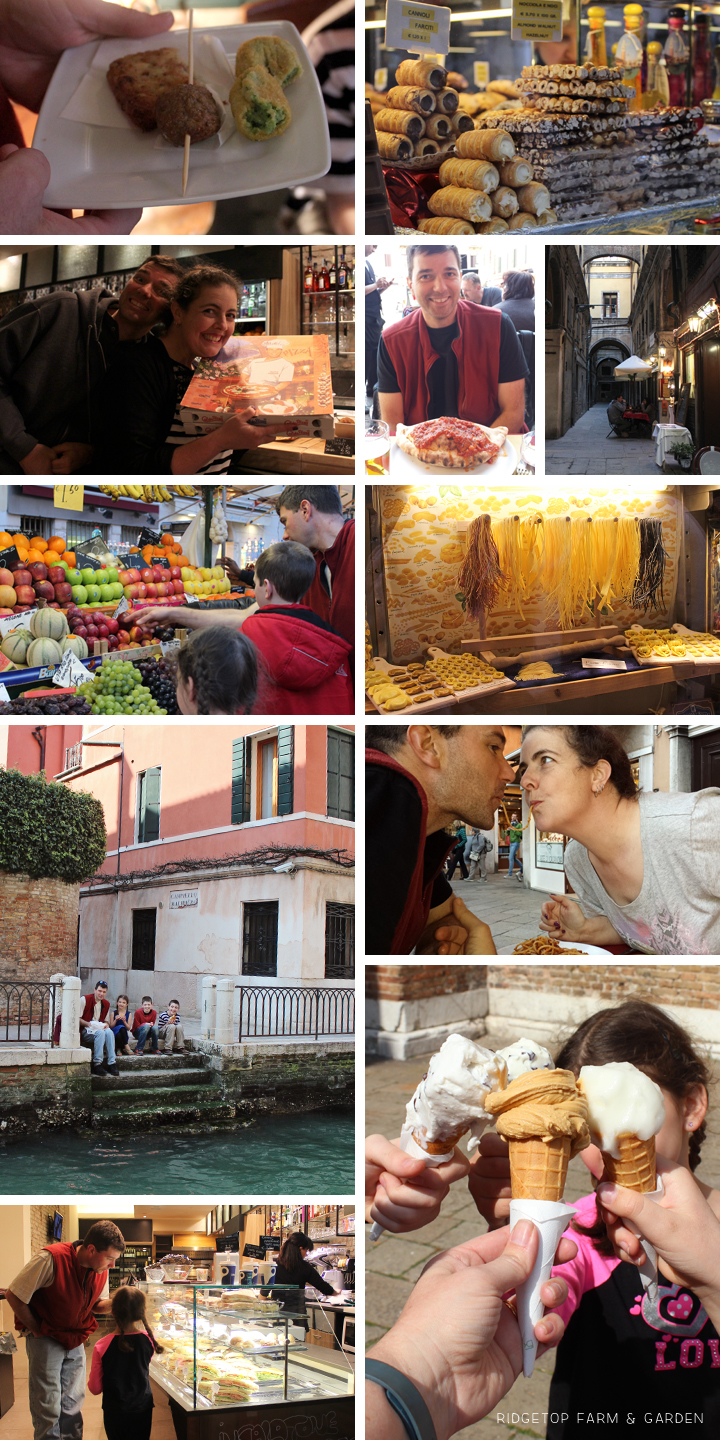 THE VAPORETTO
The vaporetto are the water taxi's throughout Venice. They are crazy expensive. I opted to purchase just one day tickets and enjoy all we could from the vaporetto in the one day.
We hopped on the boat at the Ferrovia "A" stop, which was near our hotel, cruised the Grand Canal a short stretch to the Cannaregio Canal. Then it was out to the Venetian Lagoon, or Laguna Veneta. I loved this. Somehow, even with a boat full of strangers, the ride was magical. I'm fairly certain it was due to the amazing scenery. We got off at the first stop in Murano, Murano Colonna.
After spending a few hours in Murano, we got back on the boat at the same Murano Colonna stop, enjoyed the ride once again through the lagoon, and disembarked at the Fondamente Nove stop near St. Mark's Square.
We explored the St. Mark's area awhile, then boarded the boat again and headed up the Grand Canal towards our hotel. Again, the views were amazing… if you enjoy old world buildings. Which, I do.
It was a great day on the vaporetto. However, I do have one complaint. I don't know the reason, but when we were set to board in the morning heading to Murano, it took for-e-ver. We left far after we were scheduled to. It was frustrating just because I wanted the most time in Murano.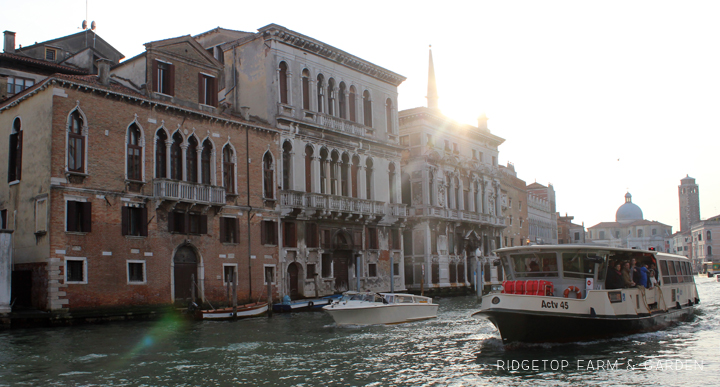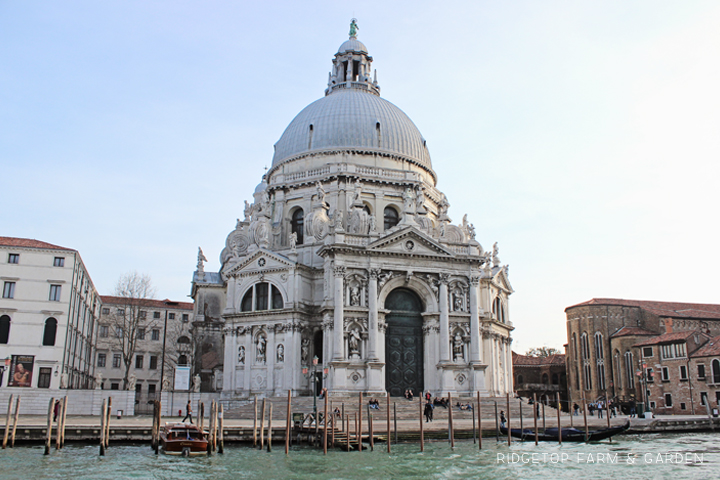 SMOKERS
Of all the things we saw, I think the plethora of people smoking surprised my kids the most. Smoking is banned in most public places in the US, so they don't see it a lot. They were shocked. And not just in Venice, but throughout our entire European trip.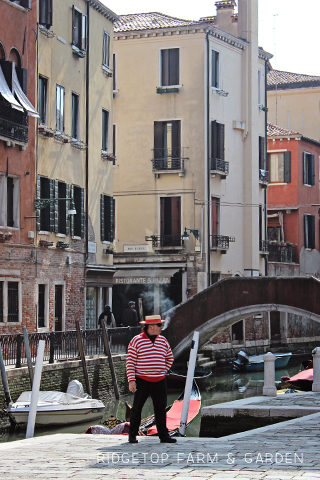 STREET PERFORMERS
Many of the street performers were great. I enjoyed listening to them very much.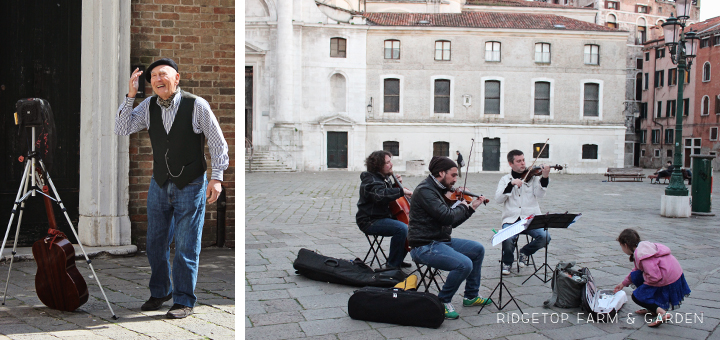 BIRDS & BUGS
I found the lack of critters throughout Venice odd. We saw a few pigeons and seagulls and literally one insect.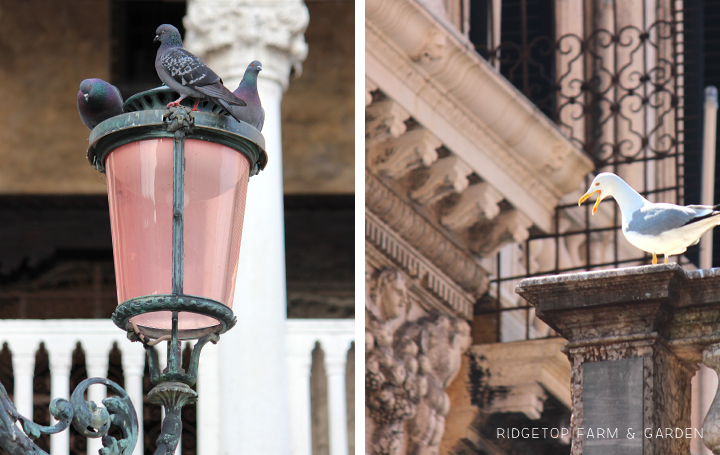 LOVE ROCKS
Love rocks were created by a grieving mother in a community near our home. To read more about them click here. We brought enough love rocks for each of us to leave one in each country we visited. It was kind of like leaving a piece of our home in Europe.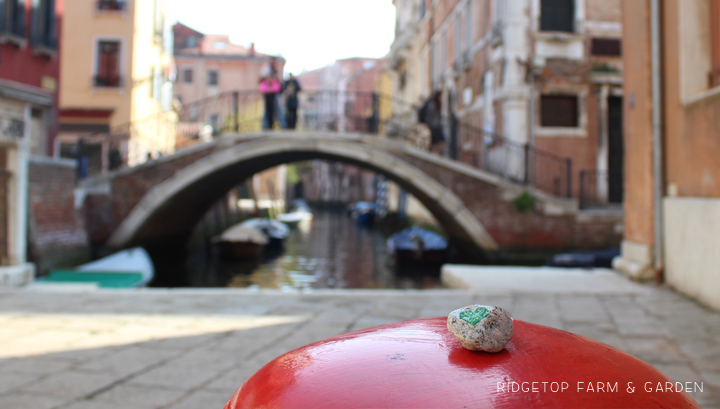 MOVIN' ON
Of course, the time came for us to move on and continue our adventure elsewhere.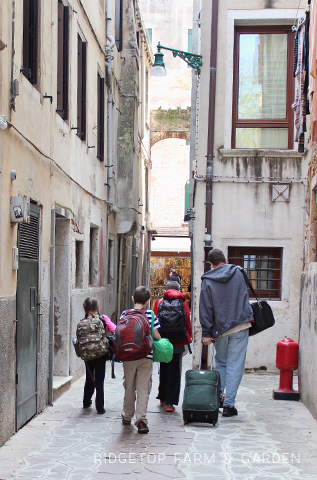 Like I said earlier, the hotel wasn't far from the train station so we were able to walk.
I bought our train tickets prior to leaving home, and we arrived at the station with plenty of time to spare. So, the event was hassle free. We even enjoyed our last cicchetti.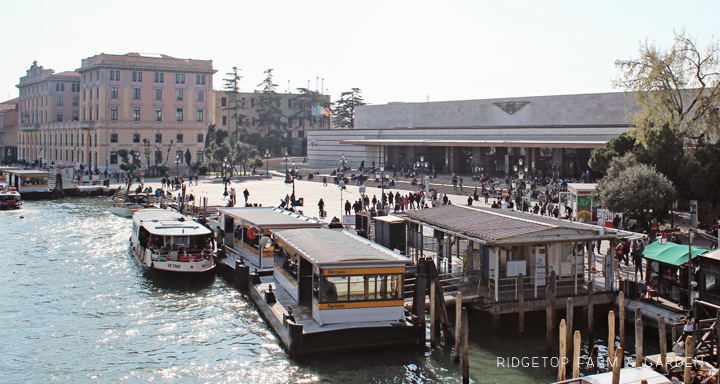 I couldn't have dreamt about a better time in Venice. I have found either you love Venice or you hate Venice. It was crowded in some parts, but not obnoxiously crowded. The weather was perfect; not too hot, not too cold, not humid. I didn't notice an unpleasant odor that some complain about. The people were friendly. The food was da bomb. So, I'm on Team Love Venice.