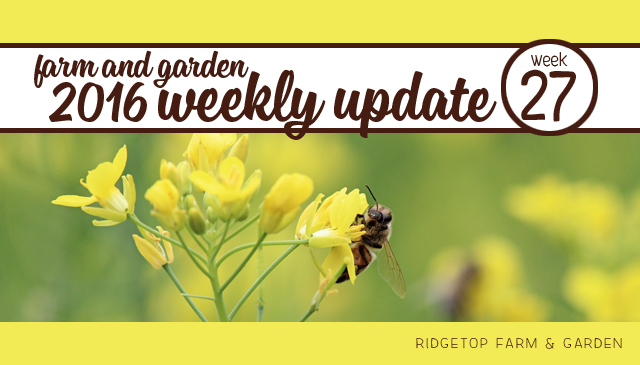 Things are in full swing around here. It's a busy time of year trying to keep up. But, the reward makes it all worth it.

• Years ago, Farm Kid2 requested a flower garden all his own. I ended up putting together one near the chicken coops for him. Rookie mistake. Often our chickens free range and they love that plot of dirt, making it difficult for anything to grow. This year, though, only a couple roosters are free ranging, and we've had much better luck with the wildflower seeds we planted in the spring.
• Farm Kid2 collected sage seeds from last years plant that has already bloomed.
• The last couple years a barn swallow couple has built a nest and hatch babies above our porch. This year's babies are here.
• The middle photo is of the bounty I collected one day. Tomatoes and Mexican sour gherkins from the greenhouse. Raspberries, kale, & squash from the main garden. Flat leaf parsley from the herb pots. Eggs from the hens. And, lavender from a flower bed.
• Stinking Chamomile, or Anthemis cotula, and mint growing in front of the chicken run.
• I put eggs in the incubator for the first time this year. The rooster responsible for fertilizing the eggs is an olive egger. My goal was to produce more olive eggers. But, I ended up adding a few other eggs in as well.
• Snakes are now on my naughty list. I'm not a fan of snakes. But, I can appreciate them and I am thankful they prey on mice. I dislike mice even more than snakes. However, I was unaware that they also prey on goldfish. Ugh! A few months ago, we lost all but one of out ducks. I tried to find a bright side – which was I can have goldfish in our ponds once again. I happily bought more goldfish thinking they wouldn't quickly turn into duck food. There are a lot of snakes out and about these days. I ignore them. They ignore me. But, one day a particular snake seemed a bit aggressive. It never came after me, his behavior was just different than the other snakes. I didn't realize at the time that he was fishing and I was disrupting his hunt… until I did realize it because he caught a fish right in front of me. Then hauled it off in to the bushes to devour it. Stinker! Go eat a mouse!