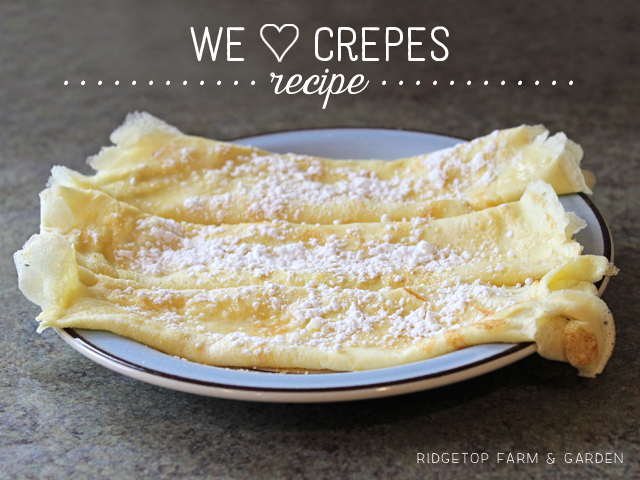 As you can assume by the title of this post, we love crepes.
We loved them before, but we found additional admiration for them during our European vacation. We ate them often on our trip. It's not that we don't have crepes here in the states, we just don't eat out often and I can't think of a crepe place nearby. We've always just made them at home. And, after our trip Farm Kid1 started making them, too. Major score for mom! Eating yummy food that my kid prepares.
Probably part of their charm is that they are time consuming to cook, and therefore we don't have them as often as we would like.
The ingredients are pretty basic:
INGREDIENTS
6 eggs
2 1/2 cups milk
1 1/2 cups flour
1 tablespoon sugar
salt
butter
This recipe makes about 24 crepes.
MIXING INGREDIENTS
I add the eggs, milk, flour, sugar and salt into a blender. Then, mix everything all at one time until there are no flour lumps. It doesn't take long.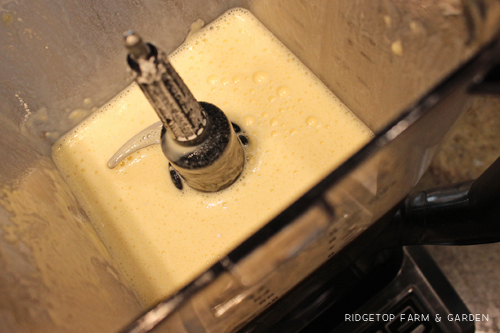 COOKING THE CREPES
Put a small pat of butter in a small frying pan and set stove to medium-ish heat. The heat is going to be dependent on your particular stove.
Burning butter? Stove set too hot.
Taking forever to cook? Stove set too low.
Perfectly light golden brown crepe? Stove set perfectly.
I use a 1/3 cup measuring cup, fill it most of the way, and pour into warm pan. Tilt and rotate the pan to get the batter to fill the pan with a thin layer.
Cook 2 – 3 minutes. Then, using a spatula, flip and cook other side for about one minute.
Set crepe on a plate and repeat with remaining batter. Bonus points if you actually make all the crepes without someone stealing one before they are served.
They are good by themselves, but the ideas for fillings are endless.
ENJOY!
The kids and hubby eat their crepes as a sweet breakfast item with butter and powdered sugar.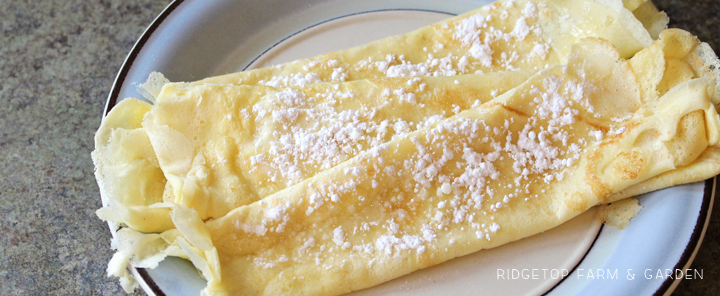 I prefer mine as a savory dish filled with ham and cheese. So good!