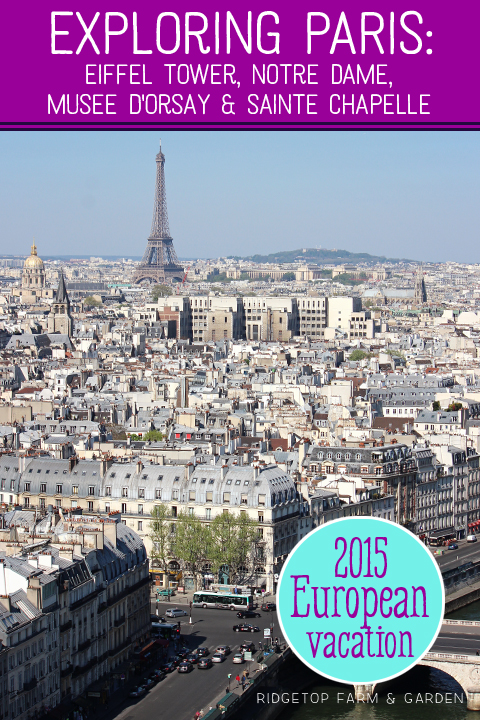 There are so many intriguing places to visit in Paris. We narrowed it down to a few must-do's, put on our walkin' shoes, and headed out for the day. We squeezed as much as we possibly could into our last day of vacation.
First stop… Notre Dame Cathedral.
NOTRE DAME
Before we had kids, John and I visited Notre Dame on a short European trip. Returning to Paris, I knew it was someplace I needed to see again. The first time we came on a very quiet middle of the week day in March. We didn't tour the towers, but we had the church almost all to ourselves. It was beautiful and serene. This time we came on a Sunday, during mass. Because it was so crowded we didn't get to oogle over the inside as much as I would have liked, but we did go to the top of the south tower. I can't even put into words how awesome that was. Visiting this cathedral twice now, I can honestly say it is one of my most favorite places.
Construction began on this medieval wonder in 1163 and has changed a bit over the years, but was considered complete in 1345. 1345! It is hard to imagine how they created such a masterpiece without the technical advances we have now.

Last time we toured the massive cathedral we really got to look at the awe worthy French Gothic architecture. This time we didn't get to do that as much, but we did experience the cathedral for what it was built for – a place to worship. I didn't mean for us to show up during mass, and I almost felt rude interrupting. As we walked around, though, we got to listen to the service and hear the choir sing. Just an amazing moment.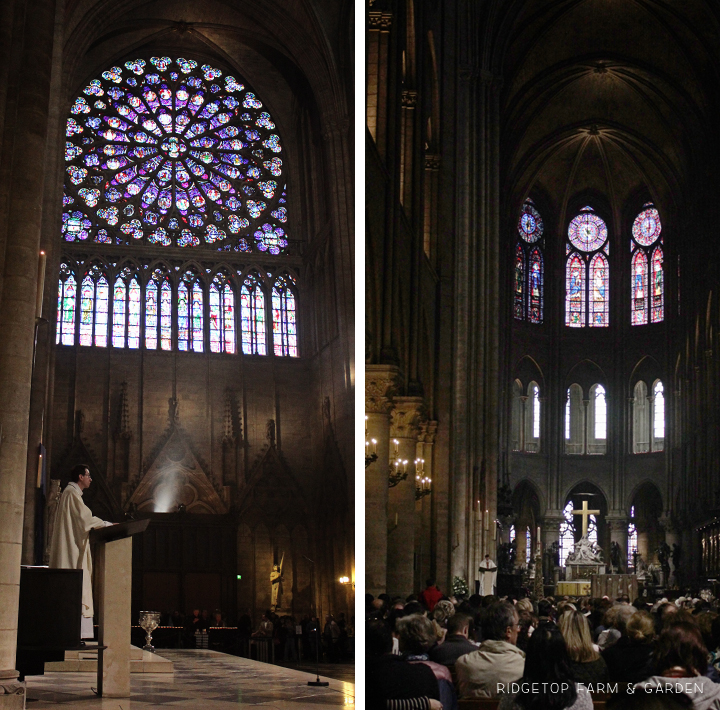 We arrived early to get in line to go to the top of the south tower. It was boring and waiting is never fun… especially with kids. However, it was worth every second of the wait. Walking up the spiral staircases to the top… Amazing! Even the kids appreciated how awesome it was to be walking on those stone steps.
I can't pick out my favorite part. I loved the medieval staircases. Seeing the details of the Gothic cathedral almost made me tear up. The bell. The chimera. The view. All amazing.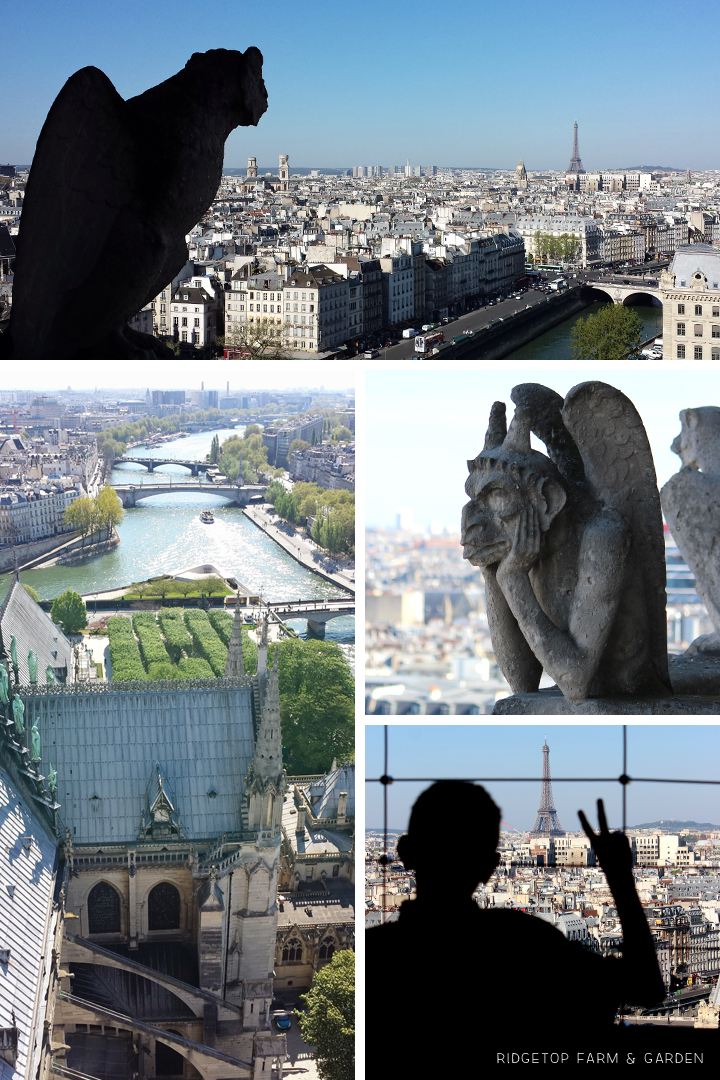 After seeing the top of Notre Dame, we explored the ruins underneath it in the Archaeological Crypt.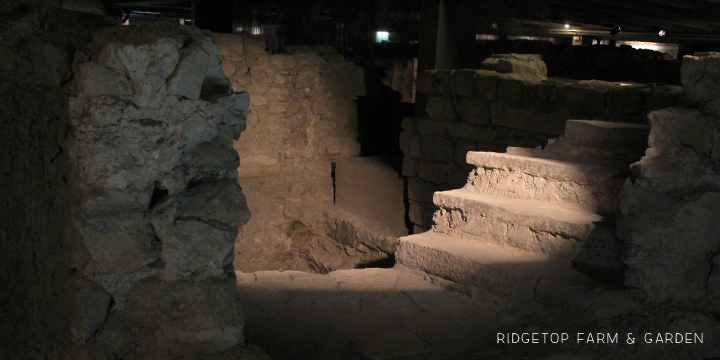 REMINDS ME OF HOME
Being on an entirely different continent we still had moments on our walks that reminded us of home.
We stumbled upon some kind of vendor market selling birds and flowers. Probably not a big deal to many people, but for us this was such a fun little surprise. We even saw black copper marans hatching eggs. Maybe I am easily entertained, but seeing those eggs in France from a bird originally from France was a weird highlight from our trip.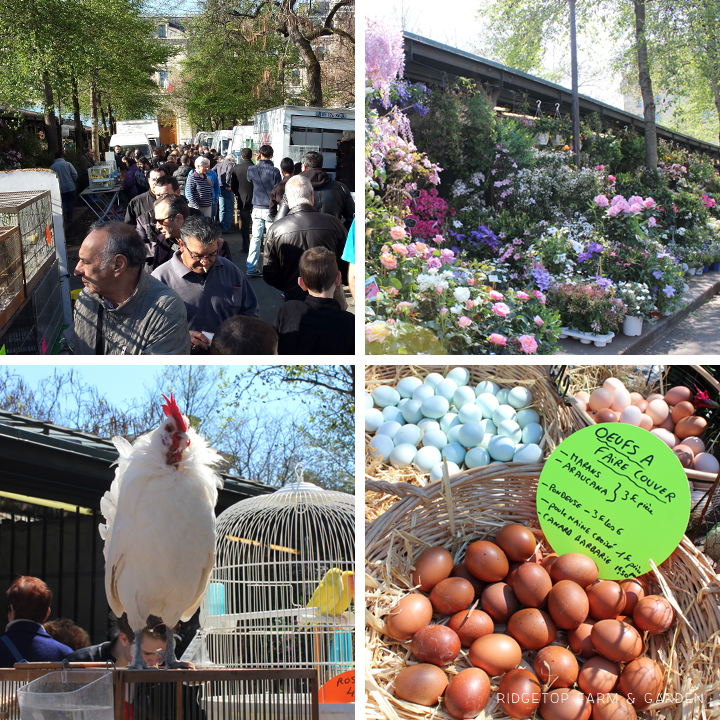 We also saw a group warming up for a Color Run. My slight addiction to running events made me a tad bummed I wasn't down there warming up with them.

MUS
É
E D'ORSAY
I prefer old artwork from hundreds of years ago, such as from the Renaissance and Roman time periods, so the more modern pieces at the Musée d'Orsay didn't appeal to me much. But, I still wanted to go check out the museum. So, we did. I was pleasantly surprised. The building, as well as its collection, had a very different feel about it than the Louvre. Not better, not worse – just different.
I didn't think Impressionism or French art were really my thing, but there were a ton of pieces I thought were fantastic.
Top Right: Oil painting from Claude Monet's water lily series, Le bassin aux nymphéas, harmonie verte. The museum also has many Monet paintings that are not water lilies.
Bottom Left: Vincent van Gogh's Starry Night. This version is a night sky over the Rhône. Van Gogh painted another Starry Night, which is on display at the Museum of Modern Art in New York.
Bottom Right: Eugène Delaplanche's Eve avant le péché (Eve before sin). It's kind of hard to see from this angle, but she has an apple in her hand.

SAINTE CHAPELLE
Sainte Chapelle is part of the Palais de Justice complex, which sits on the same little island in the River Seine as the Notre Dame Cathedral.
It was completed in 1248 with the purpose of holding Christian relics.
As with many Gothic gems, the exterior is gorgeous. I loved seeing the gargoyles.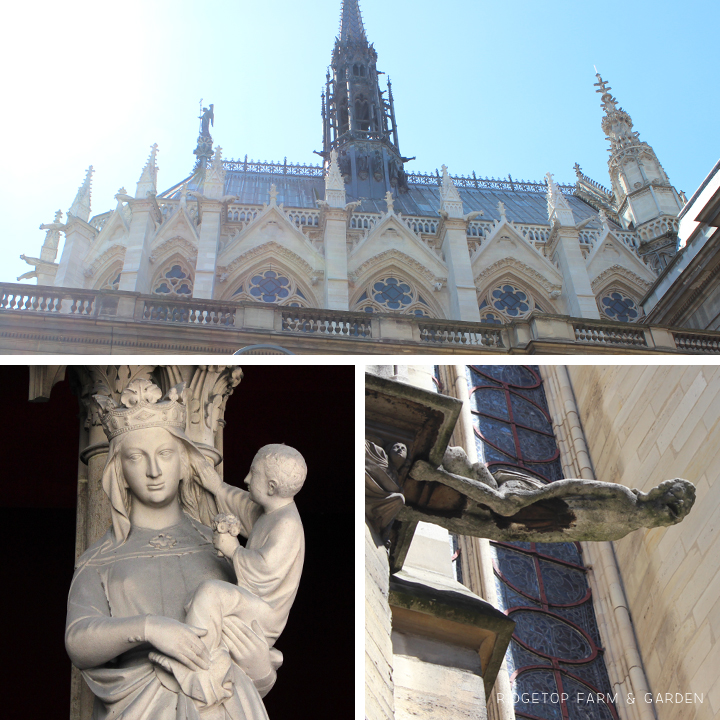 This is one of those places where a photograph just can't capture just how mesmerizing it truly is.
There is an upper and lower chapel both with exquisite stained glass. The lighting through the glass was stunning.
The other thing that struck me was the detail of the entire walled surface. Every inch was ornately covered in gold or paint. In any other setting I probably would have thought it to be over done. But here, it was part of what made the entire experience exceptional.

WALKING ALONG THE SEINE ♥
We were tired, but somehow walking along the Seine was still magical. It had to have been the atmosphere. It certainly wasn't the worn out travelers finishing up their 2 weeks of adventuring.
We had places to go, things to see. So, we didn't sit and picnic. But, strolling along and taking it all in was marvelous.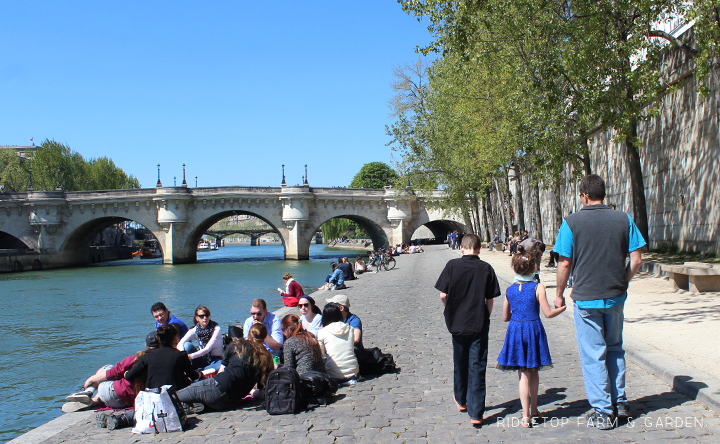 We came across fencing covered in love locks. We also came across some areas covered in plywood to deter the addition of more locks. I was surprised to see just how many locks there were.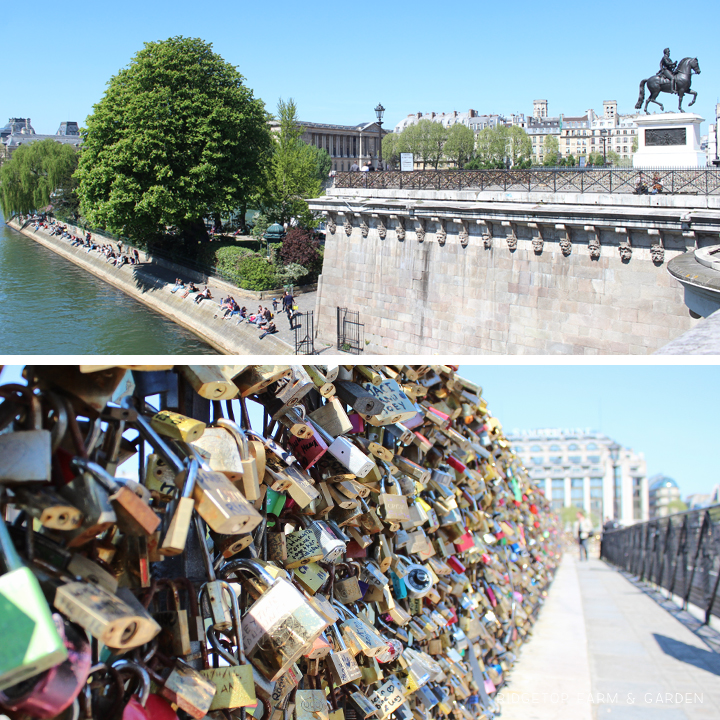 EIFFEL TOWER
Last, but not least, on our quick stop in Paris was the Eiffel Tower.
On our previous trip, John and I went up in the Tower to gaze out at the city of light. This trip I decided to go to the top of the Arc de Triomphe and the Notre Dame tower so we could see the Eiffel Tower in our views of the city. I am not disappointed with that decision.
We walked around and through the Eiffel Tower, took many photos, and Farm Girl did handstands in the grass. It was a nice ending to our European vacation.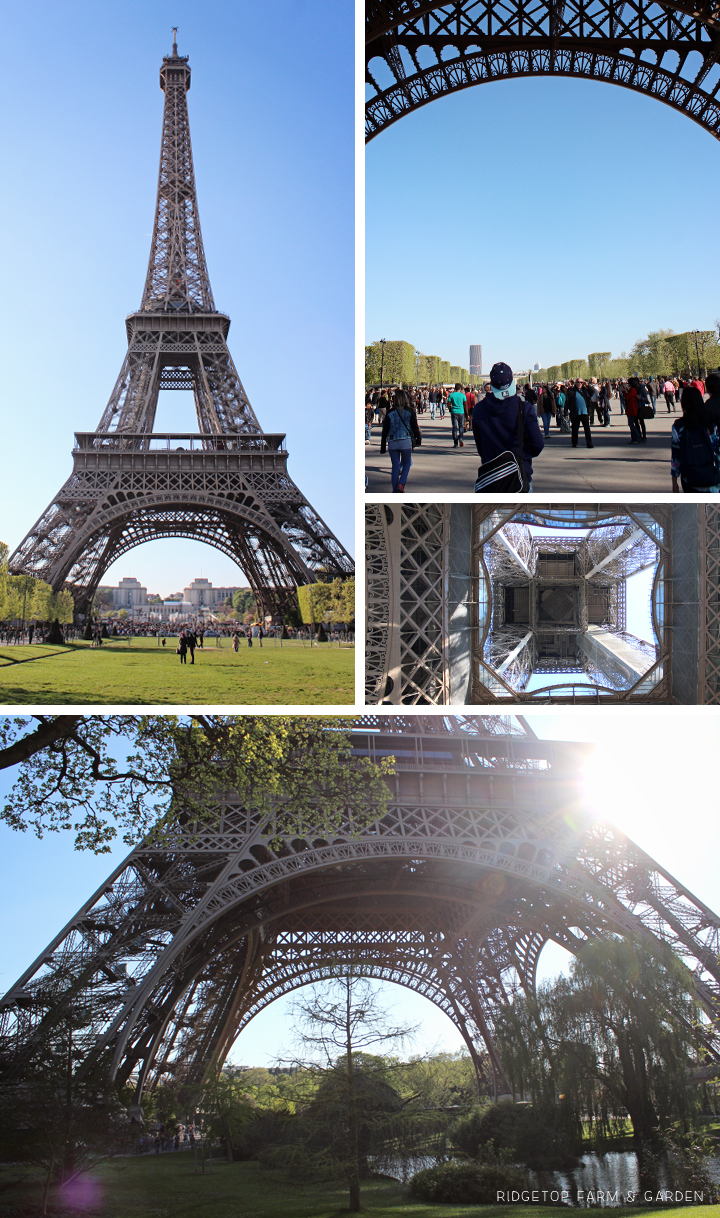 We took an RER train back to the hotel and got ready to head home crazy early the next morning.
Our time in Europe almost over.
Save
Save