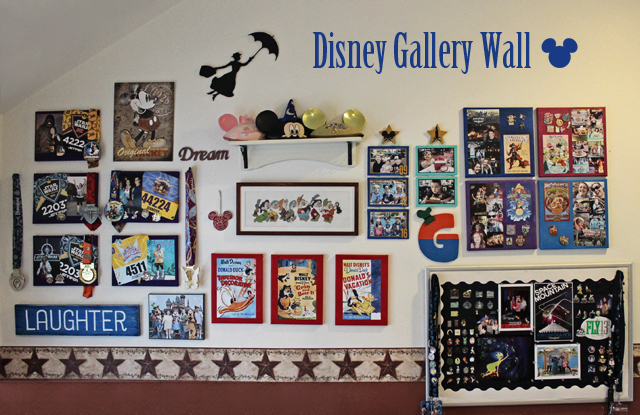 It's no secret that I love Disney. Over the years I have acquired a few fun items. I never had a good place to display them. But we are now done home schooling, and that opened up a wall that was once covered in learning material. The wall was a blank canvas that I chose to decorate in all things Disney.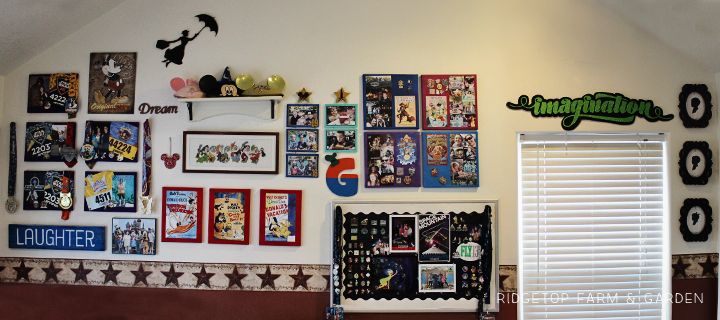 A Look at all the Gallery Pieces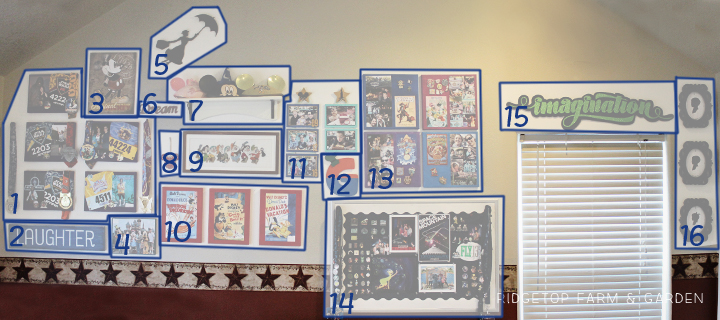 1: Run Disney Race Canvas

The Run Disney races I've completed have definitely been my favorite races as a newbie runner. I wanted to do something special with the race bibs and medals, so I came up with these race canvas's. Click here to find out how I made them.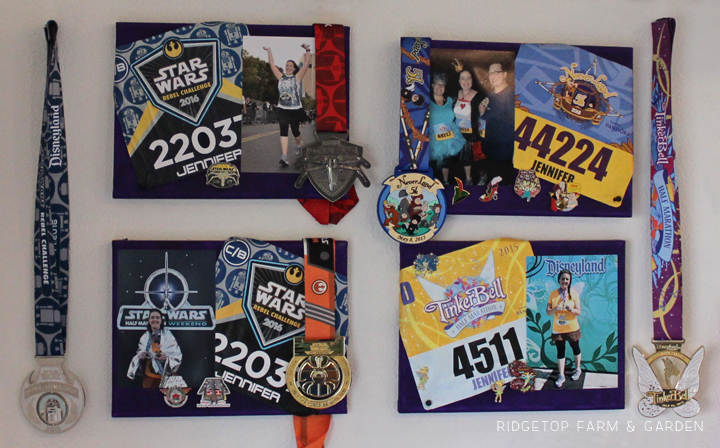 2: Laughter Wood Sign

The final piece I added to the gallery wall was this handmade laughter sign. Click here to find out how I created it.


3: Vintage Mickey Poster

I found this image at the Costco Photo Center. I simply had it printed just as I would any other photo at Costco, then mounted it on a canvas panel.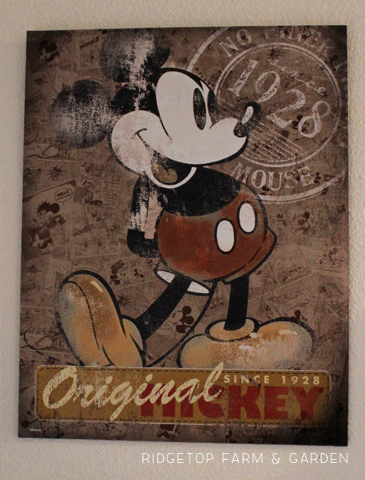 4: Family Castle & Character Photo

I put this collage together after our 2009 trip to Disneyland. I printed it as an 8″x10″, then trimmed it a bit and mounted it on a painted canvas.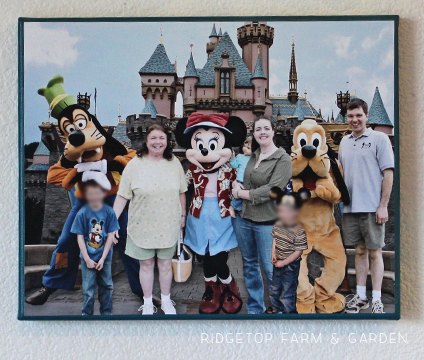 5: Mary Poppins Silhouette

I found this Mary Poppins silhouette doing a google search. I printed the image, then traced it on to 1/4″ plywood. Using a scroll saw I cut the image, then painted it black.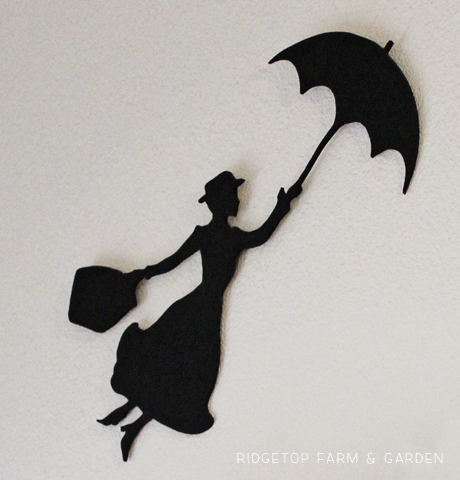 6: Dream Signage

Years ago I found this dream wood cut out at a craft store. I painted it glittery lime green with the intention of displaying it in one of our flowerbeds. The sign never made it outside. Instead, it sat in a closet… until now. I combined magenta acrylic paint with glitter and pearl mixing medium then painted over the lime green. After the magenta paint dried I used sand paper to roughen up the edges.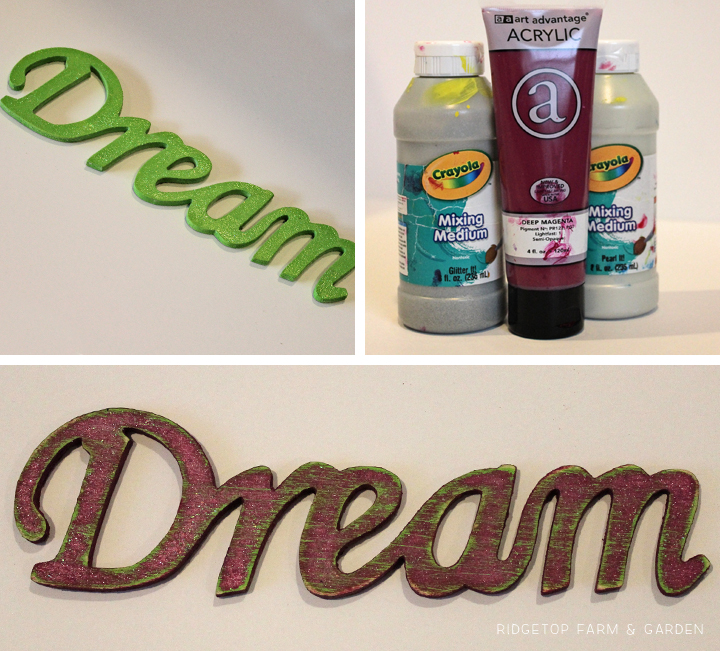 7: Mickey Ears

Each of the kids has a pair of Mickey Ears. They are simply displayed on a shelf.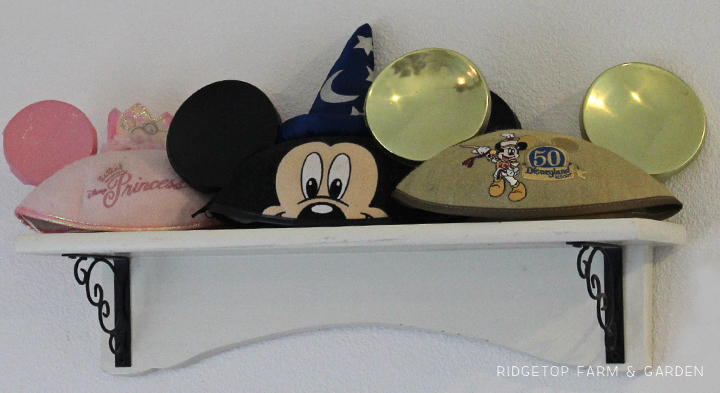 8: Ornament

During the Tinker Bell Half Marathon weekend in 2015 I bought this ornament. It's flat, so it hangs perfectly on the wall.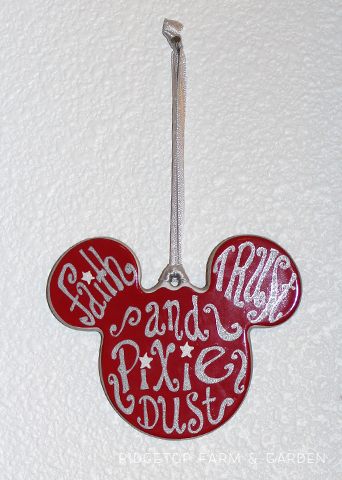 9: Seven Dwarf Cross Stitch

I don't know exactly when I made this cross stitch. I would guess I was somewhere around 12 years old. I loved it then and had it hanging in my bedroom. But, once I moved out on my own I never really had a good spot for it… until now. I'm so excited that it has a new place to be on display!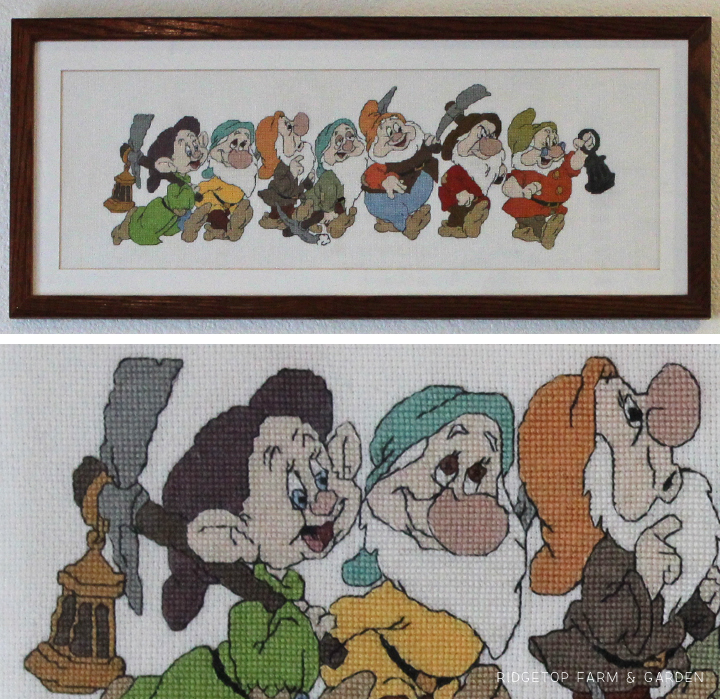 10: Donald Duck Poster Trio

I downloaded these Donald printables from Disney Movie Rewards. I painted 11″x14″ canvas's red, then mod podged the prints to them.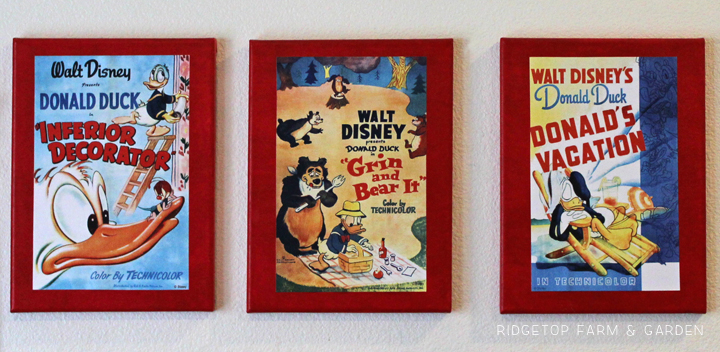 11: Birthday & Mickey Ear Canvas Panels

We have been to Disneyland 3 times with the kids. Each time I have taken their photo with Mickey ears on in front of the fountain near the entrance at California Adventure. So, using canvas panels, I created a hanging display of one photo each year.
I bought a wooden star shape at a craft store and painted it gold. Next, I cut out a shape of Mickey ears and used it as a stencil. I put glitter glue in the stencil then sprinkled black glitter on the glue. While the glue was drying on the star, I painted 3 5″x7″ canvas panels blue. After the blue dried I used painters tape to mark off the edges to provide a dual framed appearance. Inside the tape I painted gold. I also painted numbers representing the years. I used hot glue and ribbon to attach the 3 panels and the star. The final steps were mod podging on the photos and using craft glue to add the numbers.
Two out of the three times we've been to Disneyland with the kids were over birthdays. So, I created a similar display for the birthday photos. Both times we celebrated at New Orleans Cafe. It's low key, but still a special treat. I like it because you can go whenever it fits your schedule for that day. You let the waiter know you're celebrating a birthday and would like a cake. The cake is big enough for everyone to get a taste and comes in a cute take home box.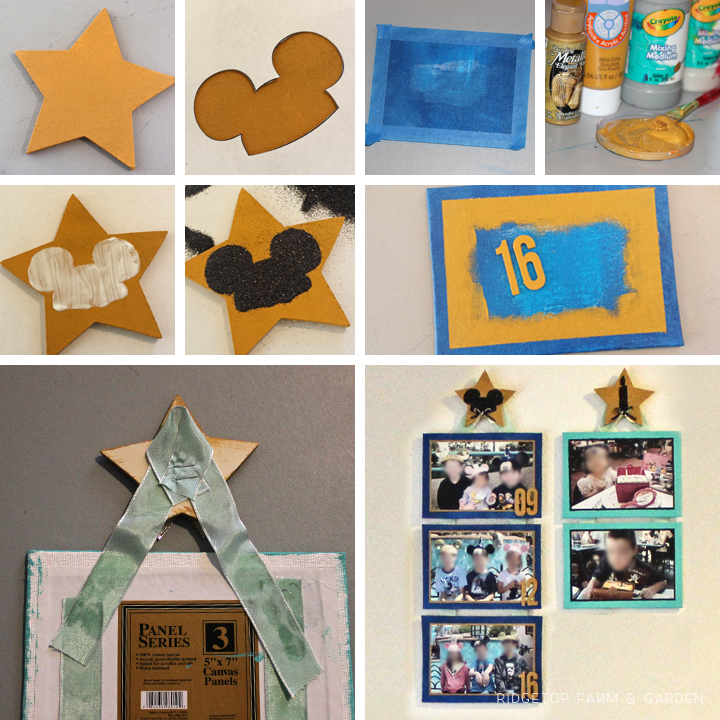 12: G

Our last name begins with G, so I created this Goofy inspired sign using a scroll saw and paint.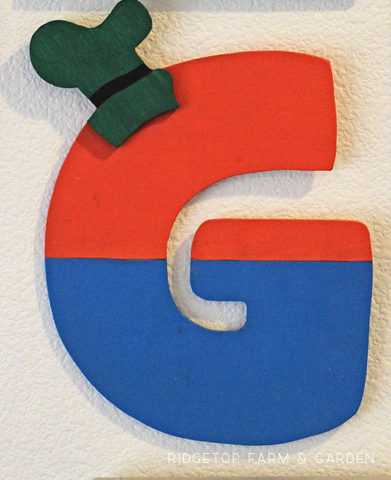 13: Pin & Photo Canvas Display

To commemorate a few of our favorite rides I put together these canvas displays. To read more about how to make them click here.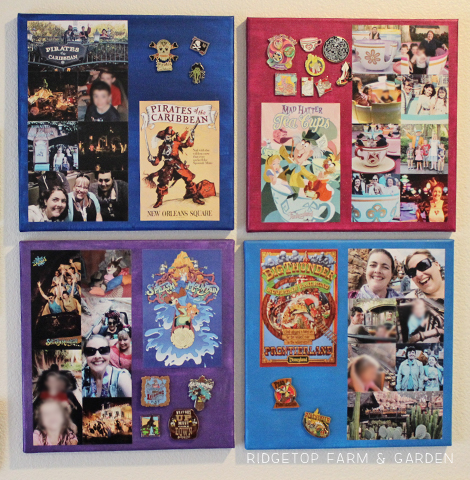 14: Bulletin Board of Pins & Photos

I went with friends to Disneyland during the Tinker Bell half marathon weekend. Those friends were a bad influence. They wanted to see what the pin collecting craze was about. I didn't really care to much about it, but decided I'd give it a whirl anyway. It was so much fun! I didn't have kids with me, so no added stress. Just a fun time at Disney. And, the scavenger hunt of finding pin traders and the perfect pins was on. I came back totally addicted. It is good, clean fun. However, a bit on the spendy side. I didn't want my kazillion dollars worth of pins to be thrown in a drawer, so I turned our old home schooling bulletin board into a pin collection board. I take the backs off the pins and the pins stick and stay right in the bulletin board.
Of course, I also added photo's. Right now I have pics up of my adult trip to Disneyland and our latest trip with the kids. I recently joined the Disney Movie Club and sometimes the movie comes with a lithograph. I added a couple of those, too. I have a variety of lithographs and Disney printables, so I change them out occasionally.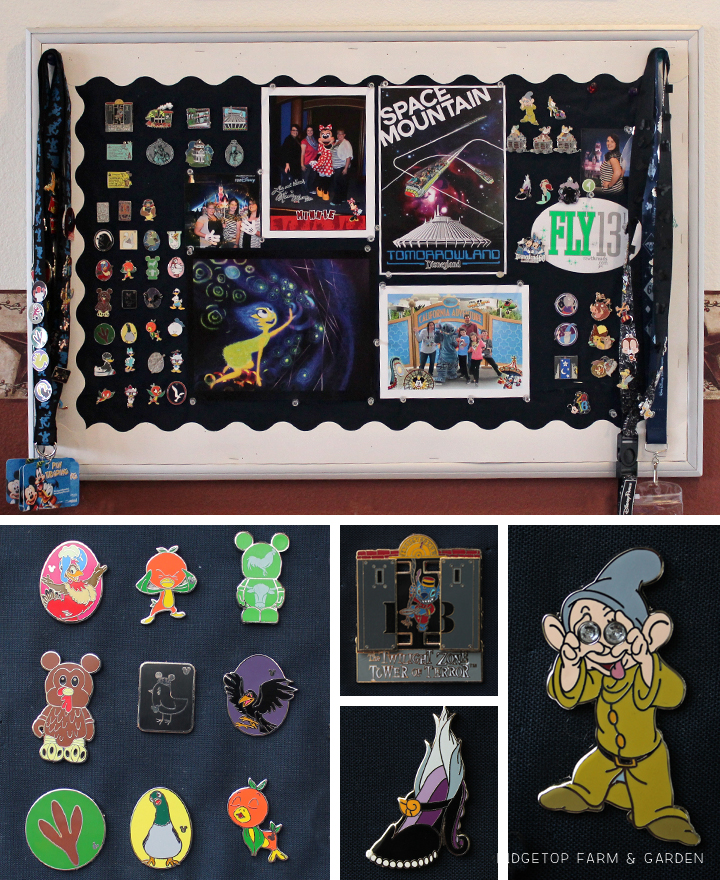 15: Imagination Cut-out

I created an image spelling the word imagination, printed it to size, then traced it onto 1/4″ plywood. Using a scroll saw I cut out the letters. Our scroll saw isn't very big, so the image was too long. I ended up cutting the image into 3 sections, which worked perfectly fine. I also cut a border out of plywood. I painted the word imagination lime green, then used glitter glue to adhere lime green glitter over the entire thing. The background border piece is simply painted black. Using gorilla glue, I glued the green glittered piece to the black piece.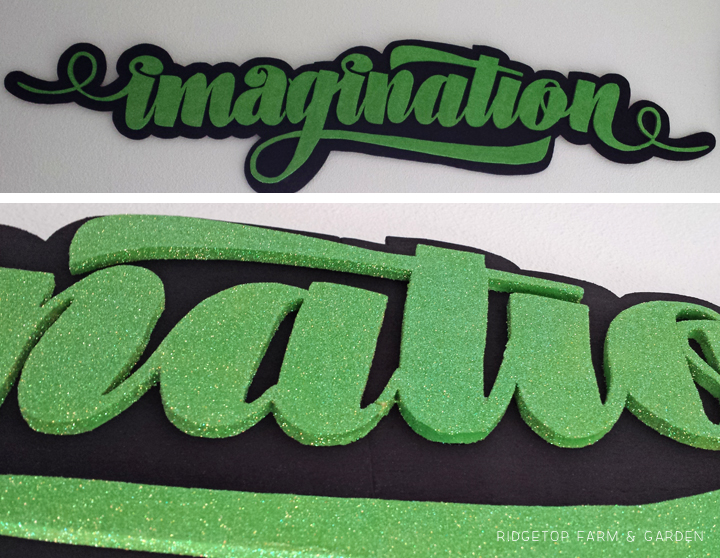 Click the image below to download a larger file of the word imagination.

16: Main Street USA Silhouette's

I remember getting a silhouette done when I was a kid on Main Street, USA. So, the first time we took the kids to Disneyland my must do souvenir was getting their silhouette's cut. I got the frames at a craft store not long after we returned from our trip.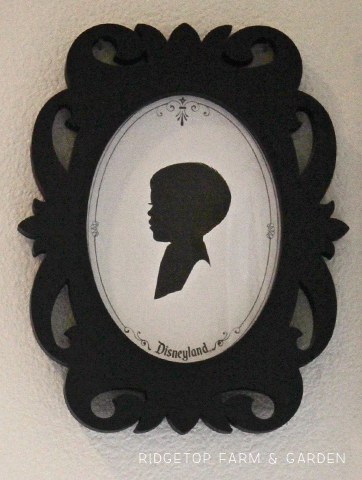 There it is, our Disney inspired wall. There are many pieces and it's a little crazy, but I adore it anyway. The problem will arise when I do another Run Disney event. Where will those canvas's go?