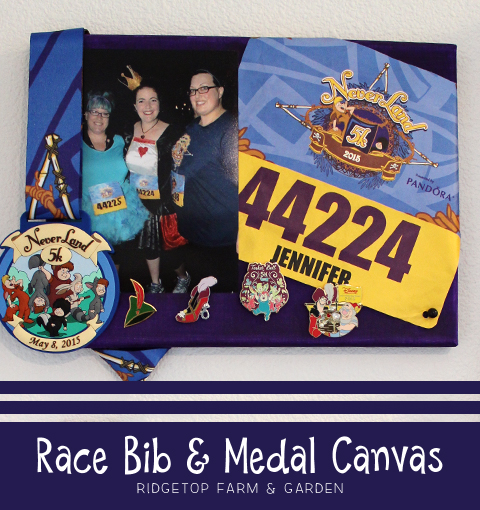 The 2015 Tinker Bell RunDisney event was a huge milestone for me. It was the first time I finished a half marathon. I wanted to commemorate the weekend by displaying items from the 2 events I participated in – the Neverland 5k & the Tinker Bell Half. I came up with these simple canvases to hang on the wall and I adore them.

This post contains affiliate links.
SUPPLIES

• Acrylic Paint (I used Violet)
• Paint Brush
• 9″ x 12″ canvas
• Mod Podge
• Race Memorabilia (Bib, medal, photo, etc.)
• Staples and/or Push Pins
STEP 1: PAINT CANVAS
Since most of the canvas is going to be covered, I didn't do a fancy paint job. My canvas has 2 coats of violet acrylic paint.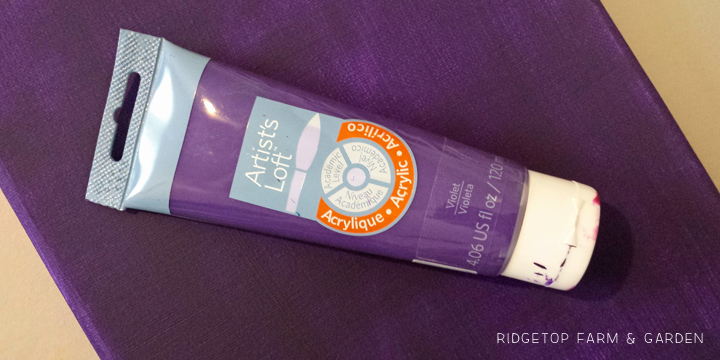 STEP 2: ATTACH BIB
As much as I like this canvas of my race accomplishment, 20 years from now I may decide I don't want it hanging on my wall. So, I didn't want to permanently adhere the bib to the canvas. I want the option of moving the bib to a photo album or box. As opposed to mod podge or glue, I used staples and push pins. Push pins were used on the front of the canvas simply because I like the look of them. Staples were used on the sides and back.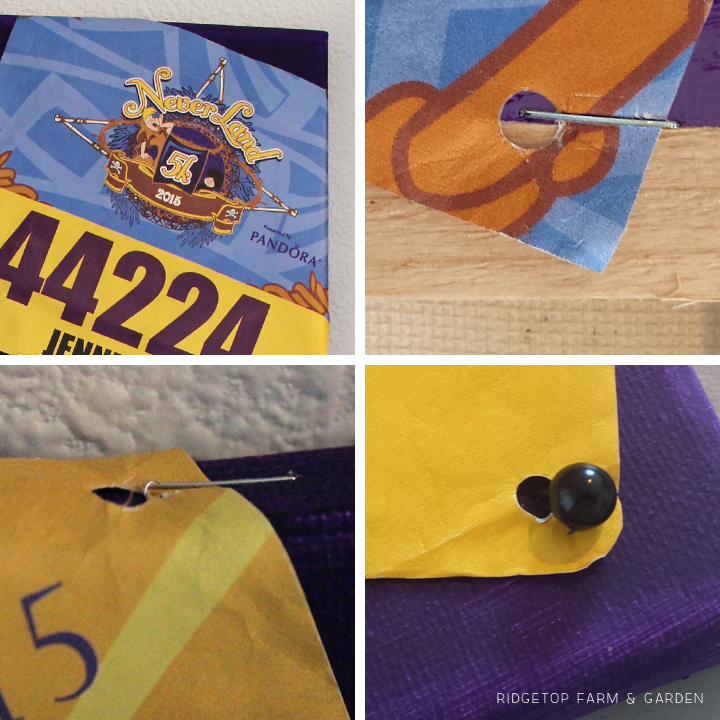 STEP 3: ADHERE PHOTO
I used mod podge on the back of the photo to adhere it to the canvas. I was careful not to add mod podge where the photo overlapped the race bib. Normally, I also add mod podge over the top of the photo & canvas. But, in this case, I skipped that step.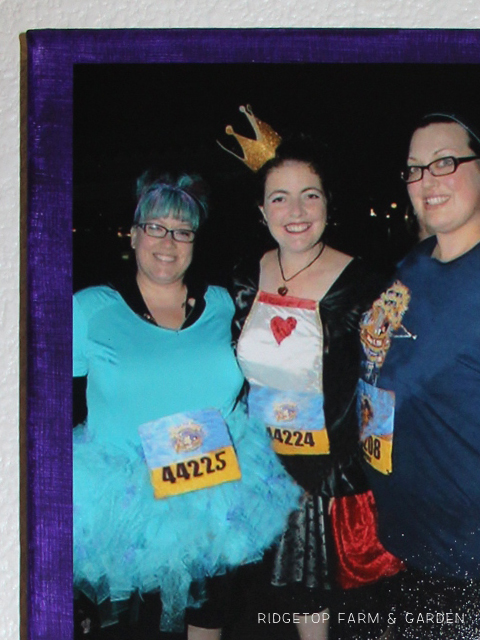 STEP 4 (OPTIONAL): ATTACHING DISNEY PINS
This Tinker Bell inspired trip to Disneyland was my first time going with friends, as an adult – without kids. My naughty, naughty friend decided she wanted to start collecting pins. So, we all tagged along with her. They are crazy expensive, but it was so much fun. The pins are super cute and we had a great time keeping our eye out for cast members and kiosks to trade pins. It was like a treasure hunt.
When we got home, though, I wasn't quite sure what to do with my new, awesome Disney pins. This canvas idea incorporated many of my favorite elements of that trip. I added Peter Pan themed pins directly to the canvas. They poke right through and the Mickey shaped back is on the back of the canvas.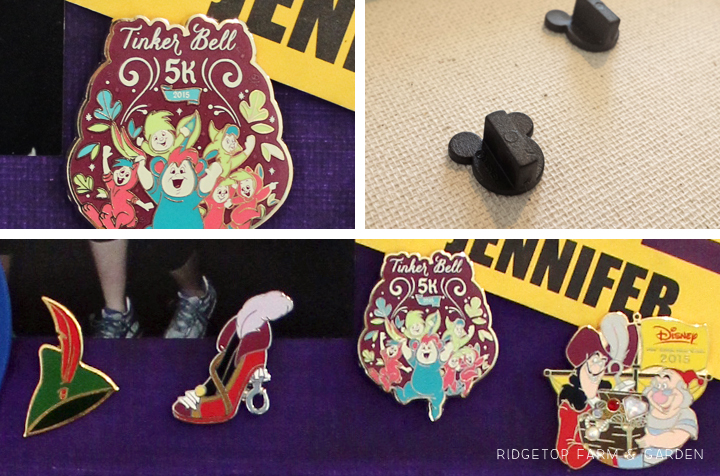 STEP 5: ADDING THE MEDAL
For this canvas, I just wrapped the medal over the top of the canvas and called it a day. It's not attached in any way. It stays perfectly well. The 5k medal, though, is made of a rubbery/plastic substance making it light. Heavier medals don't work quite as well.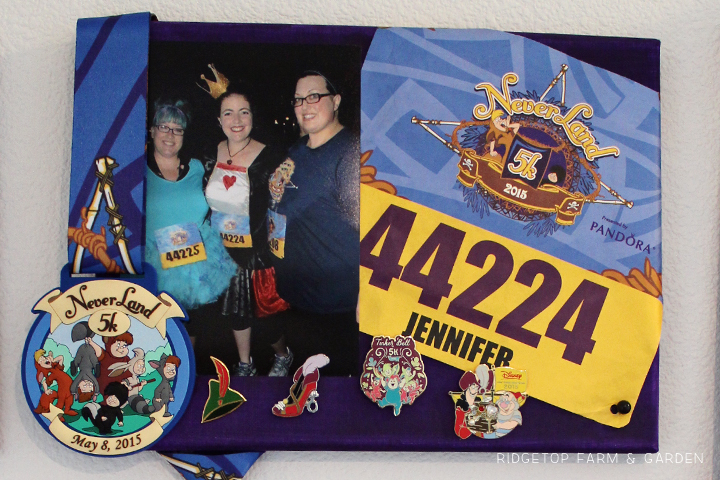 STEP 6: MAKE MORE CANVASES
I also made a canvas for the Tinker Bell half marathon. The medal was too heavy to hang on the canvas, so I pinned it next to the canvases.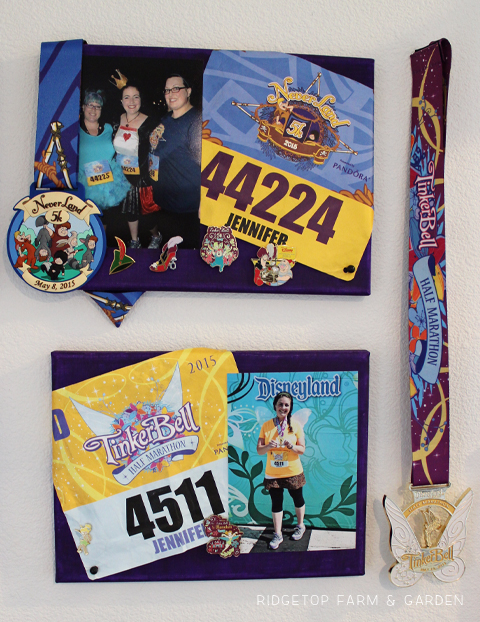 How do you display your favorite race events?