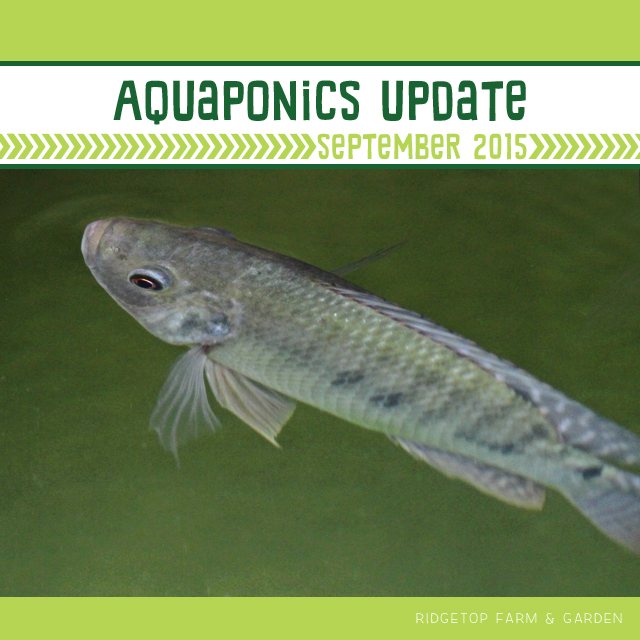 Our aquaponics system continues to thrive, even through a little mishap we had early in the month.
IN THE GROW BEDS
Peppers, tomatoes, swiss chard & okra are all doing well.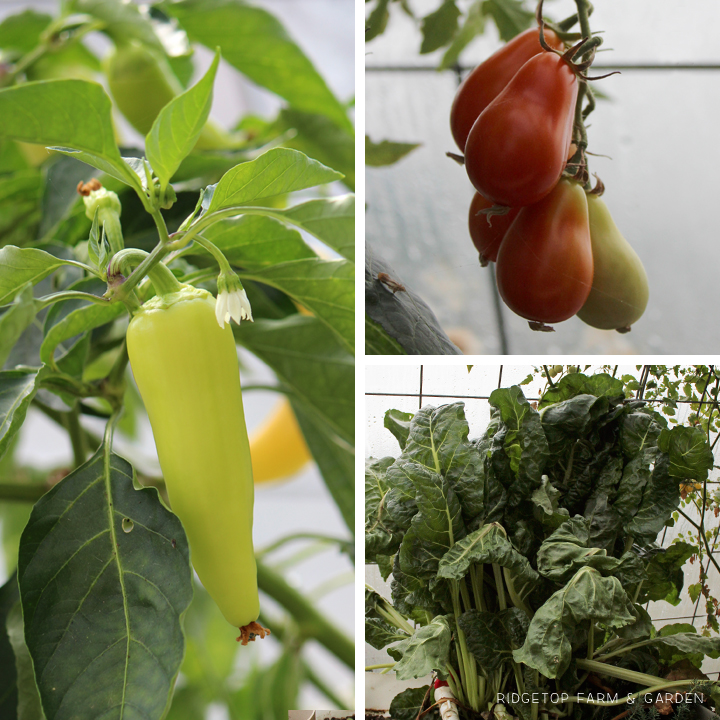 The back grow bed is going wild & crazy with two types of produce: Eggplants & Mexican Sour Gherkins. They love it there. We are picking Sour Gherkins by the handfuls daily.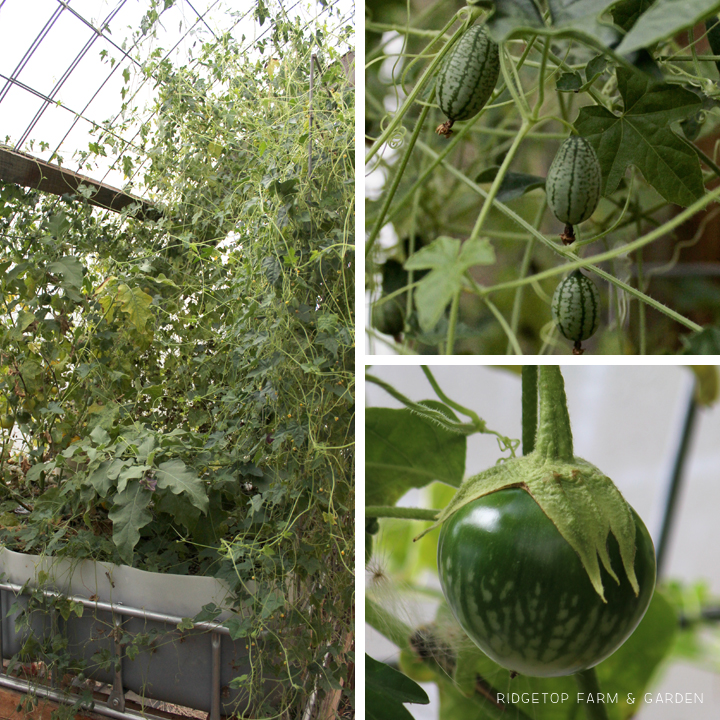 AERATOR
This isn't new, but I don't remember posting about it.
In the main fish tank is a simple aerator. It is a piece of tubing with small holes in it. One end of the tubing is connected to an air compressor, the other end is placed in the fish tank.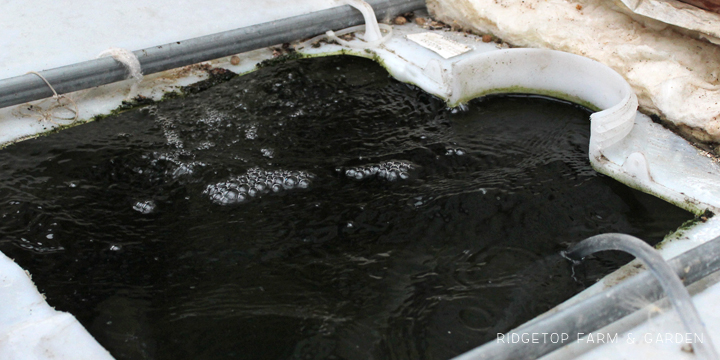 TILAPIA
The tilapia are doing well. However, there was an incident.
The pump quit working. I'm not exactly sure how long it wasn't working. Not longer than 24 hours. But, even just a couple hours could have been harmful to the fish. The aquaponics system depends on the water being moved from the fish tanks to the grow beds and back. It moves fish waste out and plant nutrients in. In our set up, it also adds a bit of aeration to the tanks.
Thank goodness the tilapia's odd behavior clued me in that something wasn't right. I'm sure I would have figured it out anyway, but my first clue were the fish. Many of them were near the top of the tank, taking little gulps of air. They don't ever hang out at the top.
I started looking around and sure enough the water wasn't moving. My heart sunk. Farmer John was gone for the week and I am not mechanical.
I was worried about the fish. They were stressed and in need of oxygen. The aerator wasn't hooked up. About a week prior, we poured concrete in the Man Shack, which is where the air compressor had been. The air compressor had been moved and wasn't set back up, so the aerator wasn't running.
Now to find the problem. Eventually, I figured out that it was the pump. It was still getting power, but for some reason wasn't pumping water. Thankfully, we had another pump. There are a lot of variables to setting it up, so I called our friend and he helped me get it going.
Problem solved. And, no fish seemed to be harmed by the ordeal.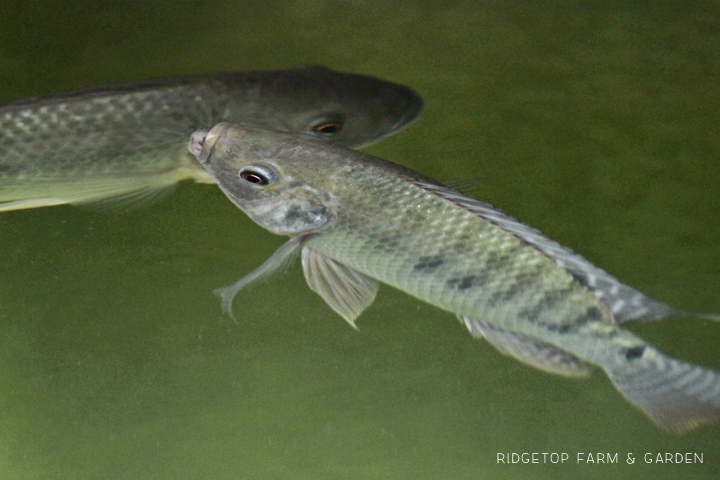 CHANGES & UPDATES
In July, I wrote about a new pump Farmer John put in the aquaponics system. It worked great. But… it still wasn't exactly what he wanted. It moved a lot of water, but it was loud and used quite a bit of electricity.
So, he found this smaller pump at Home Depot and installed it. It seemed to work ok. But, it made an obnoxiously loud high pitch sound for a small pump. Not long after we got it, Farmer John was saying how he wondered if something was wrong with it.
This was the pump that went out while he was gone. I'd say he was correct in thinking something was wrong. The pump went on the fritz after only having it about a month.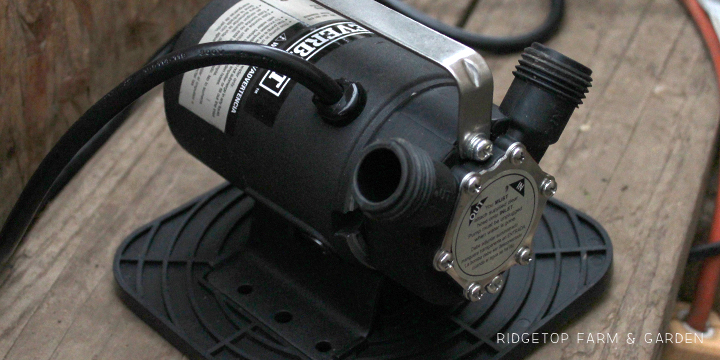 Now it's back to the pump he got in July.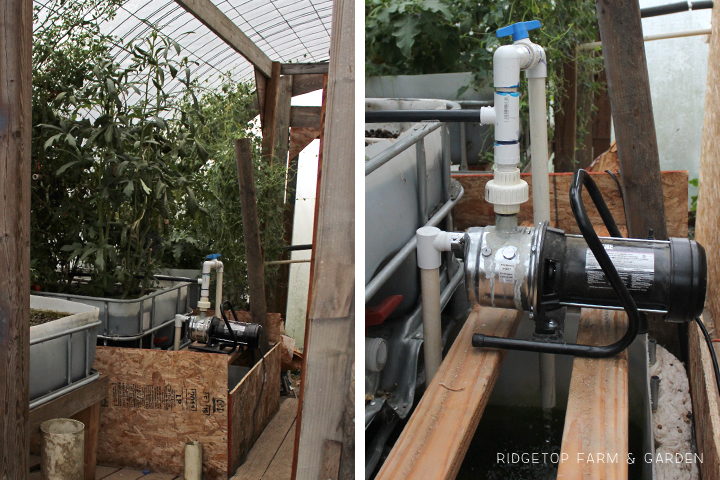 I'm thankful for another successful month with our aquaponics venture. I'd prefer a less eventful month where everything works as it should. But I'm happy to be eating fresh, homegrown produce and that all the fish survived the pump failure.