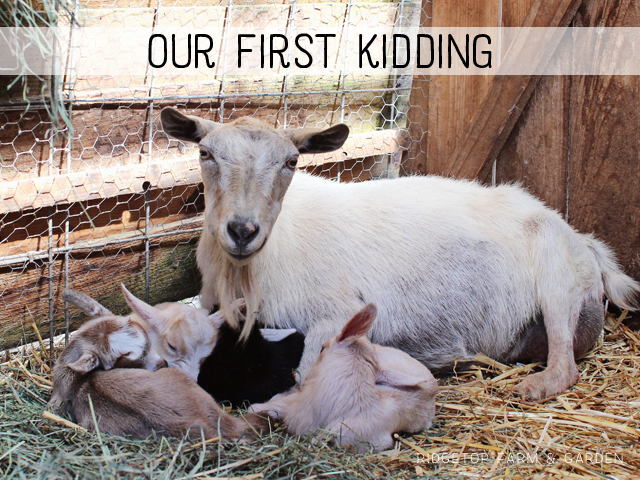 Last week we had our first kidding on our little farm! Thankfully Willow is an experienced mother and everything went perfectly.
Since this was my first kidding experience, I did a lot of research on the subject. The #1 thing I continued to read was be there for the birth just in case the mother needs assistance.
I purposely didn't plan extra things for about a week before her due date and a week after, just to be sure we would be home. However… with three of my own children it's nearly impossible to stay home 24/7. Farmer John was not home, so in the afternoon I ran the kids to an orthodontist appointment then to taekwondo. I peeked at Willow before we left and she didn't appear to be behaving any differently. The only odd-for-her behavior I noticed was the night before when I came to see her at the fence she didn't get up to greet me. I tried numerous times to feel if the ligaments at her tail had loosened, as that can be a clue that birthing is near. But she didn't like me messing around back there, so I never did get a very good feel.
Long story, short, we totally missed Willow birthing the babies. We literally got home as she was pushing out her 4th and final kid.
The good news is all 4 babies looked great and we were there in time to dry them off.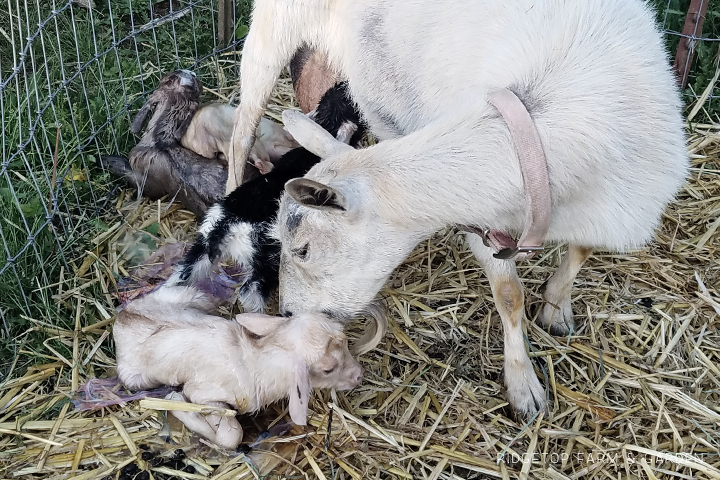 Willow did such a great job tending to her four little ones.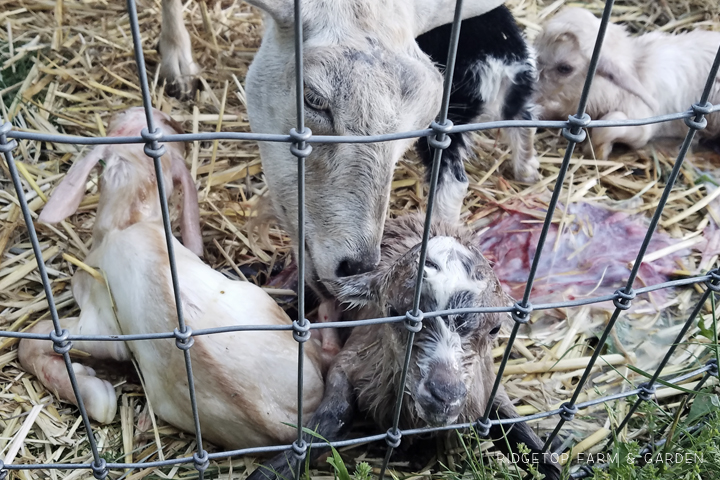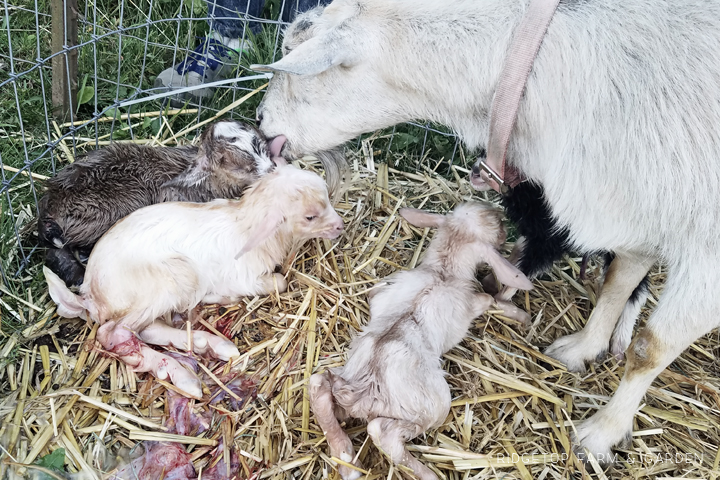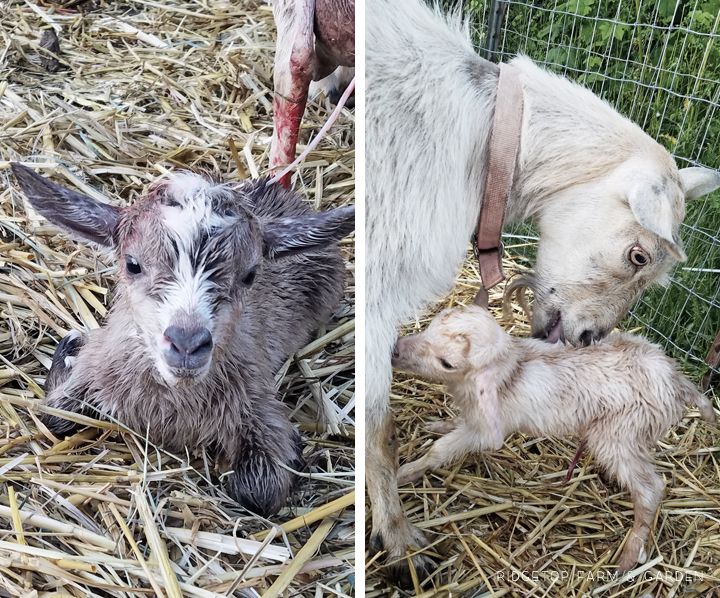 Not long after they were born, I dipped their umbilical cords in triodine-7. I'm still not sure if I should have tied the cords with dental floss and cut them shorter before dipping them. They didn't seem obnoxiously long and a week later it doesn't seem like there is a problem. But, it is something I should learn more about for next time.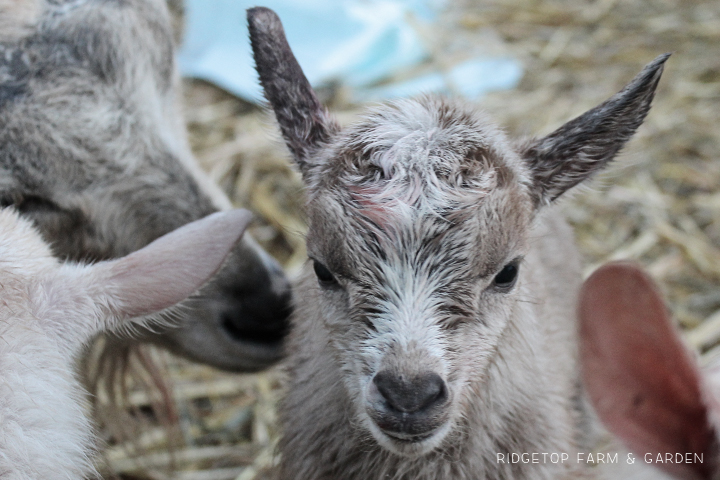 Almost 2 hours later, Willow got real serious and in a zone. She was pushing out the placenta. When it was all out, she devoured it. She seemed to really enjoy it.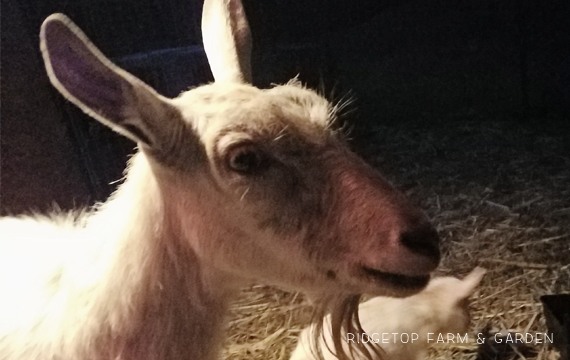 One mistake I made was misjudging the weather. Farmer John built Willow a covered kidding stall outside. It's kind of enclosed, but not well. I wasn't too concerned because I knew she was kidding during the summer. When we got home, though, to her giving birth it was a tad windy and I was cold. I thought if I was cold, it couldn't be great for the damp babies. So I quickly cleaned out Georgia and Willow's house, moved Georgia out and Willow and the babies inside. Farmer John moved the ceiling mount heater we have for the chicks into the goat house. This was a life saver for the first few chilly nights. You can just barely see the heater in the top of this photo above Willow's head.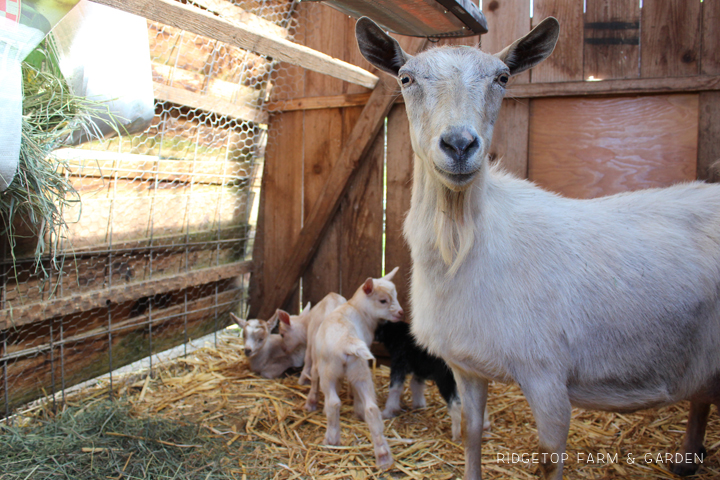 The next morning, everyone looked pretty well dried off, but not quite ready to bounce around much.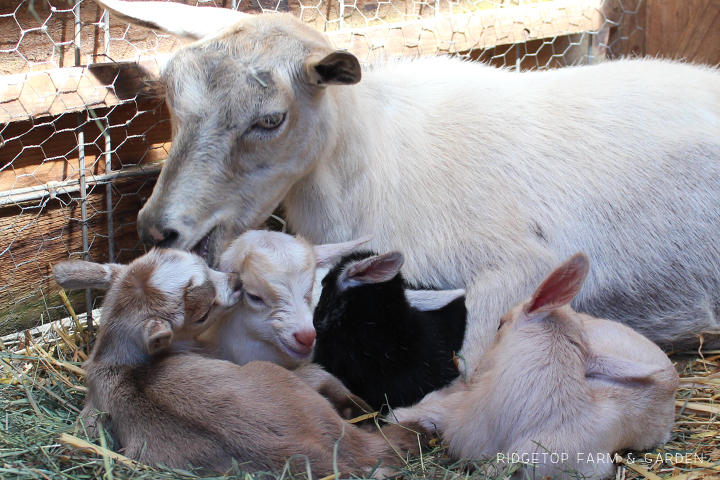 I know it won't always be this easy, but I'm so happy things went so well for our first time. Willow is a pro.