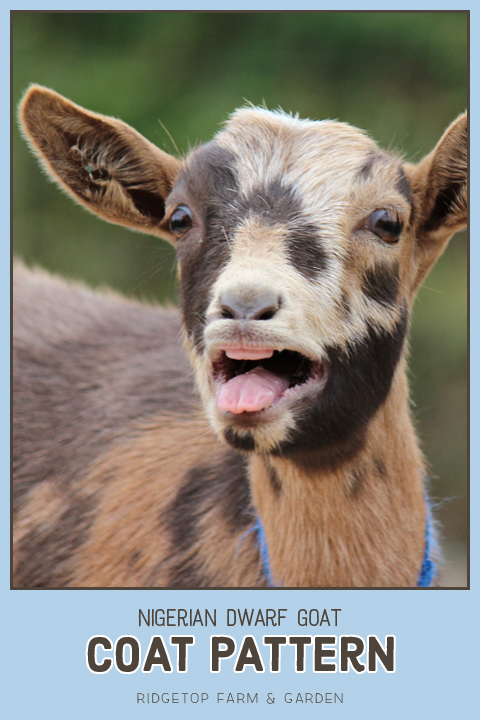 Continuing my fascination with genetics, this post is about the coat patterns of goats.
In my previous post on coat color, I mentioned that the Agouti locus determines the color of a goat. Part of determining the color is also determining the pattern.
A goat receives two alleles on the Agouti locus – one comes from the dam, one comes from the sire. If the alleles are the same (homozygous), such as both being buckskin, then the kid would also be buckskin. However, if the alleles are different (heterozygous), different combinations of color patterns can be expressed. The Agouti alleles are co-dominant, meaning they both can be shown. In general, though, the pattern with most tan will be expressed.
Two other things to consider are pattern modifiers and white spotting. White spotting can change what we see on the goat's coat, masking its genetic color pattern.
Agouti Allele's
This is not a complete list, but the most common in Nigerian Dwarf Goats
SOLID
When only pheomelanin is present and no eumelanin this produces a solid pattern. This is the most dominant pattern.
Our goat, Bunny, is a solid light cream color with white spotting.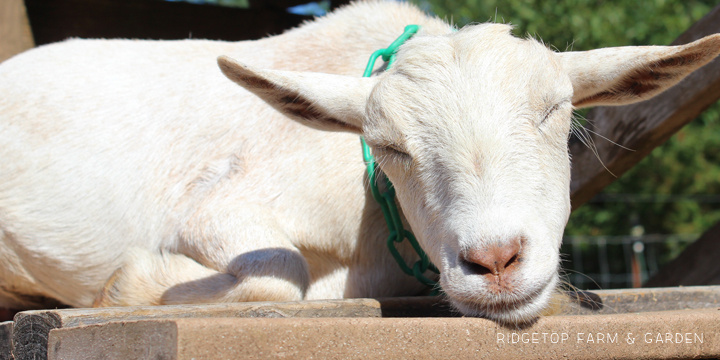 CHAMOISEE
Also known as Badgerface. Goats with this pattern are tan or brown, with a black (or dark brown) underbelly, dorsal stripe, facial stripe, and lower legs.
BUCKSKIN
Also known as San Clemente. The body on a buckskin can be cream, tan, or dark reddish brown. They are distinguished by their black (or dark brown) cape around the head, neck, and shoulders. Buckskins also express black (or dark brown) on top of their tail and chevron on the back legs. Their head is black (or dark brown) with lighter stripes.
Vern is a dark buckskin with random spotting.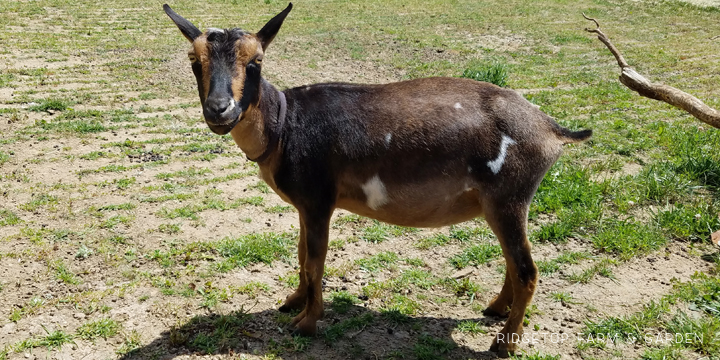 COU CLAIR/COU BLANC
Also known as Peacock. These goats have a tan (cou clair) or white front (cou blanc), while their back half is black (or dark brown). They also have black (or dark brown) facial stripes.
SWISS MARKED
Also known as the Toggenburg pattern. Goats that are Swiss marked have a black (or dark brown) body. The pheomelanin (white, cream, or tan) areas include all 4 legs, facial stripes, ears, and under the tail.
WyldeStyle is Swiss marked.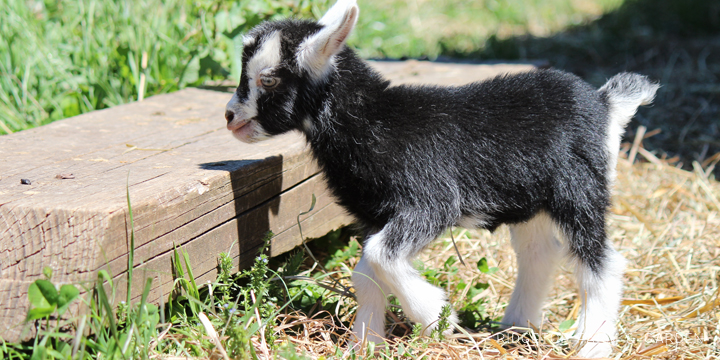 SUNDGAU
The Sundgau pattern is similar to the Swiss marked pattern with a black (or dark brown) body and light legs, facial stripes, ears, and under the tail. However, the Sundgau pattern also has a light underbelly. It also has black (or dark brown) stripes on their light legs.
NO PATTERN
When there is only eumelanin and no pheomelanin present, this produces an all black goat. This is the most recessive pattern.
COMBINATION PATTERNS
Because goats can show both the pattern they inherited from their dam and the one they inherited from their sire, sometimes combination patterns occur.
Crash is a Buckskin/Swiss Marked combination.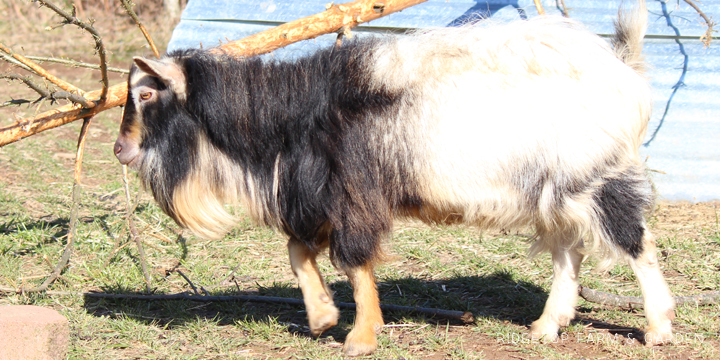 White Spotting & Other Modifiers
Sometimes, in certain areas the eumelanin and/or pheomelanin pigments are not produced. This results in white spotting.
Genetically, the base color is still present, but it is masked by the spotting.
There are multiple genes associated with white spotting, so one goat could have multiple spotting patterns.
RANDOM
Random spots on the body
BELTED
White band around a goat's midsection. The belt may go entirely around the goat, or not – and be referred to as a partial belt.
WyldeStyle has a partial belt with her Swiss markings.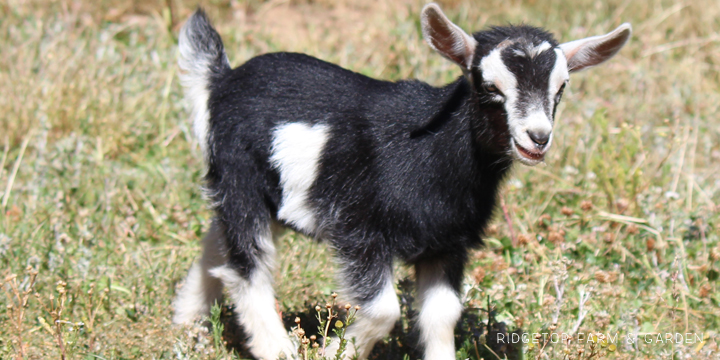 SCHWARTZAL
The body is primarily white with dark markings on the head and sometimes the legs.
ROANING
Roaning is when white hairs are sprinkled among colored hairs. They are single hairs, not spots of white.
Georgia has roaning throughout her body.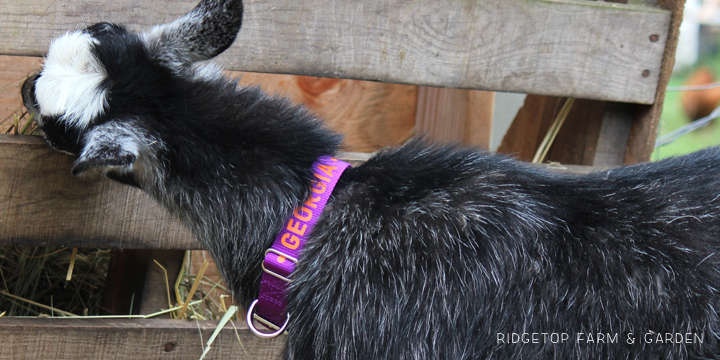 FROSTING
When ticking occurs on the muzzle, ears, or tail it is known as frosting.
Georgia also has frosting.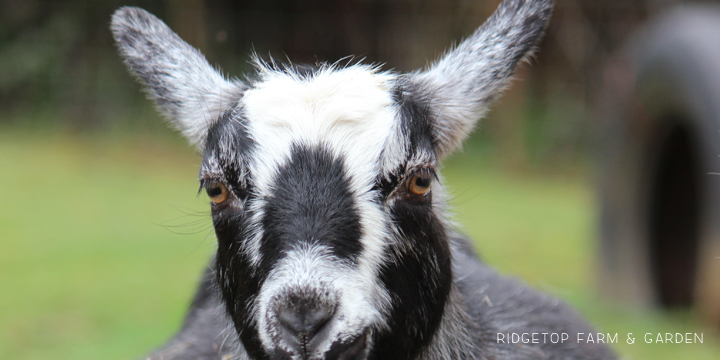 WHITE POLL
A white poll refers to a white spot on top of the head.
Bunny has a white poll.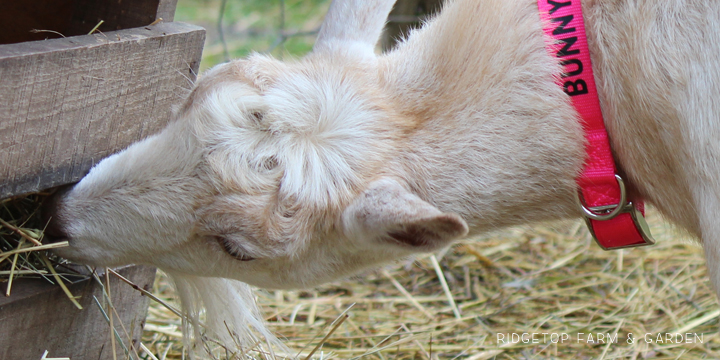 MOON SPOTS
Moon spots are random spots of color on top of a base color.
Moon has moon spots.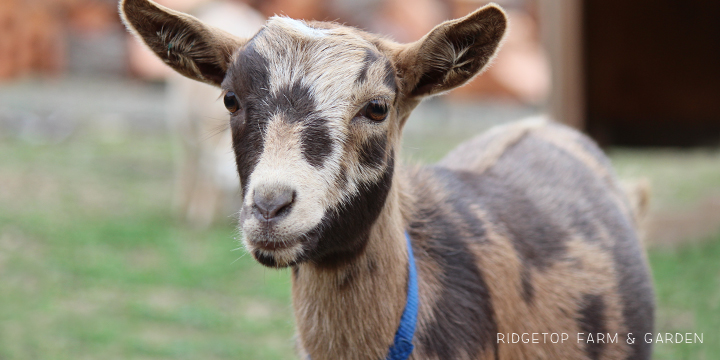 My goal is to take this information to learn more about and enhance our own herd.
Science is Fun & Genetics are Fascinating!