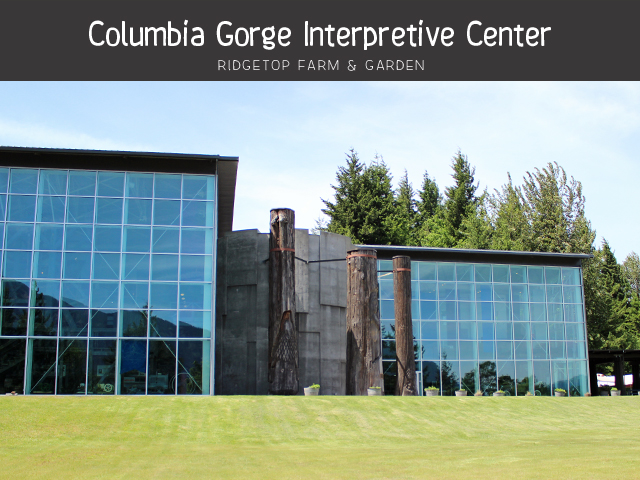 To go along with our Native American studies we visited the Columbia Gorge Interpretive Center. This was our first time exploring this museum.
I was surprised at the variety of exhibits. We were there for the Indian artifacts, but also learned about the natural history, transportation, & community of the Columbia Gorge.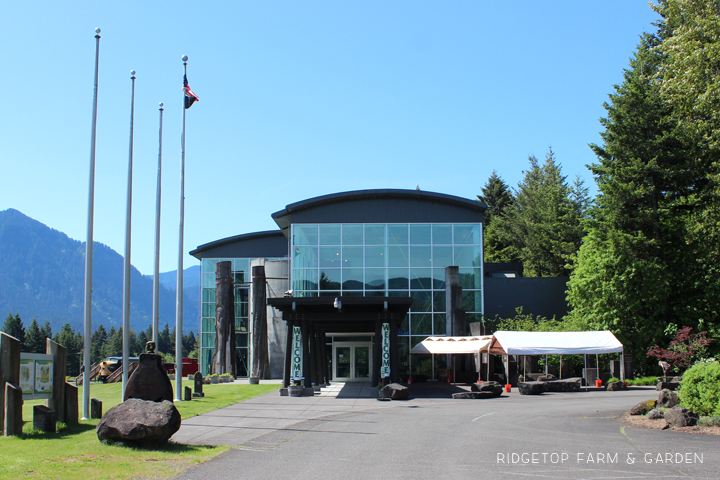 FIRST PEOPLES – THE CASCADE CHINOOK
We began our tour in the section of the museum that housed the items we came to see, The Native American exhibit.
Left: Standing tall & proud in the middle of the exhibit is a replica of  Tsagaglalal: She Who Watches. She is probably the most recognizable petroglyph in our area.
Top Right: Carved totems or sticks & Shaman's spangle or shield.
Bottom Right: Canoe anchor & net sinker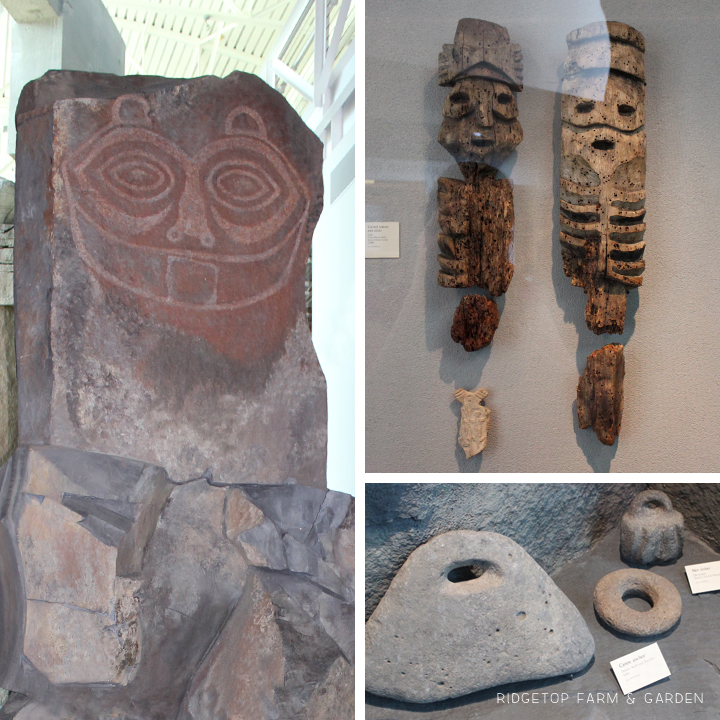 Top Left: Knife – Stone blade attached by pitch to antler handle.
Not long before we visited the museum, Farm Kid1 asked me how the Indians made knives. I had to tell him I didn't know, but probably out of bones or stones. I was happy to see this example & an explanation of what it was made from.
Top Right: Gaming stone – rolled or kicked by teams in the "kick" game.
Holy cow, that must have hurt when you kicked it.
Bottom: Root gathering or storage bags.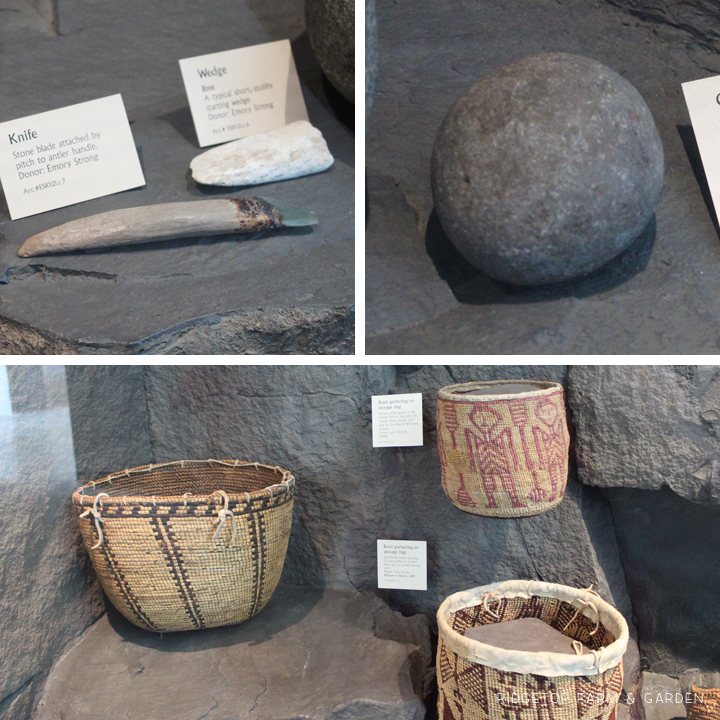 Left: Ceremonial dress made from buckskin with bead & shell embellishments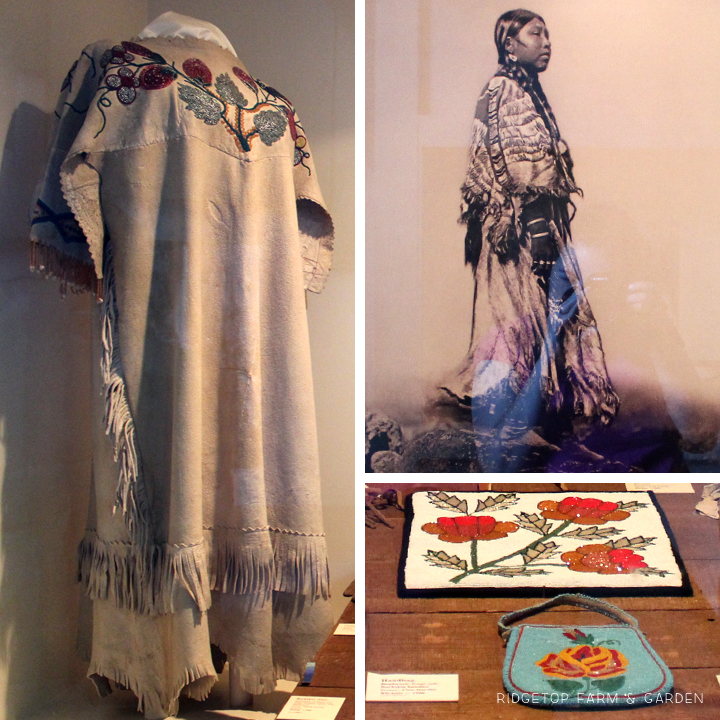 Emory Strong Library
Emory Strong spent more than 40 years researching the early people of the Columbia River Basin. After his death, his family donated his collection to the museum. Walking in the library is only available by appointment, but we could see all the memorabilia & artifacts through the glass.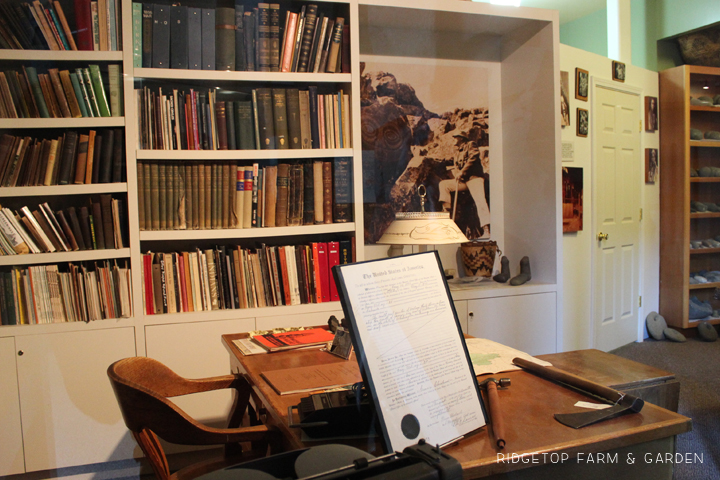 TURNING POINT & THE CORPS OF DISCOVERY
With Lewis & Clark exploring the area in the early 1800's, change was certainly coming. Between 1850 and 1853 land speculators & settlers filed claims under the Donation Land Act along the north bank of the Columbia River.
Top Left: Council Fire on the Columbia by David Manuel
A bronze sculpture with Native Americans & members of the Corp of Discovery. There was a small sign encouraging us to find a few items in the sculpture like a quill pen, fishing net, & blue trade beads. I love things like that. I guarantee my kids would have took a quick glance at the sculpture and moved on. Instead, they examined the sculpture searching for the items.
Bottom Left: Model of the Clahclehlah village
Lewis & Clark visited this site in 1805 & 1806. It was excavated from 1977 -1979 during the construction of a powerhouse at Bonneville Dam. Many artifacts were found.
Right: Items typically traded by the people of Clahclehlah in the early 1800's, such as wapato roots, salmon tails, hazelnuts, tobacco, wool blankets & dentalium shells.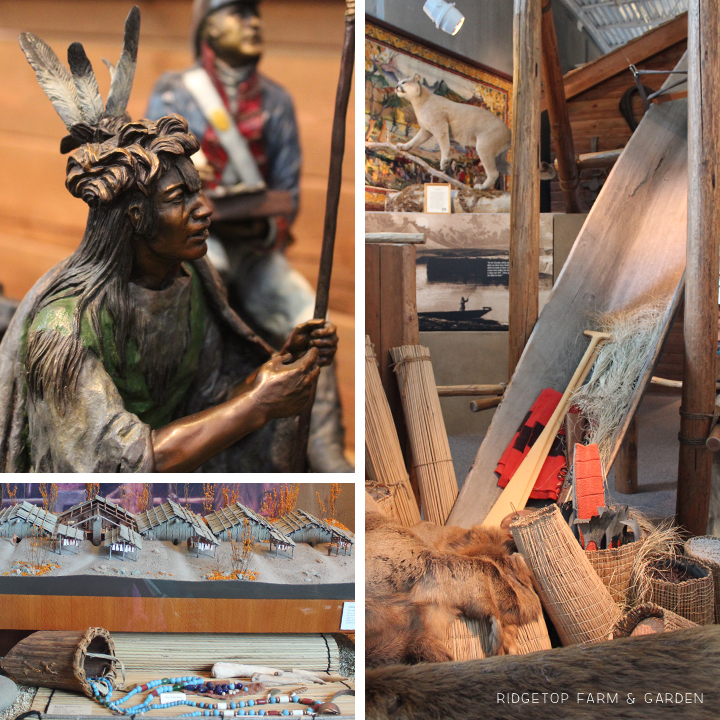 EARLY CHANGES
This area focused on the pioneers moving to the area & the military forts needed to protect them from Native Americans.
1907 dry goods store front
The real Doumitt Store closed in 1957.
The store windows displayed items available at the store. I love the items from this time period.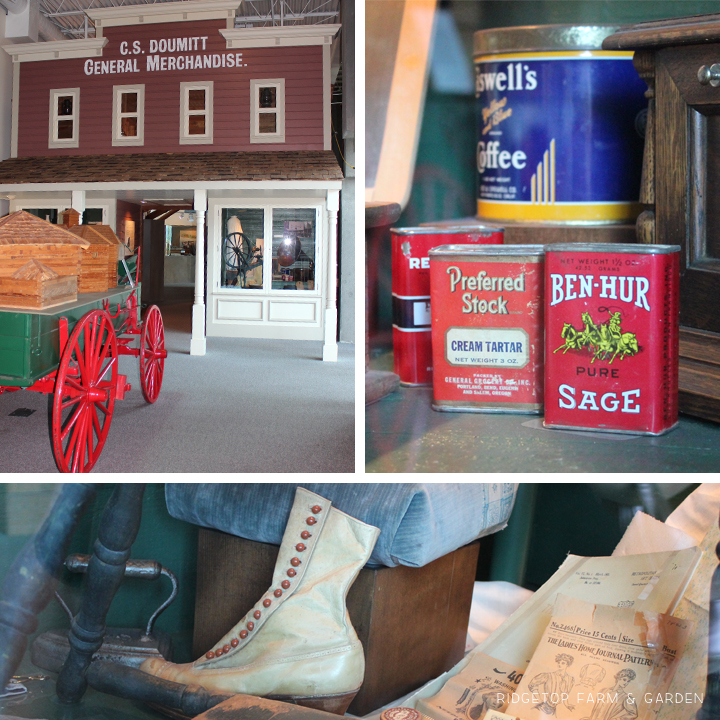 TRANSPORTATION
A small area is dedicated to sternwheelers & the SP & S (Spokane, Portland & Seattle) Railroad. I'll admit we didn't spend a lot of time in this area, although I do find the changes in transportation interesting. The sternwheelers were basically put out of business once the railroad came through. I'm curious to see what, if anything, makes automobiles obsolete.
Bailey Gatzert pilot wheel
The Bailey Gatzert was a sternwheeler built in 1890. She ran up and down the Columbia River & also around Puget Sound until the 1920's.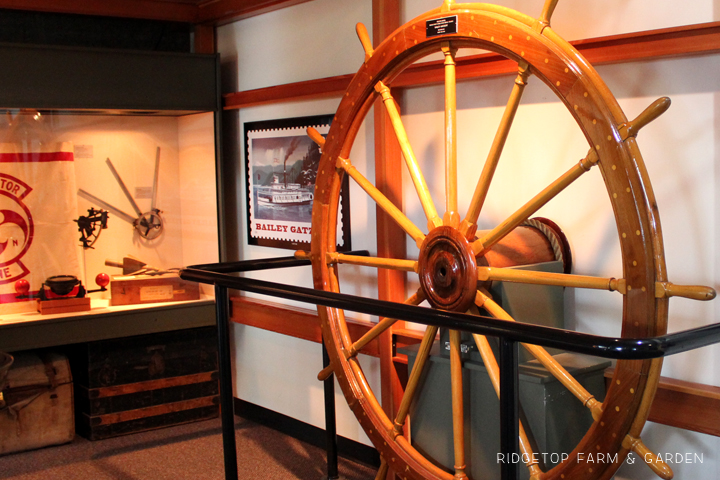 HARVESTING RESOURCES
A large, open area showcases the timber & fishing industries.
Top Left: Logging equipment
Top Right: 1930 Caterpillar Tractor
Bottom: 1921 Mack Log truck. Max speed is 17.2 mph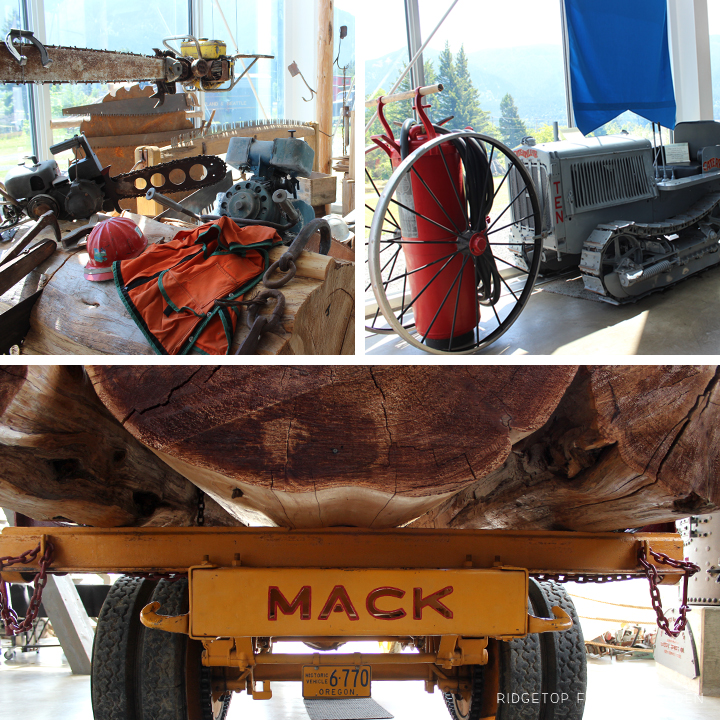 Top Left: Typical airplane to deliver air male, a 1917 Curtiss JN-4 or "Jenny" bi-plane.
Bottom Left: The Corliss Engine, a giant saw mill steam engine weighing 32 tons. This thing was huge. It was made in 1895 & provided energy to a sawmill until 1949.
Right: McCord Fishwheel Replica
I asked Farm Kid2 what he thought this huge contraption was used for. He said he thought it had something to do with catching fish. I thought he was crazy, but it turns out that he was right. The wheels were placed in the Columbia River scooping up fish & dumping them into boxes. They were very effective. By 1935 they were banned in both Oregon & Washington.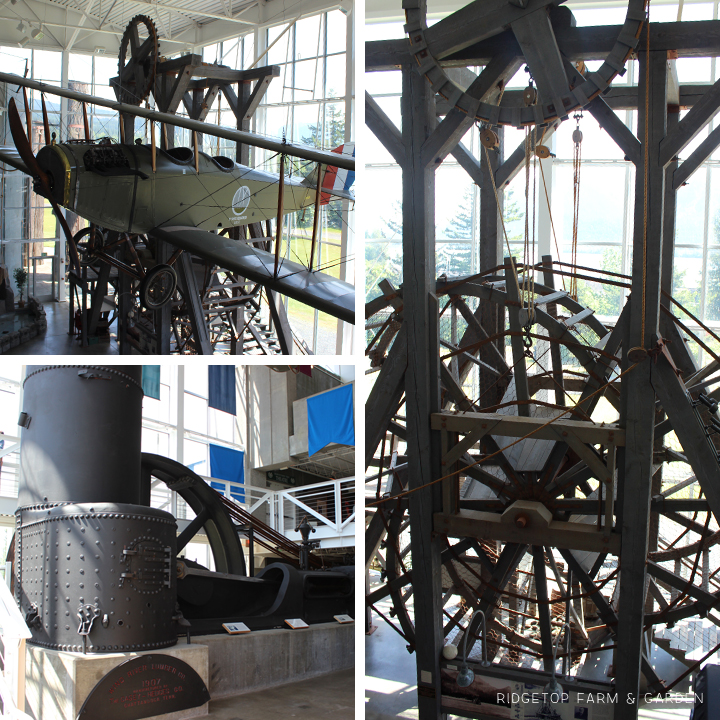 HARSH DEMANDS – BONNEVILLE DAM
It is a small section of the museum, but I found the effects of Bonneville Dam & our need for its hydro-electric power very interesting.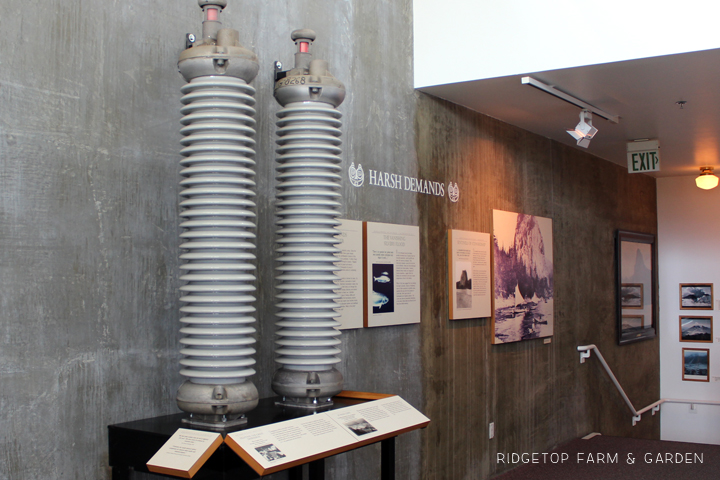 COMMUNITY GALLERY
Inside & around the "house" are items about the people in the community.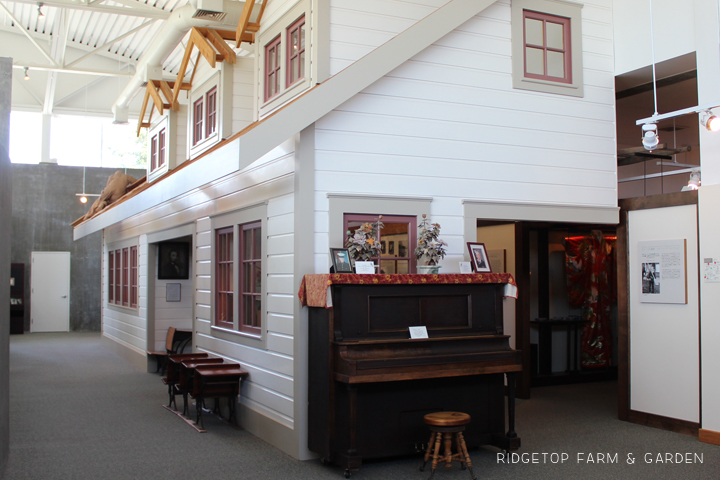 Left: An old scrapbook. I'm so tempted to make one of these oldies, but goodies, for my kids. It's a much better way than an old box to hold their memorabilia.
Right: Canteen cup with WWII battle locations inscribed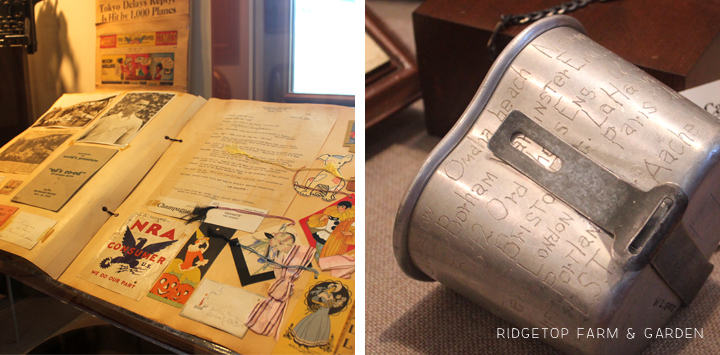 JAPANESE COLLECTION
An added bonus at the museum was their Japanese collection. We had just finished studying Japan, so it was great timing to view items from that culture.
Since Japan is right across the Pacific Ocean many Japanese immigrants came to the Pacific NW in the early 1900's. They helped build roads, railroads, & tunnels, they planted orchards & operated ranches.
Top: Kazeon-bosatsu (Goddess of Mercy)
c. 1600
The gold ball in her hand represents happiness, joy & good health
Top: Wedding kimono
Bottom Left: "Beautiful Woman Just from Bath" by Kitagawa Utamaro
wood block print. copy of 1797 original
When we went to the Portland Art Museum I was hoping to see a wood block print, which we didn't. So, I was glad to see one here.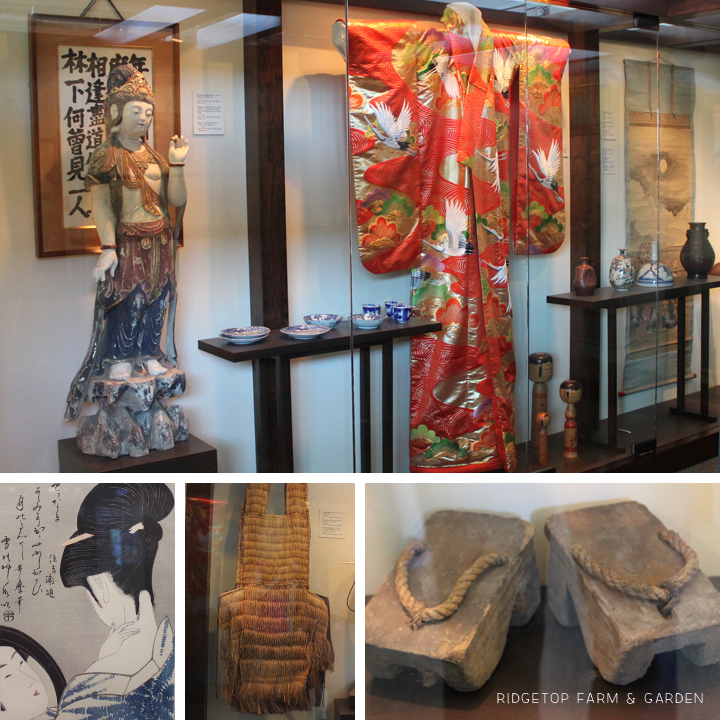 ROSARY COLLECTION
I am not Catholic, but this was amazing. The Don Brown Rosary Collection displays about 4000 rosaries.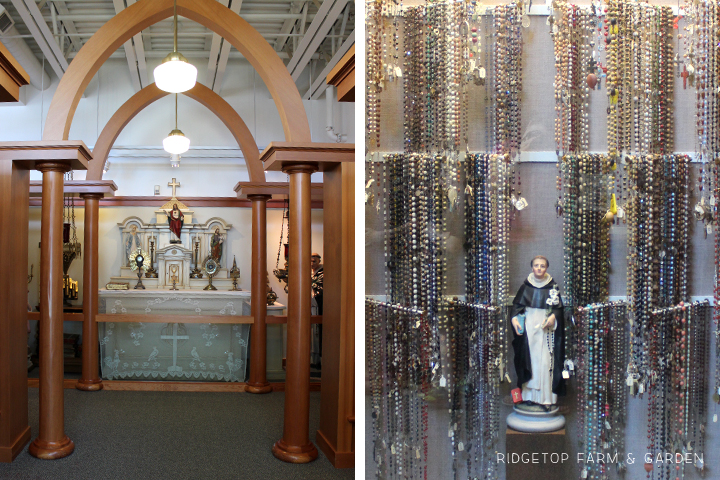 OUTDOOR EXHIBITS
Court of the Cedars
Carved in 1980 by Dudley Carter at 90 years old.
Right: Primitive Woman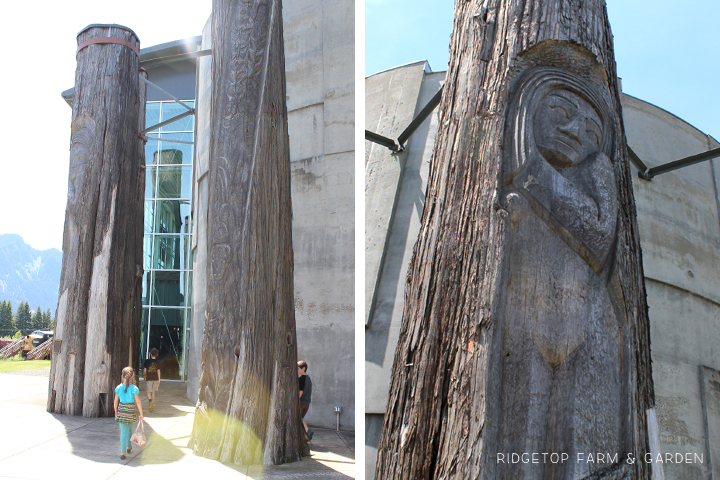 Top: Early logging & road building equipment
If you are someone who really likes machinery, this museum had lots of machines to admire.
Bottom: 1959 SP & S diesel locomotive
Supposedly there is a geocache hidden on that train engine, but we didn't find it. Dang it!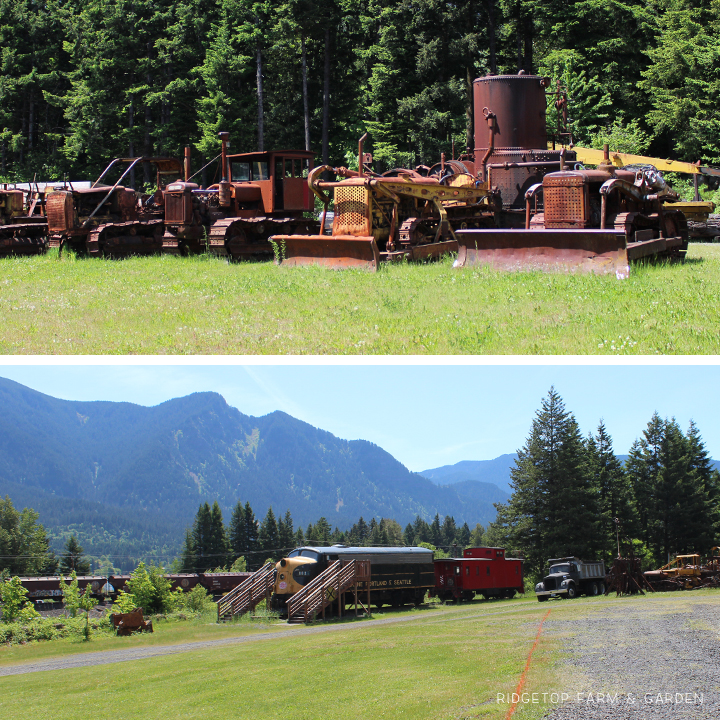 I am definitely glad we went to this museum. We learned so much about the Native people & the many changes over the years in an area not far from our home.