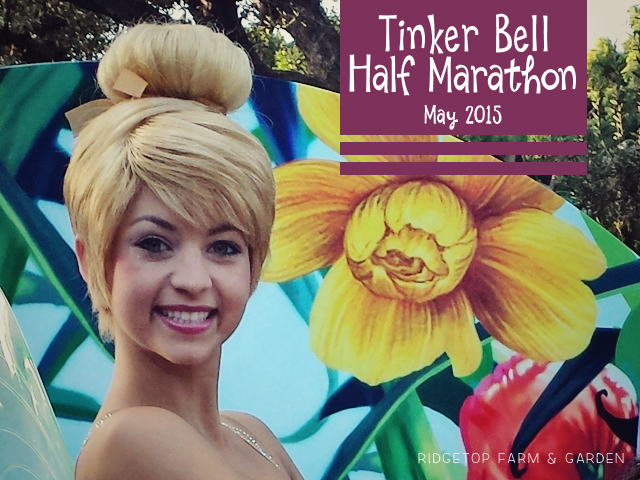 About a year ago, I gave myself the goal of completing a half marathon. 13.1 miles is a long way & I wanted my first one to be fun. So, I chose the Tinker Bell Half Marathon at Disneyland. I trained & the event had finally arrived. I completed the half and it was better than I dared to think it could be. Here's my recap of this awesome event hosted by Run Disney:
COSTUME
Since this was going to be my first Disney run & it is Tinker Bell themed, I really wanted to dress as a fairy. I chose Fawn. In reality, my costume resembles Fawn very little. But she was my inspiration. I wouldn't typically pay good money for an orange shirt.
Headband: From Sparkly Soul. I hadn't decided what I was going to do with my hair. Typically I do a basic pony tail. But, Fawn wears a braid. I also wanted to add a dash of green to my costume & hadn't quite figured that out. When my friends & I went to the Expo Sparkly Soul was selling sparkly green headbands. The day of the race I wore the sparkly green headband and put my hair in a side braid. It worked perfectly. The headband stayed put and the side braid didn't drive me crazy like I was afraid it might.
Shirt: Nike
Skirt: From Sweet Spot Skirts. When I ran the Heartbreaker 10k, Sweet Spot Skirts was there as a vendor selling their reversible skirts.
Leggings: Nike
Socks: Nike
Wings: From Sparkle Athletic. Before I left home I sewed the middle part of the wings to my shirt. The day of the run, I put one safety pin near the top of each shoulder. Totally worked. The wings didn't shift or bobble. I could hardly tell they were even there. Awesome! I should run with wings more often.
I also wore pretty magenta Jamberry nail wraps that had a woman running on them. Super cute. However, I really don't like the nail wraps. Maybe it's just me. Maybe my nails are too curved. Maybe I'm too picky. But, I can't get them to be wrinkle free no matter what I do. And, it never fails that whenever I do my hair one strand gets caught under a wrap. Annoying. I knew I wouldn't like wearing them, but I had them and saved them for this run. So I wore them.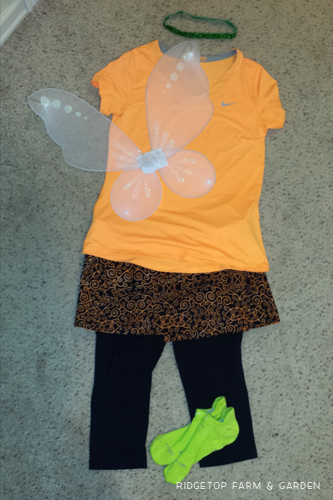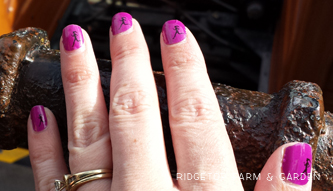 WAITING TO START
The run started at 5:30am. I left the hotel at 4:30 and headed over. It was a little bit of a jaunt, but I figured it was a good warm up. I stopped at a restroom in Downtown Disney for one last tinkle. I'm glad I did because the lines at the porta potties closer to the start were crazy long. I didn't really know where the start line was, but I just followed the crowd & eventually found my corral, which was D. Then, I waited impatiently. Right around 5:30 the elite racers & Corral A began their run. According to my phone, I crossed the start line at 5:56am.
I was happy to see the 3 hour pacer nearby, as that was my goal. I figured if I stayed near her, I would make my goal and have no need to worry about getting picked up by the sweeper. However, I lost sight of her by Mile 2, probably from me stopping to take a million photos once we entered the parks.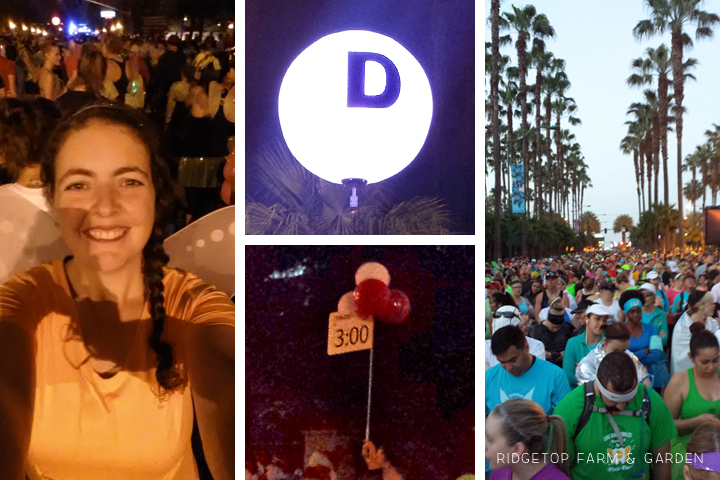 AWAY WE GO!
I was so excited & could hardly believe I was about to actually run this race. Tinker Bell began the countdown and Minnie & Daisy cheered us on. The first mile, or so, was outside the park. Rounding a corner and seeing the beautiful California sunrise was a perfect start to the race.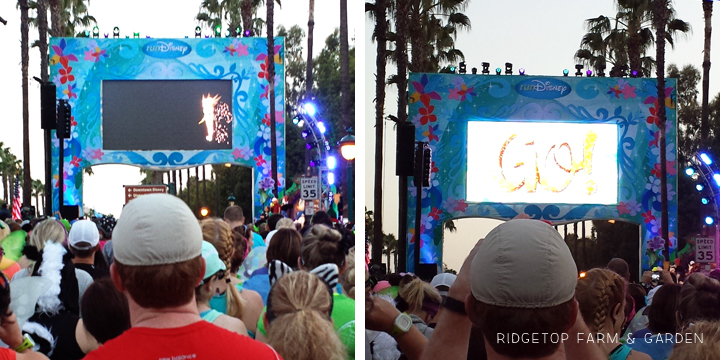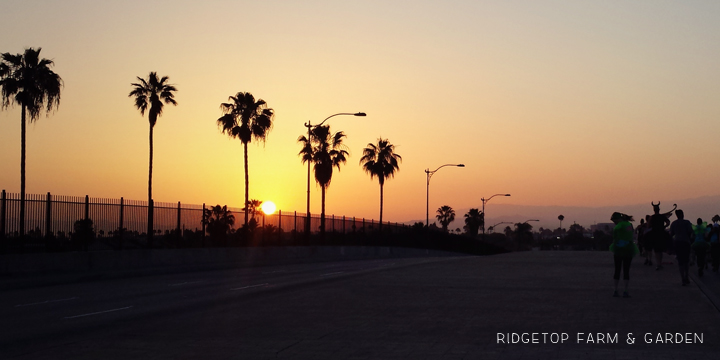 RUNNING THROUGH THE DISNEY PARKS
Right around Mile 1 we made it into the Disney parks. We ran through California Adventure, Disneyland, Downtown Disney & the Disney back lots. I had the music on my phone playing like I usually do while running. But, there was so much excitement & other music around that I ended up taking out my earbuds.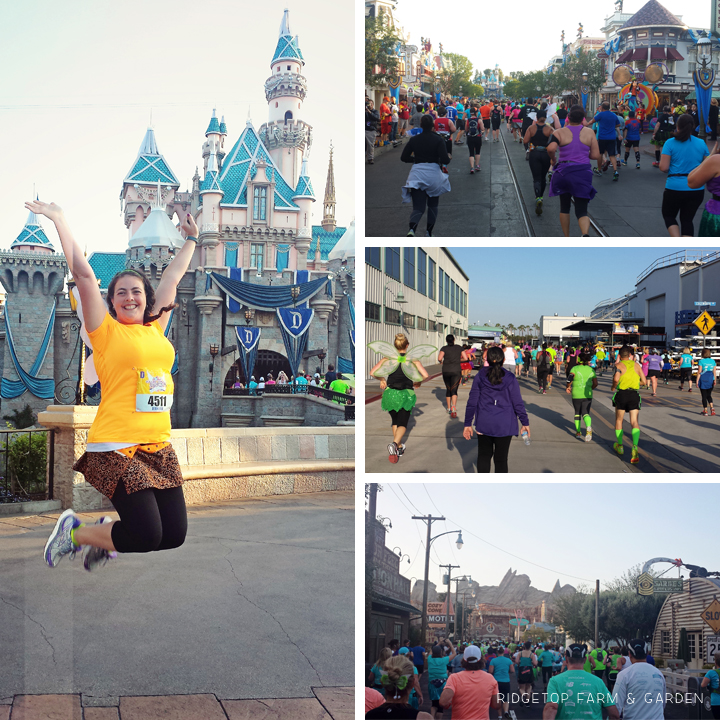 CHARACTER SIGHTINGS & PHOTO OPS
Throughout the parks were various characters ready for photos. No offense to the others, but I only stopped for the fairies. Oh, and a horse. I took a picture with a Disneyland horse. Yes, I did.
I was thoroughly impressed with how efficient the lines for the character photos were. At the main characters, there was a professional photographer. But also there were plenty of Disney cast members ready to take the photo with your own camera. The lines moved quickly with everyone antsy to continue their run.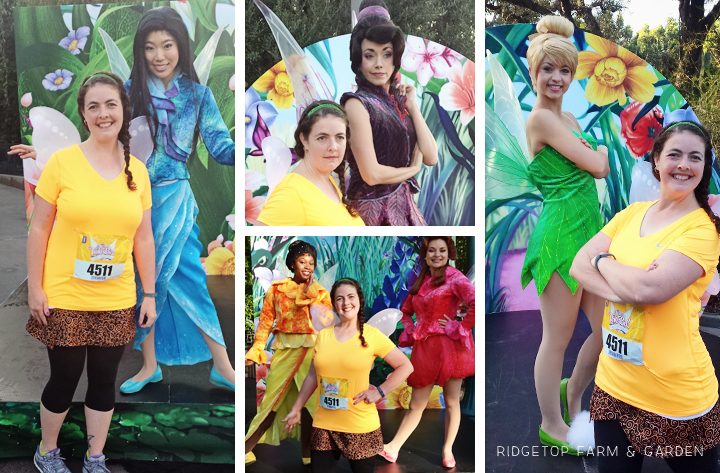 Holy cow, there's Jack Sparrow! He was up on a ledge, so we couldn't take a pic with him. But, it was still fun to see him.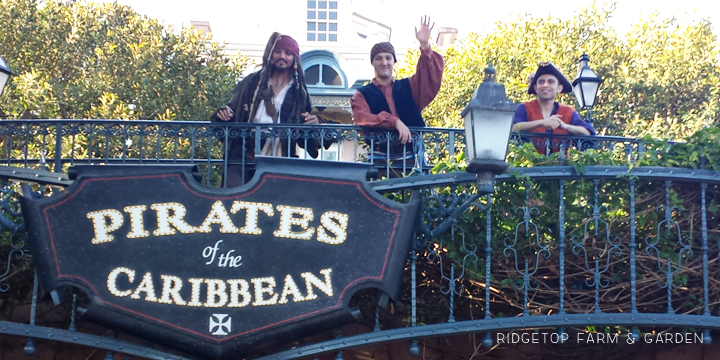 Left: While running through the back lots, there were a variety of items on display – like this Toy Story float from a parade. So, so awesome!
Right: The Lost Boys on King Arthur's Carrousel. I loved those guys.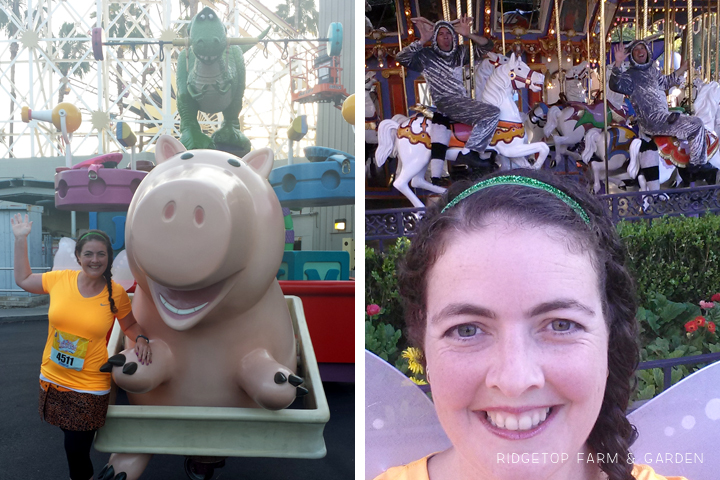 RUNNING THE STREETS OF ANAHEIM
This was the section I was worried about. I was afraid I'd get bored once out of the parks and therefore notice how tired I was. There was still about half the race to go and no Disney fun to entertain me. But, nope, I didn't get bored.
While running through the parks, I stopped a lot. Outside the park, I focused more on my running. But, took walk breaks when needed. I know the reason my spirit was high even at Mile 10. It was all the people cheering us on. It's hard to feel defeated when so many people are rooting for you. Hundreds, thousands, of amazing people making my first half marathon a truly great experience.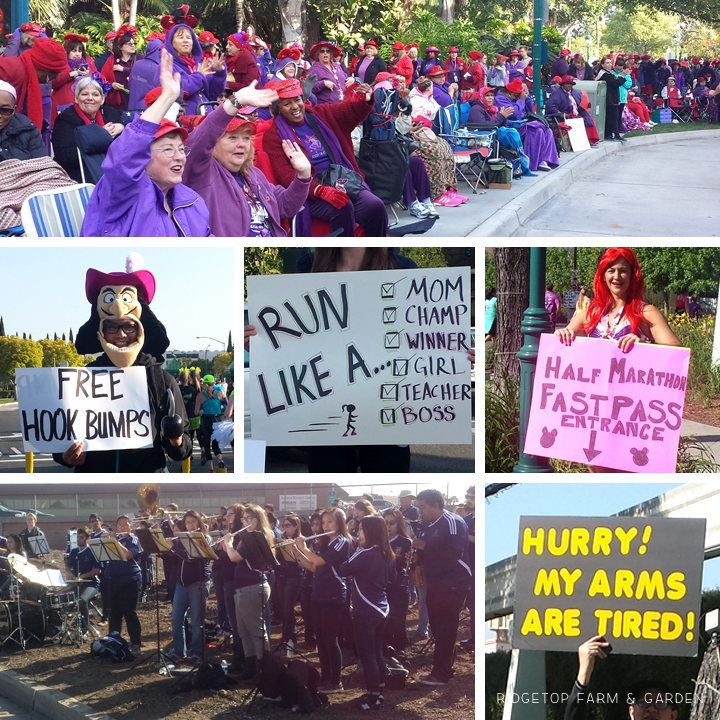 NEARING THE FINISH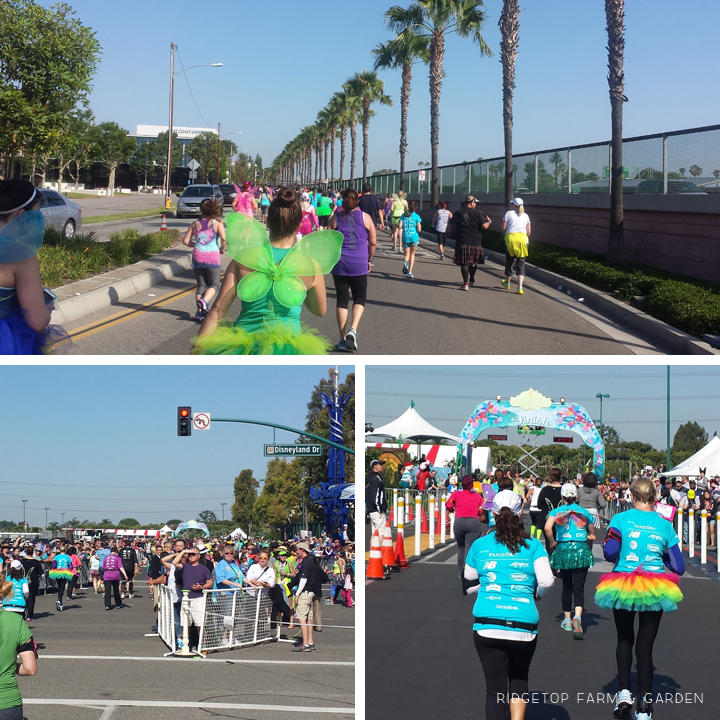 I DID IT!
I don't even know how to describe the feeling I had at that moment. I did it! I completed a half marathon! And, I even felt good at the end.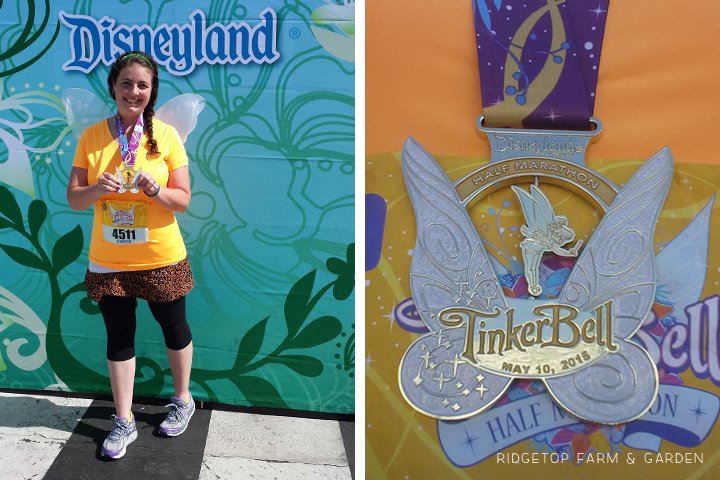 PLAYING IN THE PARKS THE REST OF THE DAY
After I finished, I was tired. But, not too tired to enjoy the parks. I absolutely wore my medal that entire day. I was/am proud of it.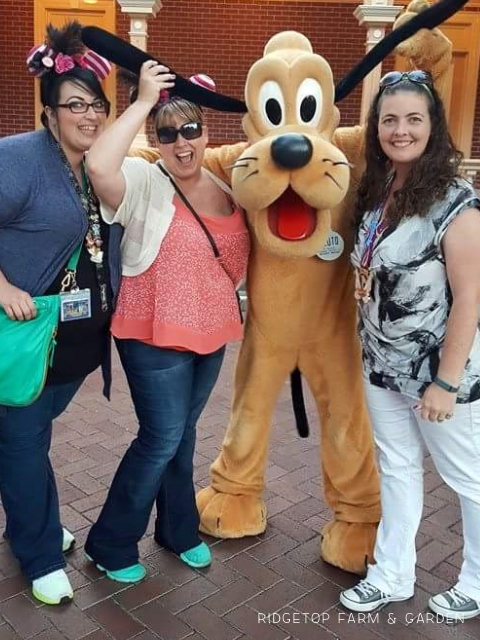 FIT BIT
A little extra bonus for me that day was my phone chiming at me telling me I had new messages. Five messages throughout the day, to be exact. It was Fit Bit alerting me that I earned a new badge. I've been wearing my Fit Bit for almost a year and the highest step badge I'd earned was for 25,000 steps. That day in May, I earned the 30,000, 35,000, 40,000, 45,000 & 50,000 steps badges. A half marathon + playing at Disneyland the rest of the day = 51,746 steps.

SWAG

I couldn't have dreamt about a better race experience. My costume came together and worked well for 13+ miles. 16,000 runners/joggers/walkers and very little chaos. Many bathrooms & porta potties throughout the entire race, so lines weren't long. Running down Main Street, USA! Captain Jack Sparrow & The Lost Boys spunky attitudes to make me giggle. Hundreds of Red Hat Ladies. So many fun signs to read & entertain me. The weather was coolish & only started getting warm near the end. Plenty of water & powerade stops. My friends that came with me on the trip were so, so encouraging and proud of me. An awesome medal with a twirling Tink.
There is only one damper on the whole event. And, that is that I do not have an official race time. My e-chip never registered me going over the start line. Boo! This explains why my hubby never received email notifications as I was running. Thank goodness I had set both my Nike+ and Map My Walk apps to record. I also took plenty of pictures with the time listed in their properties. So, I have an idea of my finish time. The Nike app recorded about a half an hour less than the Map My Walk. That's because whenever I stopped & waited in line for a photo or bathroom break the app paused. Which tells me, I stood in line about half an hour through the course. On my Bib & Bling Board, I recorded my time at 3:19:56. If I had an official time, it should have been close to that. It wasn't quite the 3 hour mark I was aiming for. Although, the Nike app recorded it at under 3 hours. I don't mind that my "official" time is 20 minutes more than I was hoping for mainly because I felt good all the way to the end. Had I pushed myself even more, I don't think I would have felt as great when I finished. So, I'm glad I went at a comfortable pace, finished strong & was able to spend the rest of the day enjoying Disneyland.
Now my dilemma is which half to do next?
Click here to read my recap of the Neverland 5K.