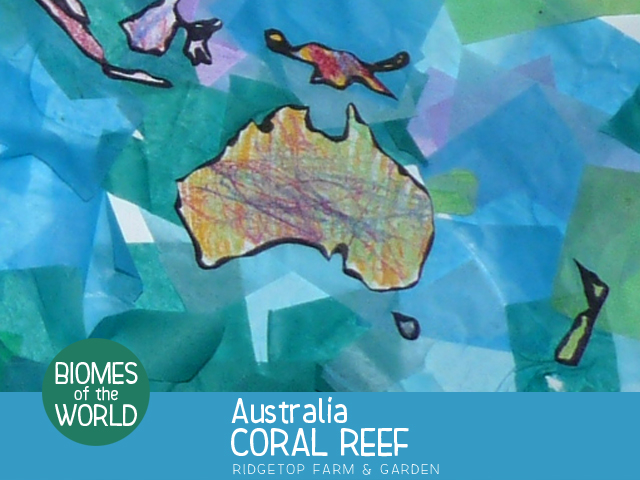 The next stop on our trip around the world was the Great Barrier Reef in Australia studying the coral reef biome. I especially loved this week because many years ago I used to scuba dive & this brought back many fun memories.
Google defines a coral reef as:
a ridge of rock in the sea formed by the growth and deposit of coral
School Room
Our coral reef display
There are a few books and Disney's Finding Nemo DVD. I also added a couple personal treasures the hubby & I have collected on our tropical vacations.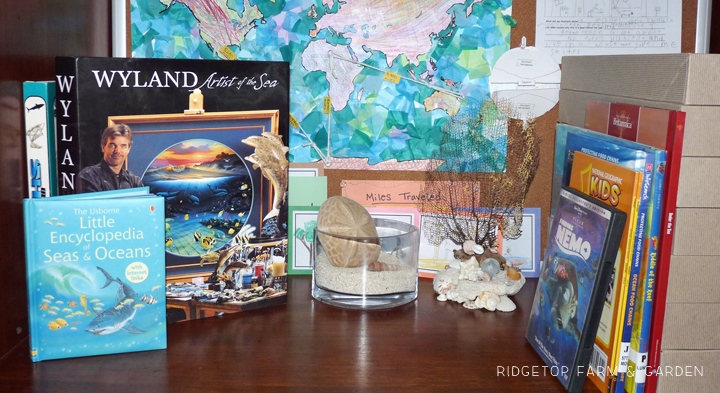 Biome pocket chart with coral reef info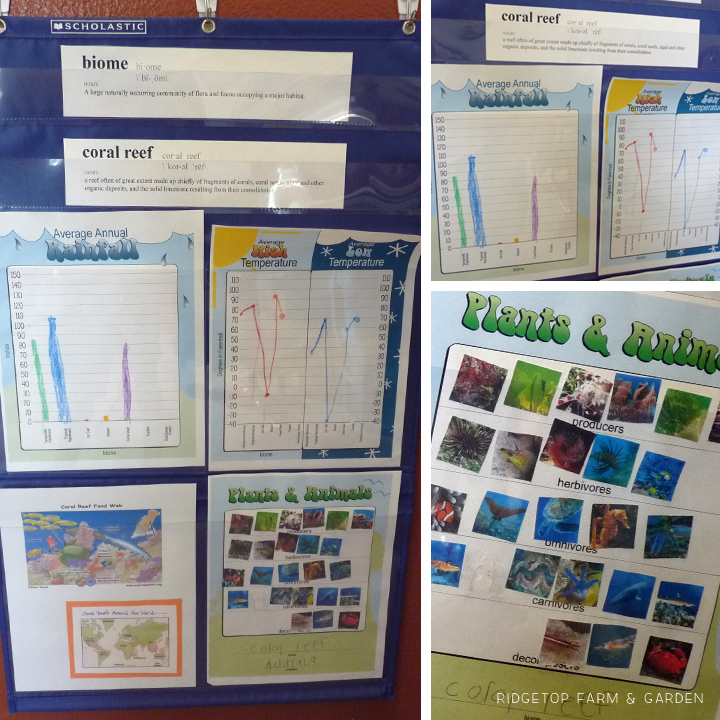 Left: The front of Farm Kid1's postcard. I love that he drew a diver.
Right: Fish stamp Farm Kid1 drew for his postcard.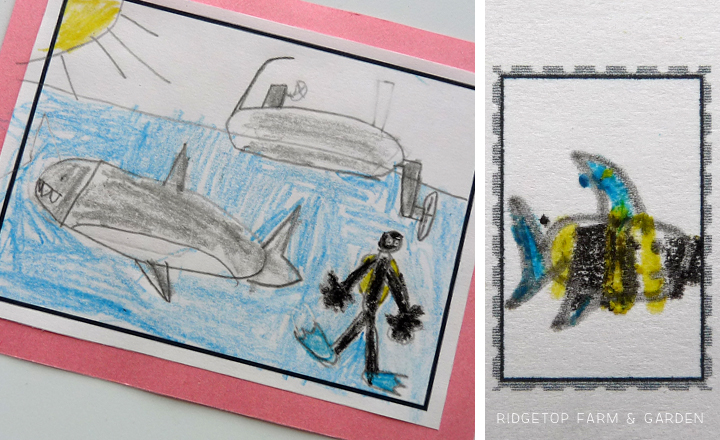 Farm Kid1 loves exploring our continent boxes. This is what Australia's box looks like.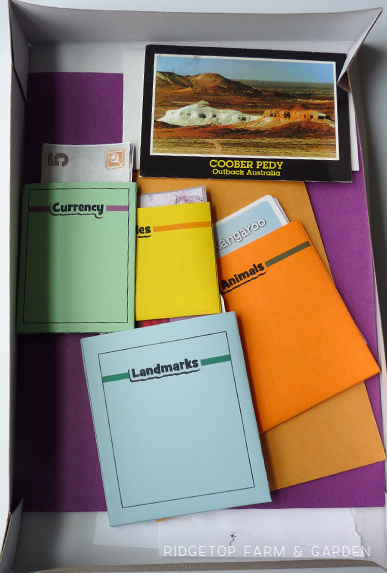 We have done a few silhouette projects. Farm Kid1 wanted to do another one for his coral reef craft.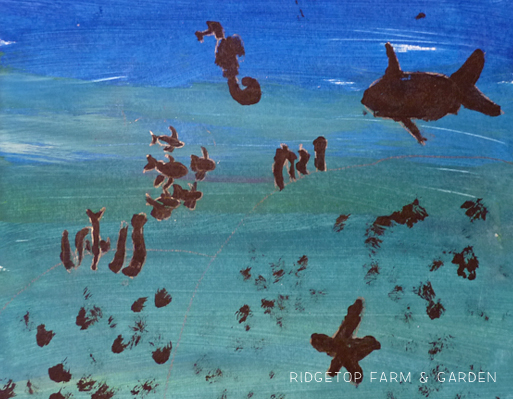 Other
I love Wyland! He's an amazing artist and a marine conservation activist. His paintings are Beautiful, with a capital B. His sculptures are fantastic. We went into his gallery once while in Waikiki. I couldn't afford much in there, but I did buy his Artist of the Sea book.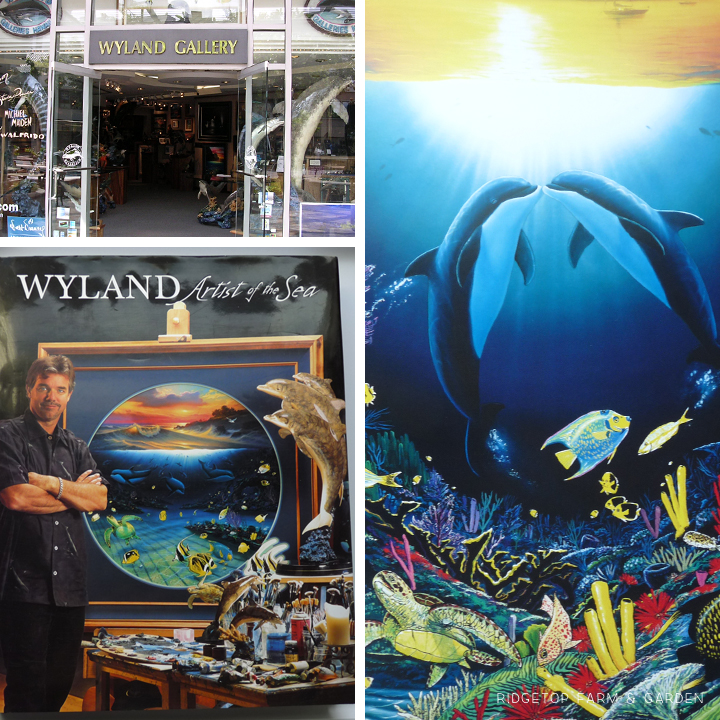 A funny coincidence
I brought home a book from the library without really looking through it first. It had the word reef in it, so I checked it out. Farm Kid1 & I had just finished admiring Wyland's book when I started reading Riddle of the Reef to him. And I'll be danged, one of the characters in the book was Wyland himself. It was a fun coincidence.

Before we had kids, the hubby & I were fortunate enough to go on a few diving vacations. Farm Kid1 & I looked through 2 of my diving scrapbooks. These photos are from one my all time favorite diving moments. During a night dive in Bonaire we witnessed coral spawning (that's the blurry stuff in the photos). This is not something you see everyday. It was definitely a rare treat that I won't forget.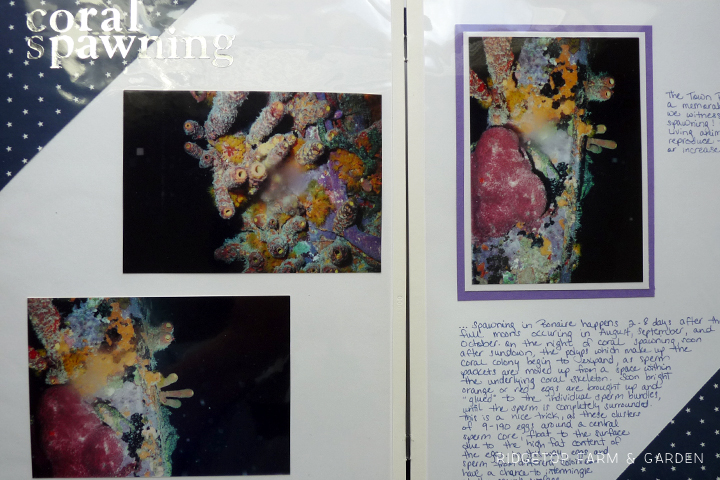 Our Bahamas trip was a fun book to look through with Farm Kid1. The number one reason is that Farm Kid1 loves these pics of his dad near a barracuda. Dad earned a few more cool points with these pics. And second, there is a fun story involving Farm Kid1. We booked this trip with some diving friends many, many months in advance. This wasn't an ordinary vacation, we spent a week out at sea on a fairly small motorized sail boat. As life would have it, I ended up being 8 weeks pregnant with Farm Kid1 on this trip. So not only did I not get to dive, but I was also extremely sick from the morning sickness combined with the rocking boat. I did get in a couple good snorkeling adventures though. The pics in this photo were taken by a friend of ours & my dad.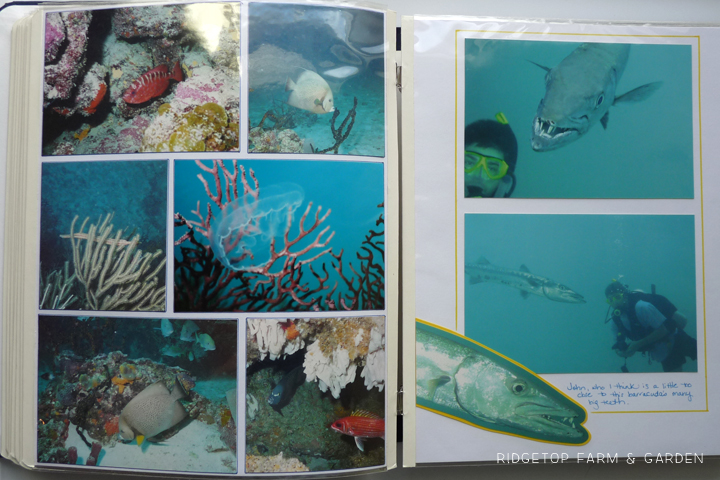 One day I would love to make it Australia both to explore the land and the great barrier reef.
Links to our Continents & Biomes:
North America – Temperate Rainforest
South America – Tropical Rainforest
Antarctica – Ice Cap
Africa – Sahara Desert
Australia – Coral Reef
Asia – Tundra
Europe – Deciduous Forest