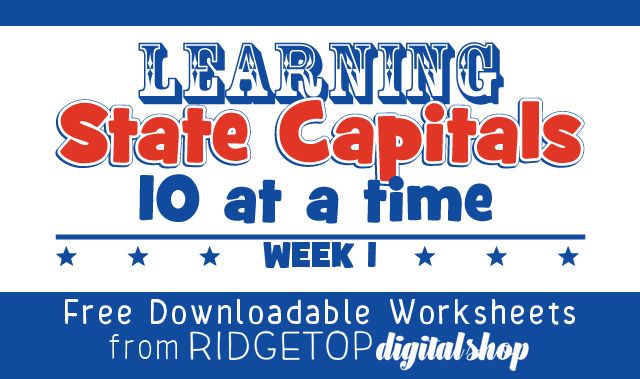 This year one of my goals was to have Farm Kid1 learn the names of all our 50 states, as well as their capitals. He already knew most of the states, but only knew that Salem was Oregon's capital. I came up with a series of worksheets & flashcards so he could focus on 10 capitals per week. After 5 weeks he learned all 50 state capitals. The best part was that he actually enjoyed learning them all.
Each week there are 10 different states from a particular region. For example, week 1 focuses on the western states.
There are 5 types of worksheets: Learn 'em, Crossword, Word Search, Match 'em & Label 'em. Also included are test pages, flashcards and an answer sheet. Each week expands on the last. By week 5 you have the option of testing just the 10 new state capitals or all 50. I gave Farm Kid1 both tests, but you certainly don't have to.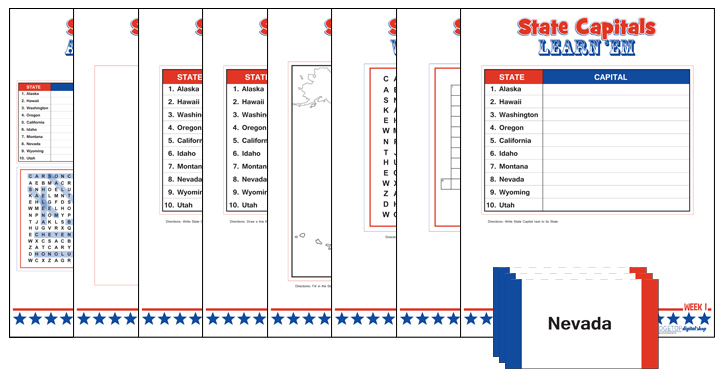 Click here or the image below to download all the practice worksheets, flash cards, test & answer sheet for free.

Follow these links to access the files for the next 4 weeks:
Week 2 Worksheets
Week 3 Worksheets
Week 4 Worksheets
Week 5 Worksheets
I would love to hear how these worksheets worked for your students.
Note: Because these are large files, the files are zipped. You will need unzipping software to access the worksheets. This works best from a computer, as opposed to a phone or tablet.
These worksheets are free for you to use with your students and classroom. However, please credit Ridgetop Digital Shop and/or Ridgetop Farm & Garden when appropriate and don't sell or share these files as your own.
---

Check out school themed photo booth props designed exclusively for my shop including these back to school sets:
BACK TO SCHOOL
---