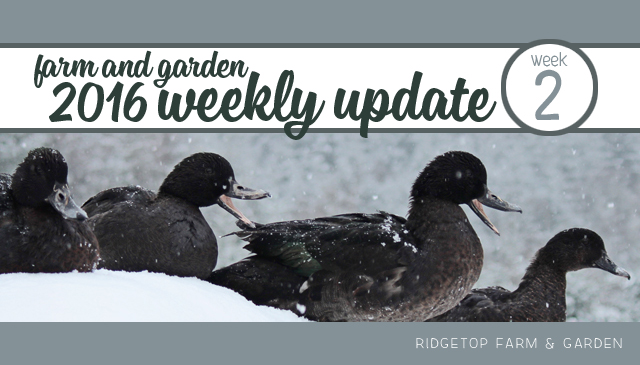 This week was a lot less eventful than last week. And, I'm so very glad. We just had to tend to all the everyday feedings and such.
•  It's warming up, but the first half of the week involved walking oh so carefully in the icy conditions to feed all the critters.
• The rain has returned. A tad more than I would like.
• The ducks are still content playing in the puddles on the patio. And so, the patio continues to be covered in poop.
• A few of the chickens, including a white leghorn, are not looking their best in the muddy conditions.
• Not many, but, we are getting a few eggs during these winter months.
• Pictured top right is our Old English Game Bantam. I think he's quite handsome. He's meant to be a 4H show chicken, but since none of our kids are participating in 4H this year he just gets to be our pet without the stress of showing off.
• Oliver, the pot bellied pig, and his goat friend, Lois, are still with us. Every morning I feed them in their shelter, but Lois always comes back out to get an extra hand out from me.