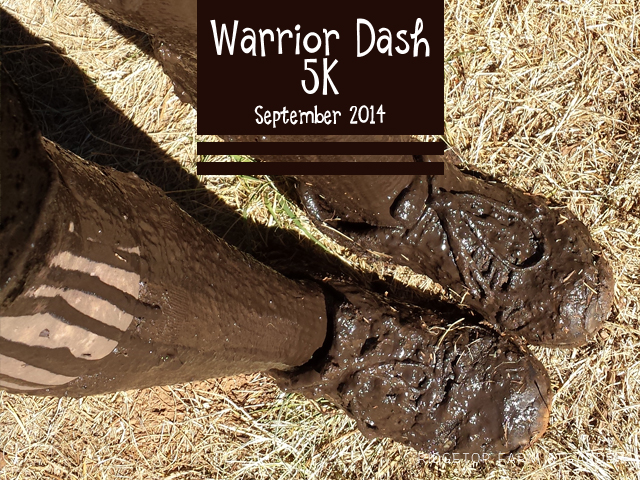 Almost exactly one year ago I signed my hubby, John, & I up for the Warrior Dash. It was much cheaper if we committed so far in advance. So, I signed us up. Then waited.
I have friends who have done it and this muddy, obstacle filled race was on my bucket list of 5k's. This weekend was finally our time to give our all at the Warrior Dash.
It was all I thought it would be. Challenging, yet loads of fun… except the never ending steep hills. Those sucked.
THE MUDDY OBSTACLE TRAIL RUN

Of course, what makes this event different from other 5K's are the obstacles. It's not a race to get your PR, but a race to challenge you in a different way.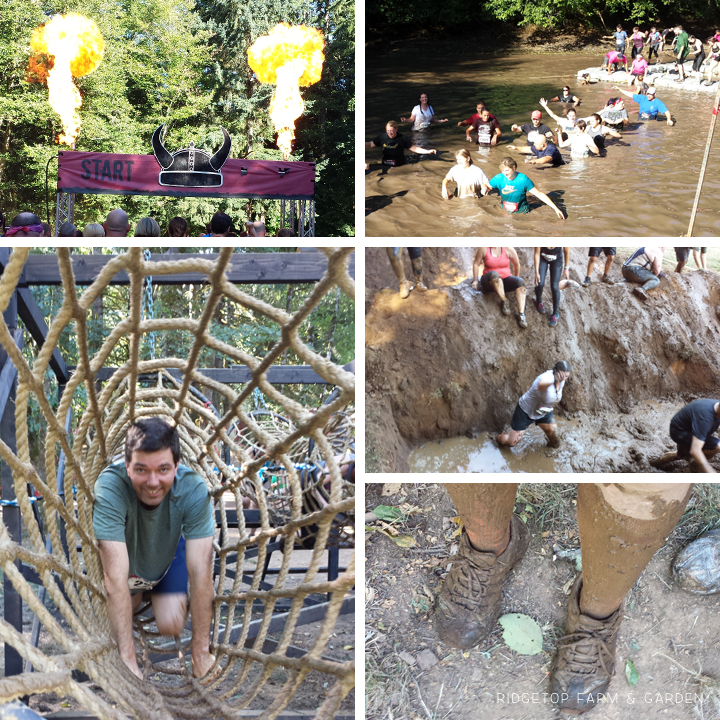 Top Left: 3, 2, 1, Go – complete with fire!
Top Right: Alcatraz. This was our first obstacle, so I was actually excited to hop in and get wet. I wasn't real graceful climbing onto the island, but I did it. Totally doable. And, a great obstacle to start the event. However… when I was trying to be silly waving at my husband I jabbed & scraped my leg on a stick standing up in the pond. That's what I get for trying to be silly… Funny, that's exactly what I tell my kids when they get hurt while messing around. It really didn't hurt too bad when I did it. But today, it looks horrible. It's big & red and purple.
Bottom Left: The pipeline. A long net tunnel. Definitely doable, but a bit awkward.
Middle Right: Mud Mounds. Slippery, muddy mounds to crawl up & slide down with soupy mud in between. Farmer John jumped across each of the soupy sections. I, however, sloshed my way through them.
Bottom Right: Muddy feet & legs within the first mile. Bahaha. I thought I was muddy.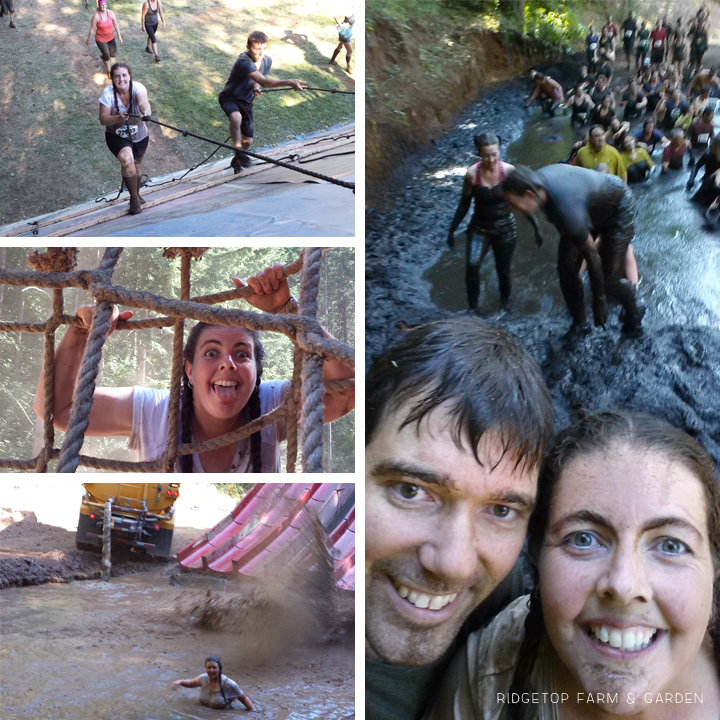 Top Left: When I got to this climbing wall obstacle I was nervous. It was steep and tall and intimidating. I did it, though, with no problem.
Bottom Left: Goliath. Climbing ropes to the top, then sliding very quickly into a pit of muddy water.
Right: Black, stinky, thick mud goo is what this was. It was horrible. The mud was deep & extremely thick making it incredibly difficult to move through. Even Farmer John had a hard time with this one & he flew through all the other obstacles. It was impossible to move more than a teeny tiny inch at a time. I imagine someone could easily have a panic attack in there. This was not your everyday common mud. I think we're  smiling in this pic because we're glad we made it out alive.
WE FINISHED!

Oh man, was I glad to be done. Those hills, the heat & that black mud obstacle at the end had wore me out. We earned our medals that day.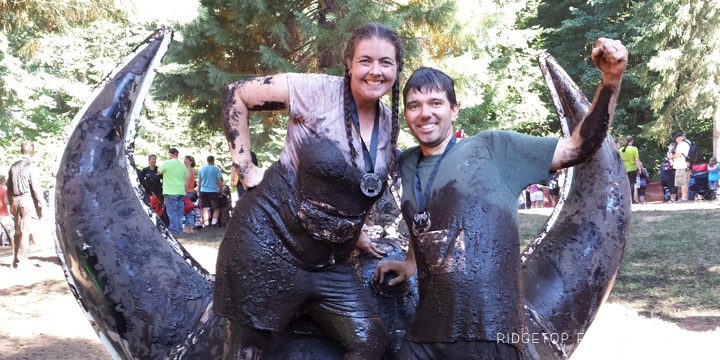 GETTING CLEANED UP
There was a pond available to scrape that weird sticky black mud off before getting in your car.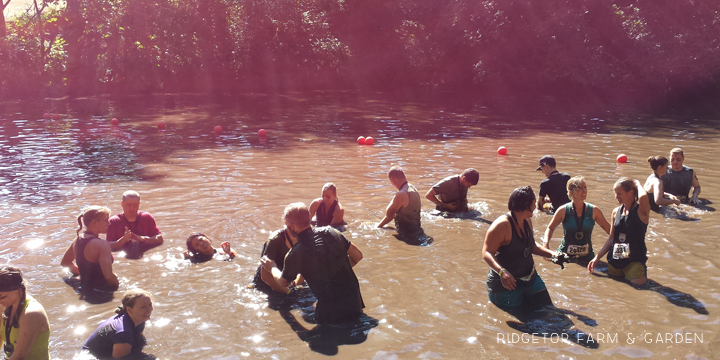 This was not just any ol' typical 5k. It was a challenge. I was worried about the obstacles, but they really weren't much of a problem. A couple of them had me nervous, but I completed them just fine. There was nothing I felt I could not do. The most challenging part was going up all the hills. There was hill after hill with obstacles in between.
On my slower running days, I will run a 5k in about 45 minutes. So, I gave us the goal of finishing this obstacle filled race in an hour. We didn't. It took us about an hour and a half. Some time was wasted while waiting in line to get through the obstacles and also I hadn't counted on all those hills. We walked more than I planned. I wasn't going for time anyway. I just thought we would do it quicker.
I'm so glad we did it. I think my hubby even had fun.