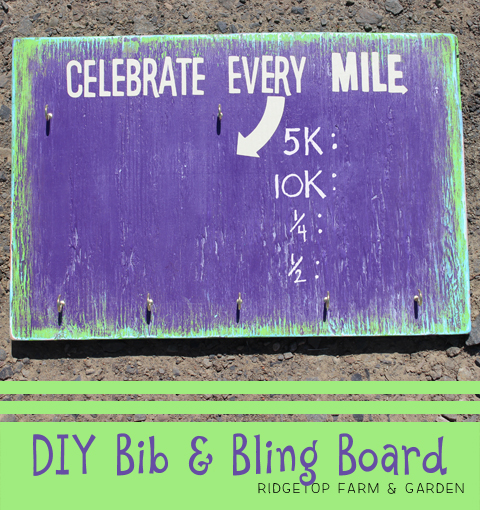 Since I started running I wanted to have a way to display my bling. I found a few items around the house and got to making one. I had a few requirements: I wanted it to hold both bibs & medals, I wanted it to say Celebrate Every Mile, I wanted to be able to write on it & I didn't want it to be too large.
PAINTING THE BOARD
Top Left: We had a scrap piece of plywood lying around that was already painted white. Score! My hubby trimmed it to 18″ x 12″ and I sanded off the dirt.
Top Right: With indoor/outdoor paint I had used on other projects, I painted the background. First, I painted the blue. Then after the blue dried, I painted green right over the top. When the green was dry, I sanded the entire thing to allow some of the blue to come through. I was going for a not-so-perfect look.
Bottom: Then, I used chalkboard paint for my final paint layer. After it dried, I sanded it, especially along the edges to roughen it.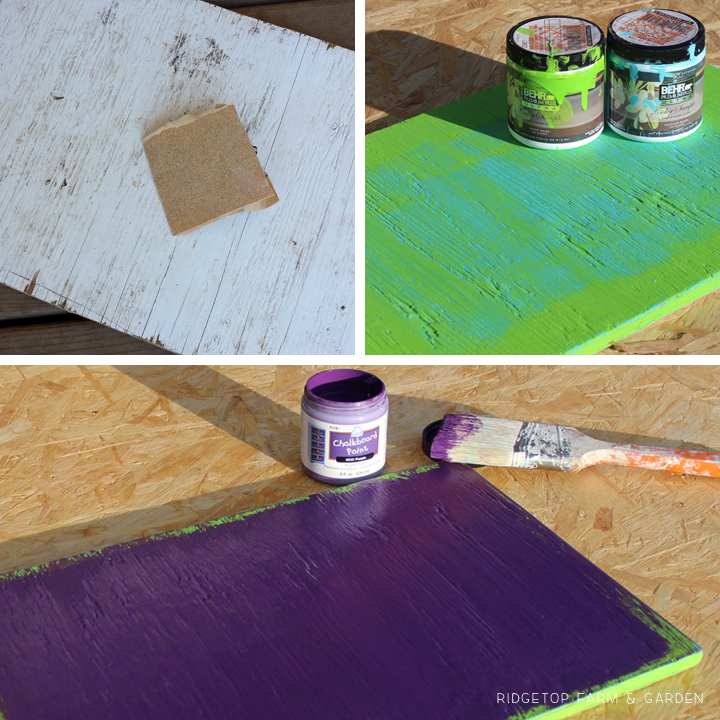 THE INSPIRATIONAL WORDING
Using the font that came with the Boys Will Be Boys cartridge, I used my cricut machine to cut vinyl letters.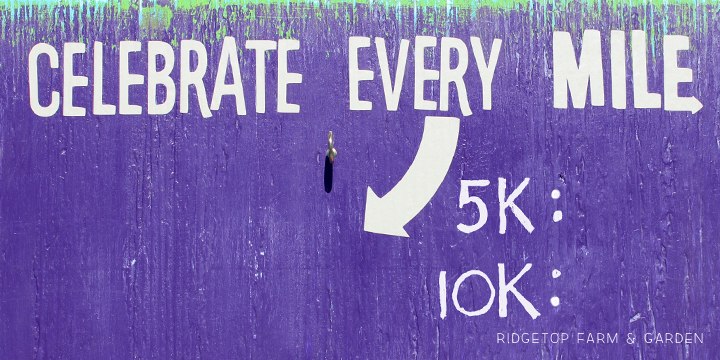 HARDWARE
Left: I screwed in 7/8″ brass hooks to hold the bibs & medals. I might need to change out the hooks used for the bibs later. They aren't large enough to hold as many bibs as I had hoped. Right now I have 23 bibs hanging & I don't think the hooks can hold many more.
Right: To hang the display on the wall I nailed a picture frame bracket to the back. I used only one bracket. Two would have been better.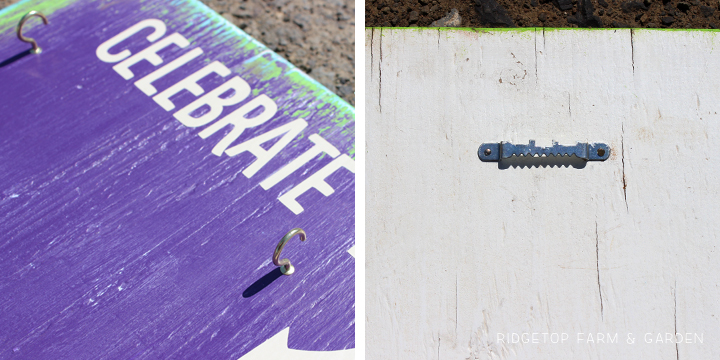 USING CHALK
I wanted to change my times as needed on the board, so I chose chalk as my media.
Left: First I prepped the board by covering the entire thing with chalk, then wiped it off. You can see the board has deep grooves so the chalk didn't fill in everywhere like it was supposed to.
Right: My board is a little too rough, making it a slightly difficult to write on. Also, the chalk pen doesn't erase quite as well as I would like. But, overall, it does what I need it to.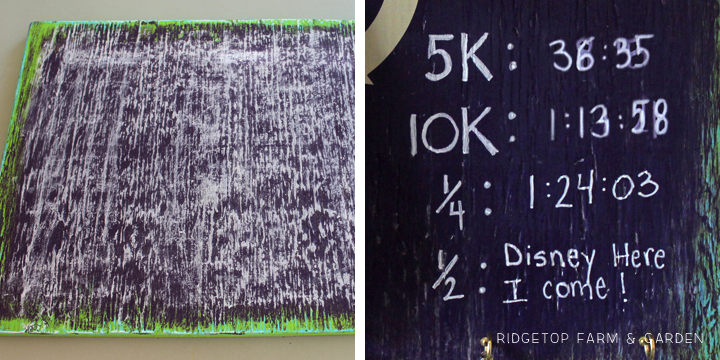 HOW THE BOARD LOOKS TODAY
I'm pleased with the result. It's not perfect, but it accomplishes all the things I want it to. Most importantly, it hangs within eyesight of my computer to remind me to get off my duff and run.