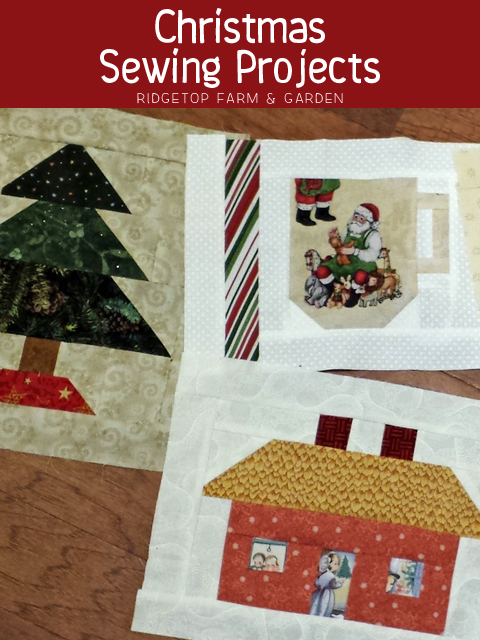 The few weeks leading up to Christmas were cold and/or rainy making it perfect weather to work on inside crafty projects. I got out the sewing machine and made a few Christmas presents.
My sewing skills would be considered novice & I typically tend to get in over my head. I have a horrible time understanding the printed directions in a pattern and spend way too much time with my seam ripper. Thankfully, my skills must be improving. I didn't have TOO much trouble with these projects.
UNIFORM BAGS
I made these String Bags for the boys taekwondo uniforms. I was impressed with myself that I had little trouble making the front zipper pockets. I also had a fairly easy time appliqueing the symbols on the pocket. But, I think I did the straps wrong.
APRONS
I made aprons in coordinating fabric for me, my mom, my daughter, sister, niece, & 2 baby dolls. I much preferred the pattern I used for the adult aprons. I hated the bias tape needed on the little girl aprons. Although, in this pic the little girl aprons look cuter. So, maybe the bias tape was worth it.
CHRISTMAS EVE PAJAMAS
These didn't turn out as well as I had hoped. The pajama pants I made for the boys are way too big in the butt area. Maybe I sewed them wrong? My kids just don't have that much junk in the trunk. The nightgown, though, turned out ok.
FUN HATS

I made hat/mitten combos for our two youngest children using fleece and faux fur. They were easy to make and fit the kids well.
I thought our oldest son may be a little old for the hat/mitten combo, so I opted for a monster hat instead. It was easy enough to make, but it's too big on him.
PILLOWCASE

I found "I ♥ Bacon" fabric at Joann's and knew I had to make something with it for my oldest son. He really does love bacon & he's currently raising pigs. I decided on a pillowcase. It's not my best work. But, he doesn't seem to mind.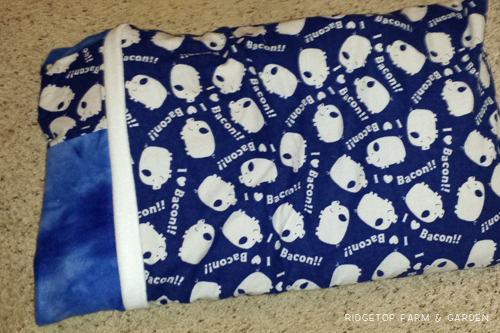 FELT FUN
The kids & I made felt chicken ornaments for our Poultry 4H gift exchange. I made the rooster at the lower right. It took me a couple hours to sew him together. He's cute, but I don't think he's cute enough for the time I spent on it.
I didn't use a pattern for the penguins. I found a couple photos and then winged it. It's not quite as cute of a display as I was hoping, but the penguins turned out ok. And, most importantly, the kids loved it.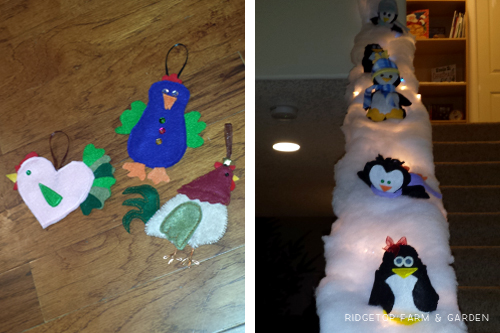 CHRISTMAS QUILT
I have been wanting to sew a quilt for years. This was my year to go for it. I took part in an
Instagram
Sew Along with
Bee in my Bonnet.
Most of the finished quilt I really like, but there are a few things I wish I would have done differently. I didn't do a very good job on the quilting part & messed up the back. Hopefully I learned a few things, though, and my next quilt will be better.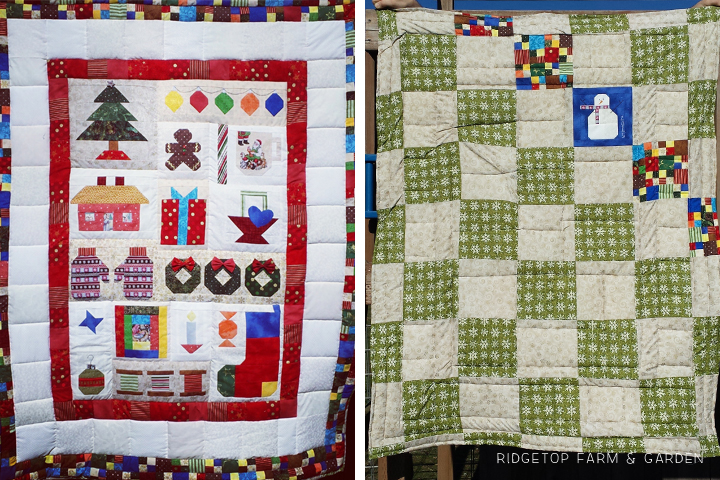 It's been a long time since I have had much time to dedicate to sewing. It was nice.
I hope everyone is having a happy holiday season!