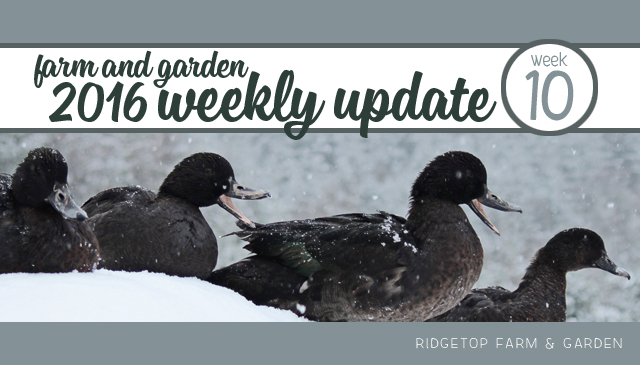 The weather was crummy this week, so we didn't do much outside other than necessities. I'm still focused on getting seedlings started and experimenting with fodder. The wild life news this week is that there is a duck-nabbing critter roaming about.
• Many seeds germinated and were moved to the garage under the metal halide light.
• A few seedlings (bush beans, kale & romaine) were moved into a grow bed in the aquaponics system.
• A few seedlings were potted up.
• And, some we are still waiting to germinate.
• The fodder experiment hasn't been going as well as I had hoped. The ryegrass is doing ok, but only a handful of the buckwheat seeds sprouted. And, we're still waiting on the barley.
• The crocus and daffodils are blooming! But, the rain has proven to be too much for some of them.
• Our Welsh Harlequin duck is sitting on eggs. However, they aren't fertile, so we should put a stop to this behavior.
• Unfortunately 6 of our ducks have gone missing. I also saw a coyote in the yard this morning. Coincidence? I think not.
• We moved the game camera to where the ducks hang out with hopes of catching a peek at what is lurking around and when.