Description
Our Eucalyptus and Peppermint medium sized bar weighs at least 3.4oz
The goat milk used in all our products is hand milked from our registered Nigerian Dwarf goat herd. The other ingredients also come from high quality, natural sources.
ingredients: coconut oil, goat milk, olive oil, sodium hydroxide, rice bran oil, sweet almond oil, castor oil; eucalyptus & peppermint essential oils; green & blue mica
click here to learn more about our all natural ingredients
ENHANCING INGREDIENTS:
EUCALYPTUS ESSENTIAL OIL: antimicrobial properties, known to relieve muscle pain and reduce inflammation
PEPPERMINT ESSENTIAL OIL: anti-inflammatory, antibacterial and antimicrobial properties, known to relieve muscle pain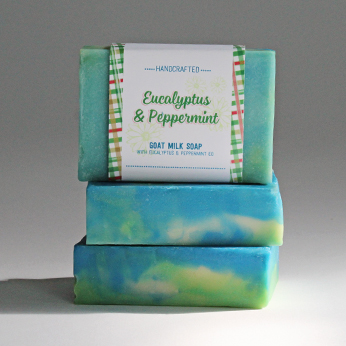 Because our soap is handcrafted in small batches, your bar may not look exactly like the one photographed. It will be similar, yet unique.
AVAILABLE TO SHIP OR LOCAL PICK UP
For shipping information, click here
Click here for pick up locations
PLEASE NOTE: To make your soap last longer, don't let it sit in water. It is a good idea to rest it on a soap dish.