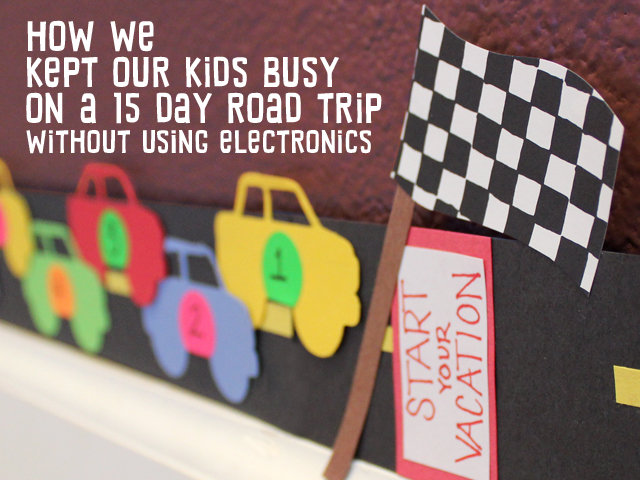 As I've mentioned many times, we went on a road trip in October. To read more about it you can click here. But, what I haven't shown you yet is how we kept the kids entertained for 3500 miles.
We don't have DS's or ipads or any other gaming device to take with us. When I first started planning this trip, I thought I would go buy a Kindle fire or something similar. But, as the time got closer & I still hadn't bought one I really didn't see a reason to buy one just for this trip. So I didn't. We did bring a laptop so they could watch movies. As it turned out, though, they had no desire to watch movies. We tried watching a movie two different times & both times the kids didn't even watch it more than a half hour. So, we didn't watch any more movies.
I planned for months putting together activities to keep them busy. I knew I was asking a lot of them to behave in a cramped car for 15 days. I expected a few meltdowns, but I thought if I planned ahead & kept them busy most of the time they'd be too active to notice they were bored and still in the car. It worked surprisingly well. The boys (ages 7 & 9) did awesome, almost no complaining at all. Farm Girl (age 4), though, was more difficult to keep entertained. She had plenty of stuff to do, she just didn't want to do it. She did fairly well until the last two long days of driving to get home when she just wanted to get out of the car.

This post contains affiliate links.
GETTING READY
The month before we left on our trip, I put up this countdown. The cars were cut using the Boys Will Be Boys cricut cartridge.


My months of planning was condensed to this bin, which fit perfectly in our car.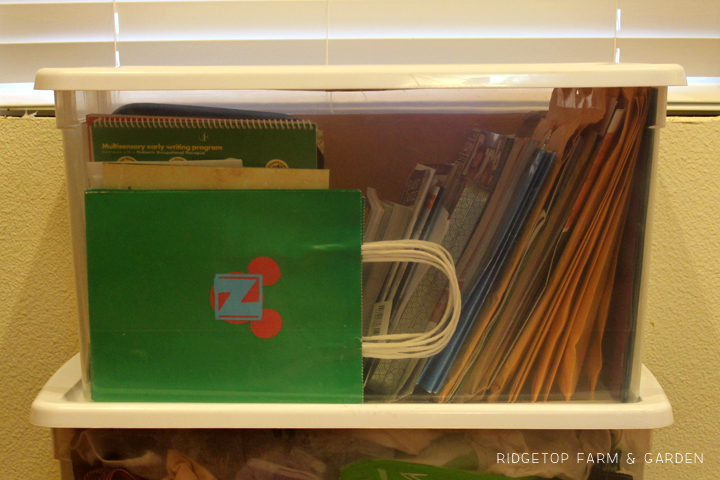 WHAT WE DID
COUNTDOWN CLIPS
I made these clips with different activities on them that attached to the passenger side visor. My idea was that every half hour we'd remove a clip & change activities. I was also hoping this would eliminate a few of the "How long 'til we get there?" questions. They would know each clip equaled half an hour. As there were fewer and fewer clips they would see we were getting closer. Truthfully, these were not needed. They were a waste of my time & energy. By day 2 or 3 we quit using them.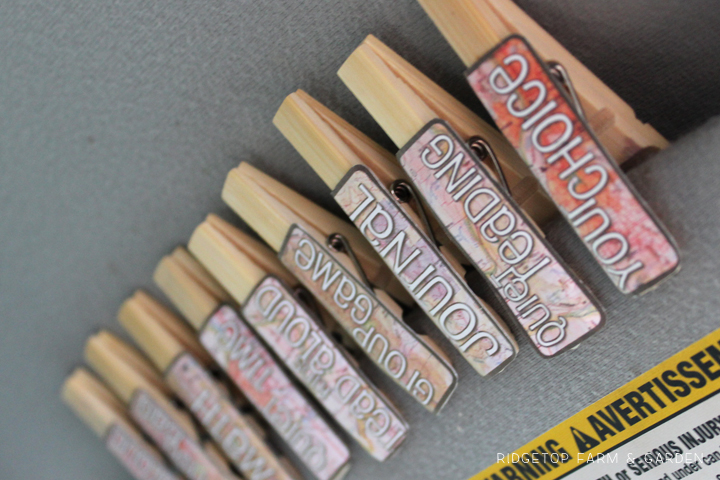 BAGS
I gave each of the kids their own bag. Inside the bag was a binder, cookie sheet, book & the boys also had math wrap-ups. The bag was also a good place for them to put the things they collected along the way.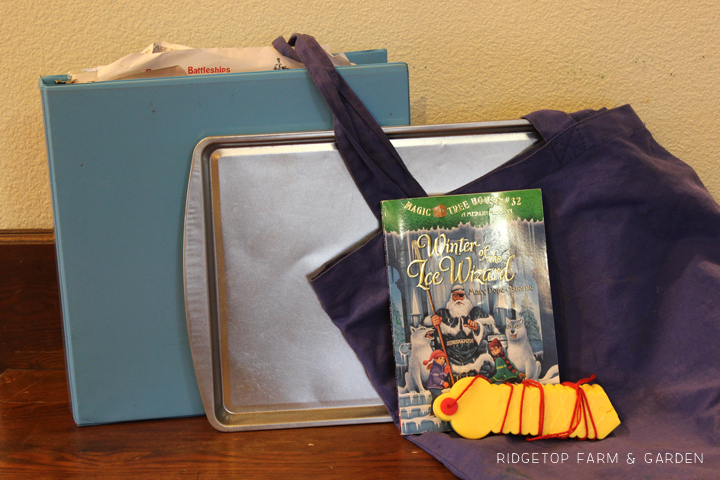 BINDERS
The binders were full of activities:
I gave the kids 2 dry erase markers in their binders to do a variety of activities. There were mazes, games, lego mini fig, pictures of themselves and more. But, they kept losing the dang markers. They'd drop it and not be able to reach it, then forget about it & it would end up covered by other things or kicked under the seat, etc, etc, etc.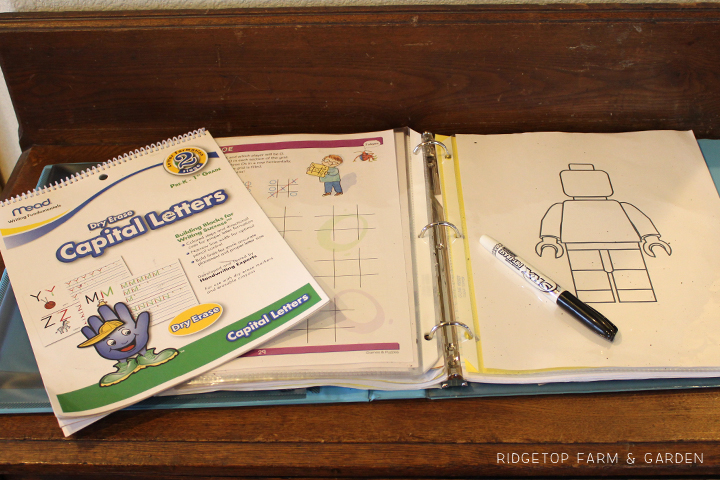 It wasn't all fun & games. I threw in a bit of school work, too. I didn't bring any of their curriculum with us, but I brought things they needed extra help with. Farm Kid2 knows his vowel sounds well, but when he spells words he often mixes up the i and e. So, I made a few simple worksheets where he had to pick the vowel that fit in the word. He was only given 1 sticker for each vowel. Then he wrote the word on the blank line.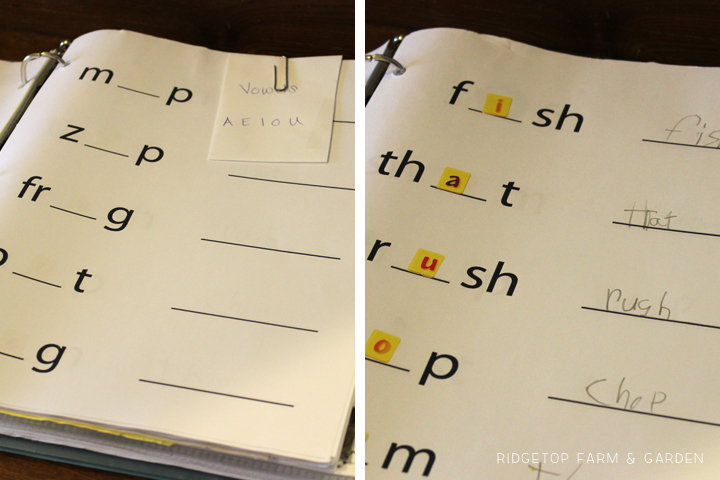 Before we left I put together simple journals. They kept their journals in the pocket of their binder.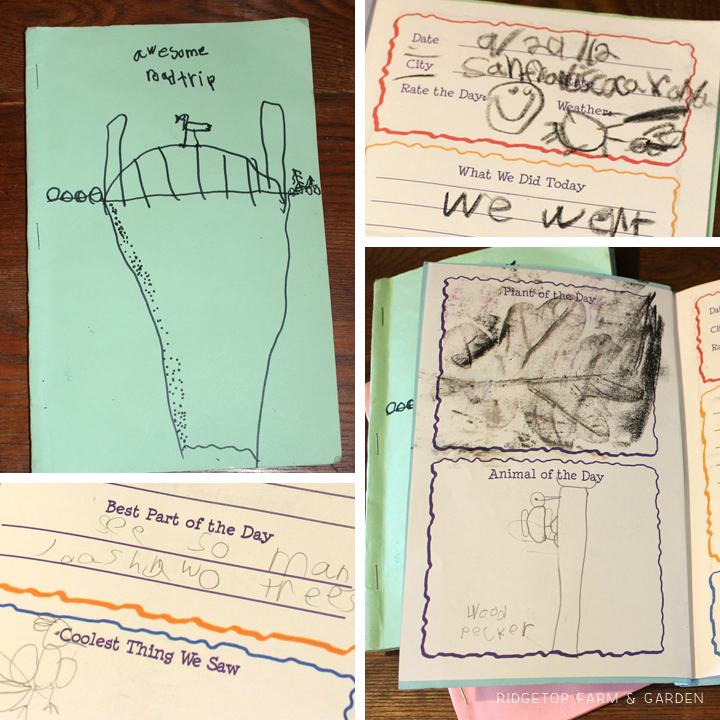 Also, in the binder pockets were games.
Left: License Plate Game I printed from The Dating Divas. This was a hit. The kids (and me too) loved looking for different license plates. We even saw some from Mexico & Canada.
Top Right: In our daily running around town the kids like me to pick a color, then they have to find something outside that is that color. I was hoping this spinner would cut down on the number of colors I was going to have to pick.
Bottom Right: These tins held crayons perfectly. Each of the kids had one in their bag.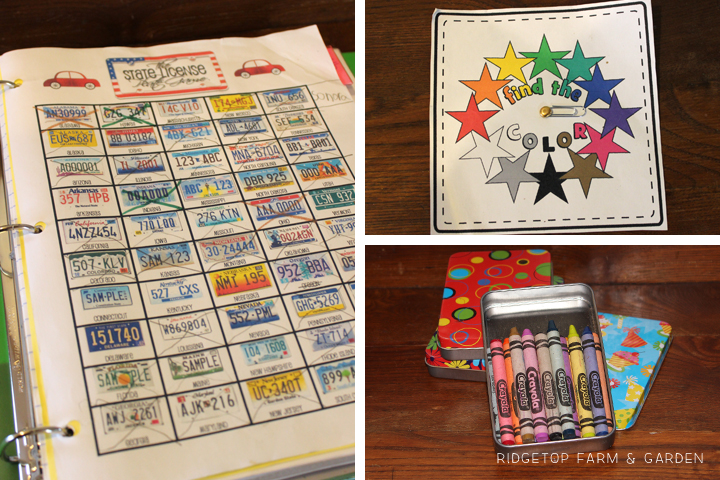 COOKIE SHEETS
Cookie sheets from the dollar store were brought simply because they're magnetic. And, magnets are always fun. I also thought the trays could be used as a surface for their snacks or game playing. The trays worked perfectly. But after 15 days in the car the dollar cookie sheets were tweaked & bent.
Top: A few of the cookie sheet activities were number matching for Farm Girl, money counting for the boys & pattern blocks. A fun idea I found at Creative Juice was printing pictures of themselves on magnetic paper and adding magnetic props.
Bottom Left: I made worksheets for counting money & making change using the money magnets I found at the dollar store. Click here to read more about the worksheets.
Bottom Middle: Playsets printed from Disney Family.com, then I added a magnet to each piece.
Bottom Right: A few more ways they were able to use their cookie sheets. It made a good surface for rolling dice & doing crafts.

SURPRISE BAGS
I admit, most of the surprise goodies didn't come in a bag. Most came in a manilla envelope. But, it's not quite as fun to say, "Here's your surprise manilla envelope."
I searched all summer for fun stuff to add to the surprise bags. Much of it is from the Dollar Store or dollar section at Target. Two big hits in our car, not in the dollar realm, were Mad Libs and the game Rush Hour. I loved both of them because they were compact enough to easily bring with us & also somewhat educational. I brought sticker books for each of the kids, but they were not as in to them as I thought they would be.
Another thing I did was separate many activity/coloring books and only add the pages I wanted in the places I wanted them. Some of the books I did this were hidden picture books, a What to Doodle book by Dover, Bright Idea coloring books with the black pages & milky crayons & a few workbooks.
I used this as a good excuse to tear out & actually do the various activities in magazines we subscribe to. Most of the magazines usually have a maze or word find or book to put together. Typically we don't do those things. But, I added those things to the different envelopes.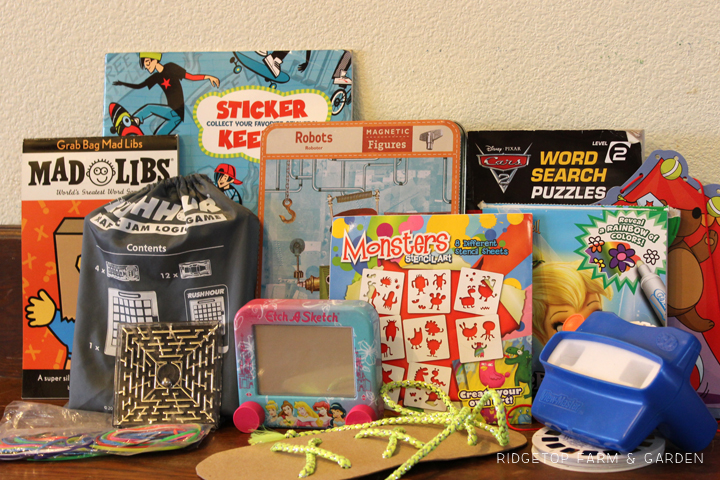 Each envelope had a theme. This one is obviously a dog theme. The items in this bag were hidden pictures, a velvet poster, Scooby Doo coloring book, coloring sheets & a dog shaped paper doll from Making Friends.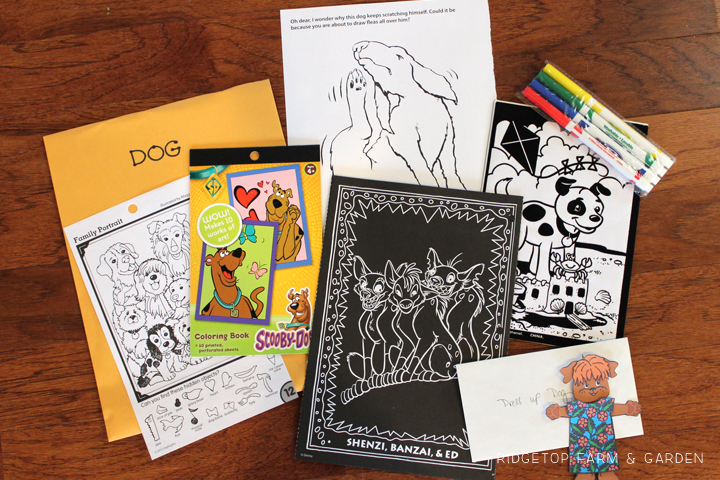 Moth & Butterfly themed envelope
This envelope had a couple worksheets, flashcards, mosaic craft & a lacing butterfly

OTHER STUFF
They each collected smashed pennies along the way, which gave them something to look at and talk about in the car.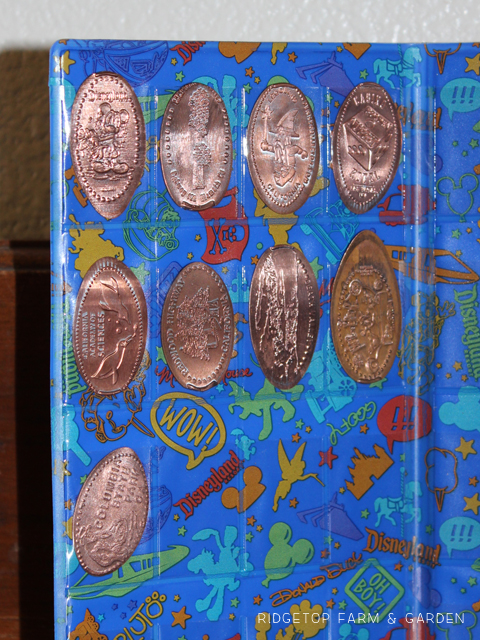 We went to 5 National Parks. They finished the Junior Ranger program at each one. This gave them something to accomplish as we were driving through the park & gave us a good excuse to learn more about the plants & animals at each park.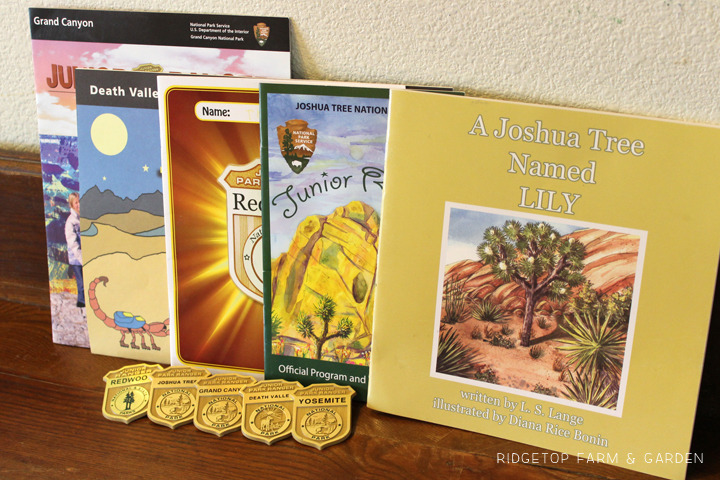 As it turned out, I brought too much stuff to keep them busy. I didn't even get some of it out of the bin. They liked many of the activities and wanted to play with them longer than I had anticipated. I certainly can't complain about that.
I don't know if it's because of all the stuff I brought along, but the kids did so well on this trip. There were only a few arguments & not many complaints. It was a great vacation. I'm ready to go on another road trip!