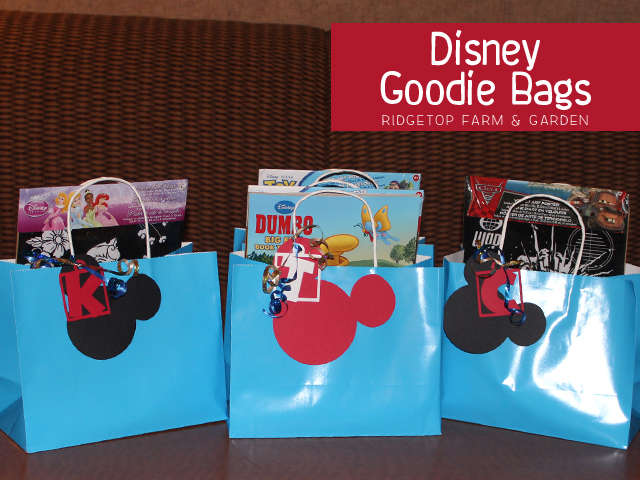 As part of our road trip that I keep talking about we spent three days at Disneyland. It was a surprise to the kids. You have no idea how ecstatic I was that it was able to stay a secret. I thought for sure some how they would find out. I figured by the time we drove up to the hotel they'd have it figured out. But we got to the hotel late & apparently we wore them out that day. They had all fallen asleep in the car. We stayed at the Best Western Park Place Inn. This is our second time staying there & I think it's great. The rooms are nice & clean, the breakfast is good & it's literally right across the street from Disneyland. From the parking lot to the room the kids couldn't see any Disney stuff. So, they didn't know where we were until morning. It was a great surprise! And, as happy as they were with the surprise, I was just as happy (if not more so) that we were able to give such a fun surprise to our kids.
Each day the kids got a few goodies before heading to the park.
DAY 1
The first day in Disneyland was Mr. T's birthday. This was going to be a different birthday than normal since we were a few days into our road trip and no where close to home. He knew we were going some place fun, but he didn't know where. That morning the kids actually were sleeping in & I woke them up by jumping on their bed singing, "It's your birthday, get up! Get up, it's your birthday!" A few minutes later there was a knock on the door. I told Mr. T to answer it & surprise, there were Grandma and a cousin joining us for whatever fun we had planned for his birthday. The surprise destination was Disneyland!
I know a day at Disneyland is plenty for a birthday shin dig, but I wanted to do goodie bags as well. Of course, most everything in the goodie bags were Disney themed: coloring books & posters to keep them busy in the hotel, activities to keep them busy once we're on the road again & glowsticks to use at the park once it gets dark.
The bags also had the autograph books I made.
And, Lego Star Wars t-shirts. I chose these shirts because three out of the four kids were boys & I wanted to get them shirts they would actually like & want to wear again. Also, we were wearing Star Wars costumes the next day & I like stickin' with a theme. They would wear the shirts again when we went to LegoLand a couple days later.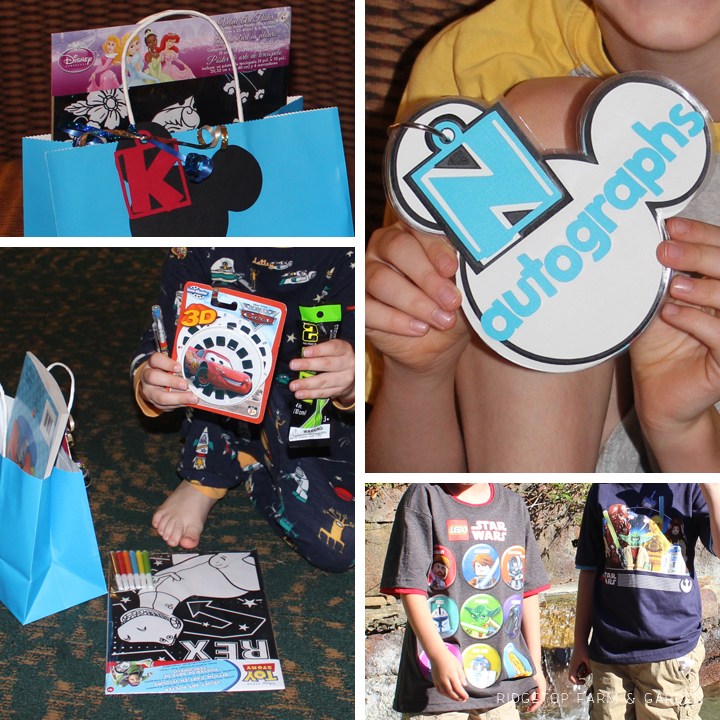 DAY 2
Again, another surprise. The kids obviously now knew we were at Disneyland, but today's surprise was that we were going to Mickey's Halloween Party. We were going trick or treating at Disneyland!
I had been making Star Wars themed costumes for the kids, but they had no idea I brought them with us on our trip. So, that day's goodie bags included their costumes & light sabers.
I also included Halloween Mickey items I found at Joann's and printed a few of the playsets from Disney Family.com. After cutting out the pieces I added a magnet to the back so they could play with it on their cookie sheet during the rest of our road trip.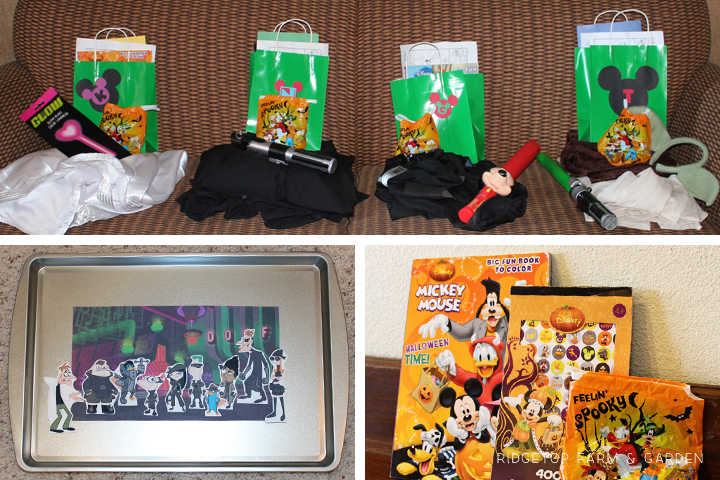 DAY 3
No goodie bags for the last day. But, they did each get a Mickey tshirt.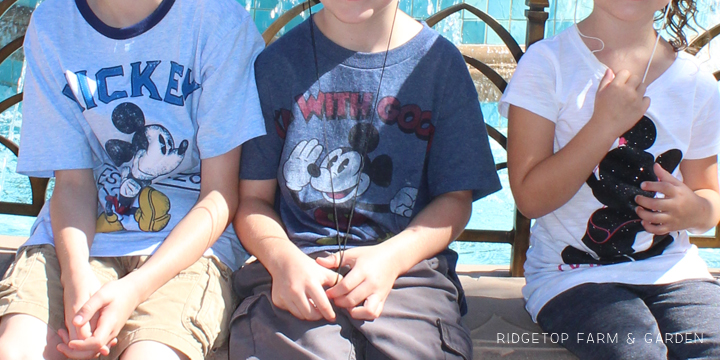 Three days was not near long enough at Disneyland, but we made the most of it & crammed in as much as we could. It's probably a good thing we don't live closer. I think I love it there more than my kids.