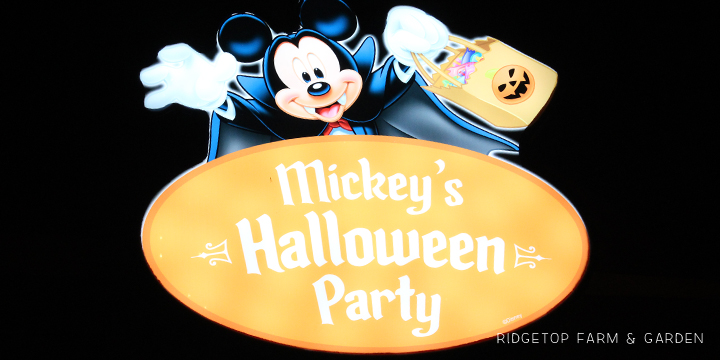 We went on a road trip that just happened to put us in Disneyland during Mickey's Halloween Party. I loved it! If we lived close by, I'd take my kids every year. As if Disneyland isn't all sorts of awesome already, for this special event they throw in pumpkin details throughout the park, a special parade, awesome lighting, dance parties, candy & a good excuse to dress up. My mom & nephew met us in Anaheim & the 7 of us went trick or treating Disney style as Star Wars characters. Here's what we experienced throughout the park that night:
Some decorations, such as these pumpkins atop the entrance are on display throughout the Halloween season.

When you walk through the entrance you get a wristband and a treat bag. Of course, the Disney cast were wearing cute outfits in true Disney style.

Our Star Wars clan getting ready to go through the Haunted Mansion.

The Haunted Mansion was dolled up in a Nightmare Before Christmas theme.

From the railroad depot looking towards Main Street.

It's a Small World in its Halloween makeover.


Space Mountain with cool lighting.

I loved the large Mickey ghosts.
Mickey & Minnie, dressed in cute Halloween outfits, were out for photos.

A fabulously foggy Rivers of America.

You go through treat lines for  your candy. Sometimes the lines were extremely long – we didn't wait in those. That being said, the lines did move quickly. I suppose everyone is in a hurry to see and do all they can

We came home with a ton of candy, without spending our entire evening in line for it.
They also had healthier alternatives to the candy. I most often asked for those – not for me to eat, but to feed my kids during the rest of our road trip.

Mickey's Costume Party Parade. It was short, but cute.

There was a fun, villainous fireworks display towards the end of the evening. But darn it, we got there late and didn't have a great view. We could only see about half of the fireworks. Those we could see were great, though.

I absolutely loved the lighting on the depot. What an awesome thing to see on the way out of the park.

I absolutely loved this experience. It was such a fun & different way to explore Disneyland.
Wishing you & your goblins a very Happy Halloween!